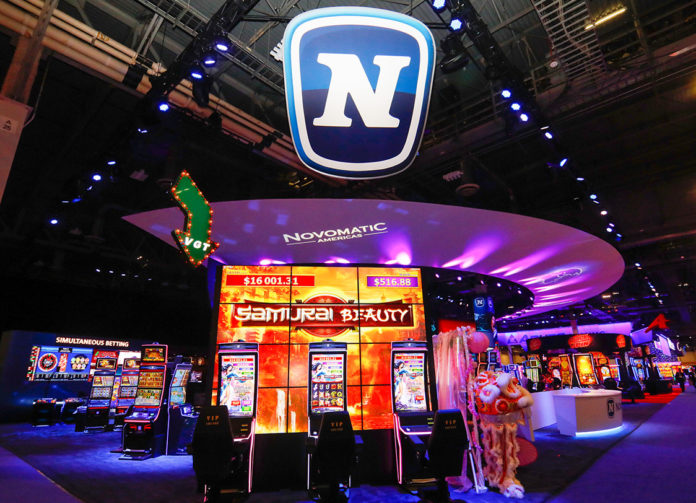 MOUNT PROSPECT, IL – Novomatic Americas has extended its distributor contract with Apex Pro Gaming, covering now North America and the Caribbean, in addition to acquiring selected assets of Apogee Gaming. Novomatic Americas will now be the single point of contact with regard to Apex Pro Gaming equipment in North America and the Caribbean market.
The deal combines Novomatic America's product offering with the popular Apex Clover Link and Clover Link Extreme product lines, and adds more progressive link power to the popular Novomatic Americas link families.
Apex has has manufactured and supplied casino equipment for nearly 20 years. The company is known for the dynamic Jackpot Islands; popular slot machines; electronic table games; and other ancillary product lines. Additionally, the company's most popular game series, Clover Link, adds to the robust Novomatic Americas product lineup. Clover Link and Clover Link Xtreme will be seen for the first time in the Novomatic Americas booth at the Indian Gaming Association (IGA) show in March 2023 available with multi, single or link games.
Apogee Gaming has been introducing and distributing Apex products in most of the U.S. and Canada for the past six years. With over 30 years of experience in gaming, Jean-Louis Drapeau, General Manager of Apogee Gaming, will join Novomatic Americas as a consultant, offering Apex Pro Gaming equipment to more operators in North America on behalf of Novomatic Americas, and working together with the Novomatic Americas team.
"Operators are looking for new gaming solutions and floor optimization strategies," said Rick Meitzler, CEO of Novomatic Americas. "Apex and Apogee have placed great focus on supporting them in every way. With the experience of Jean-Louis and the strong performance of the Apex product lines, we believe in a mutually beneficial relationship between the companies and our customers. We have found a great partner in Apex and the Apogee team."
"We are excited to begin 2023 with this tremendous growth effort," said Drapeau. "I look forward to being able to work together and utilize our combined experience of these leadership teams which will be of tremendous value moving forward."
"We have been working on this for months and it is exciting when we are bringing some of the best products together from around the globe, and marrying that with such an experienced gaming team," said Meitzler. "Apex's technology will rapidly increase the overall output for Novomatic Americas, taking us to the next level of exceptional growth. Novomatic Americas and Apex are all well established and recognized. We are all incredibly excited about this development and we can't wait to get to work, delivering the new products and services in order to help grow our presence in the North American and Caribbean market."