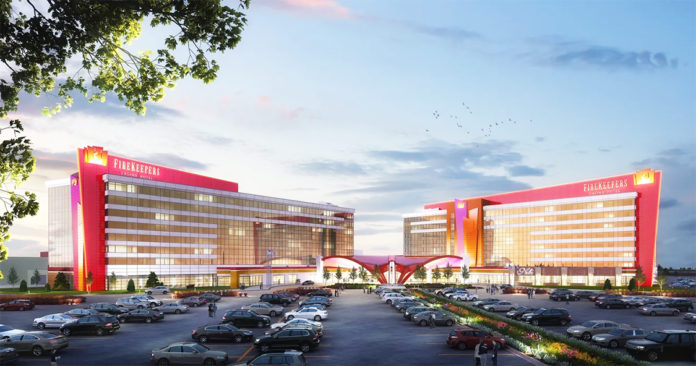 BATTLE CREEK, MI – The Nottawaseppi Huron Band of the Potawatomi (NHBP), owners of FireKeepers Casino Hotel in Battle Creek, MI, have announced contributions to the State of Michigan and the FireKeepers Local Revenue Sharing Board (FLRSB). For the second consecutive year, combined contributions exceed $26 million and lifetime combined contributions exceed $287 million. A total $26.4 million in combined contributions created check presentations of just over $20 million to the State of Michigan and $6.1 million to the FireKeepers LRSB.
This brings the total monies NHBP has contributed to the State of Michigan to over $214,822,819 and $72,330,282 to the FLRSB and creates a combined lifetime contribution, which totals $287,153,100.
Two checks were presented from NHBP and FireKeepers. The state check was presented to Nate Engle, Regional Liaison of Community Affairs for Gov. Gretchen Whitmer, while the FLRSB check was presented to FLRSB Chairperson Derek King.
"These distributions reflect the ability of FireKeepers management and staff to leverage a beautiful property to attract and retain guests from across the region," said Jamie Stuck, Tribal Council Chairperson for the NHBP. "They faced challenges from staggering inflation and high gas prices, to tight labor markets and growing competition, with enthusiasm, and a compelling competitive drive to deliver excellent service."
FireKeepers has increased its employee base to 2,072 team members, at a time when business are competing for available talent in a tight labor market. The focus on increasing jobs and providing a competitive package of salaries and benefits is illustrated by cumulative paid labor costs, which totaled $104.2 million in 2022, an increase of 12.4 percent over 2021. Since opening, the labor total exceeds $919 million. This investment includes total wages, health insurance, 401k match and incentives. The property is on track to break the $1 billion dollar mark over the course of 2023.
"The FireKeepers Way is a path of hospitality excellence, where our team consistently delivers a Vegas-style experience, with a warm and welcoming environment, filled with engagement, enthusiasm and appreciation," said Frank Tecumseh, Chief Executive Officer at FireKeepers Casino Hotel. "We look forward to 2023 with optimism, based on our service history and an upcoming calendar filled with exciting promotions and superstar entertainment."
The tribe and casino also focus on reinvesting in local communities in addition to supporting hundreds of charitable endeavors throughout Michigan and neighboring states through donations and sponsorships. The most significant investment has been The Fire Hub restaurant in downtown Battle Creek, which opened in 2017, and combines an exciting restaurant and bakery concept with an adjacent dignified Kendall Street Food Pantry, operating as an agency of the South Michigan Food Bank.
FireKeepers has enhanced brand awareness by sponsoring major events such as the FireKeepers Casino 400, Michigan's sole NASCAR Cup Series race, set for Aug. 6, at Michigan International Speedway, and the FireKeepers Casino Hotel Golf Championship, an Epson Tour, Road to the LPGA tournament, to be held June 9 -11, at Battle Creek Country Club.
A 2016 Compact Amendment between NHBP and the State of Michigan provides for a payment of up to $500,000 per year of state revenue sharing payments to the Michigan Native American Heritage Fund. In 2022, the fund provided financial assistance and/or reimbursement to eleven schools and educational services institutions to defray the costs of projects that promote positive relationships and accurate information on the history and role of Michigan's Indian tribes and Native Americans in the state. Grant recipients include Saranac Community Schools to rebrand to a new mascot that is culturally responsive, Hartford Public Schools to implement at new curriculum to help build meaningful connections with students, as well as Chippewa Hills and Lansing school districts, Michigan College Access Network, and Western Michigan University's Native American Affairs Council.
The NHBP has worked to support local businesses and suppliers and to extend contributions to the local economy beyond the FLRSB and the distribution to the state. Spending in the State of Michigan, especially in local areas, grew substantially in awarding contracts in excess of $71.2 million in 2021 and exceeding $656 million lifetime.
The check presented to the FLRSB is the 13th distribution since the first distribution in Feb. 2010, when the NHBP presented a check to the FLRSB for nearly $2 million. The $72,330,282 distributed to date have benefited a diverse array of groups, including:
Harper Creek Community Schools
Calhoun County Road Commission
Emmett Township
Calhoun County
Calhoun Intermediate School District
Kellogg Community College
Willard Library
Athens Township
Marshall Township
City of Marshall
City of Battle Creek
Athens Area Schools
Village of Athens
Battle Creek Public Schools
Marshall Public Schools
Lakeview School District
Pennfield School