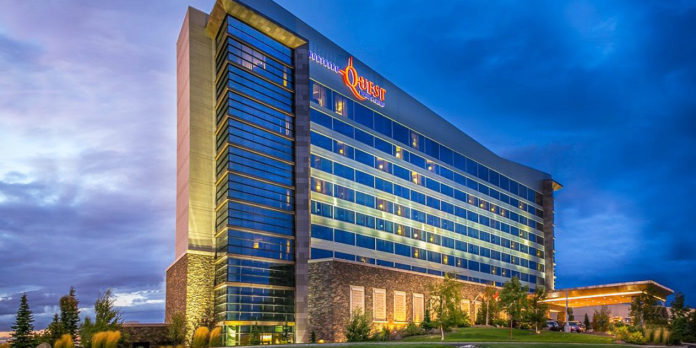 SPOKANE, WA – As presenting partner of the Washington Interscholastic Activities Association (WIAA) 2023 State B Basketball Tournament in Spokane, Northern Quest Resort & Casino and the Kalispel Tribe of Indians will welcome hundreds of high school athletes from 48 communities across Washington State. Teams will compete head-to-head in the girls and boys 1B and 2B classifications March 1-4, 2023 at the Spokane Veterans Memorial Arena.
While it's the 100-year anniversary of WIAA State Basketball, the Class B designation wasn't created until 1931. The long tradition of State B Basketball in Spokane goes back 66 years to 1958, when the tournament was held in the Spokane Coliseum, known locally as The Boone Street Barn, for 37 years in a row. It moved to the Spokane Veterans Memorial Arena in 1996, when the new space allowed the use of back-to-back courts for the boys and girls State B tournaments.
"Our goal is to keep the State B Tournament in Spokane," said Mick Hoffman, Executive Director of WIAA. "With costs increasing each year, we will continue to rely on the enhancement of local financial support to help meet this goal. We appreciate the efforts of Northern Quest and the Kalispel Tribe, along with the Spokane Sports Commission and Spokane Facilities District, for stepping up to provide that recent enhanced support."
The Spokane Sports Commission projects the annual economic impact of the State B basketball tournaments brings upwards of $4.2 million to Spokane each year. It takes approximately 100 tournament staff and volunteers to run the State 1B and 2B games, along with two dozen referees.
"We are proud to sponsor the State B tournament and love that the long-standing tradition of State B basketball can remain here in Spokane," said Northern Quest General Manager and Kalispel Tribal Council Member Nick Pierre. "Many of our tribal members have been able to experience State B by either playing on the court for Cusick High School or cheering on our kids from the stands. These State B athletes, coaches, and their families are from small towns all around Washington, and it's a chance for them to represent their communities and their love for basketball on a big stage. We look forward to a great few days of quality basketball and wish the best of luck to all the hard-working teams."