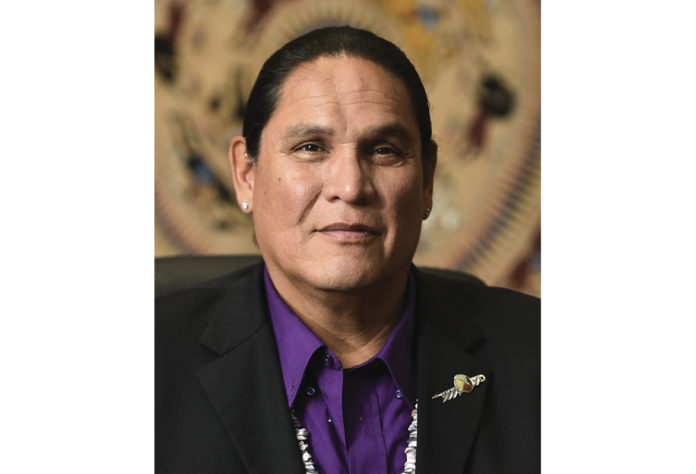 by Ernest L. Stevens, Jr.
The past 18 months have brought the steepest challenge in our industry's history. The impacts of previous pandemics are engrained in our communities' stories, and that history was reflected in our industry's response to the COVID-19 pandemic. In March of 2020, tribal governments took action to protect our communities, our employees, and our guests, by closing enterprise operations and issuing lockdown orders to stop the spread of COVID-19.
Our early 2020 projections showed revenues were down more than 50 percent, but tribal gaming is rebounding faster than expected. Tribal gaming regulators continue to accomplish our bounce back with a safety-first approach, implementing the most stringent safeguards in the industry.
Unknown was the depth of the economic impact of the pandemic on the Indian gaming industry. Last month, the National Indian Gaming Commission (NIGC) answered that question when it released the FY2020 Gross Gaming Revenue (GGR) totals. The NIGC reported a 20 percent decrease from 2019's record-setting revenue of $34.6 billion. The NIGC report showed that the impacts of the pandemic varied greatly by region and from tribe to tribe. Approximately 65 Indian gaming operations reported a 50 percent or higher decrease compared to FY2019. Approximately 30 tribal government gaming operations remain closed since March of 2020. The 2020 decrease dwarfed the slight dip in revenue in 2009 at the height of the Great Recession. However, the economic impacts were minimized by the tireless work of Indian gaming regulators, managers, front-line workers, and tribal leaders.The NIGC noted that the significant investments in public health, workforce development and economic enterprise made by tribes during the pandemic limited the pandemic's economic impacts, providing stability to our operations and our community strength.
Compared to other industries that have yet to fully recover, $27.8 billion in Indian gaming revenues for 2020, during the worst pandemic of our lifetime, reflects the resilience of our industry. The results to date in 2021 cement the fact that we are making a solid rebound. This is a success story that is still being written. We know that the challenge is not over, but the NIGC report is an affirmation of Indian Country's unity and perseverance throughout this pandemic.
We continue to applaud tribal government leaders who made these tough decisions, putting community and family first. We honor the first responders, health care workers, police officers, teachers and so many others who put their lives on the line every day over the past year to help heal, teach, and protect Indian Country. And we thank the hundreds of thousands of Indian gaming employees and regulators who are taking temperatures, putting up the dividers, wiping down machines, and doing everything else within their means to get Indian Country's economic engines moving again.
This pandemic has spared no one – Native communities have been especially hard hit. Despite significant precautions taken, our communities suffered unthinkable losses over the past year. Native Americans were infected and succumbed to the virus at higher rates and younger ages than any group of people in the nation. While we closed our operations and communities, Indian Country's policy warriors also stepped up. Tribal leaders nationwide adapted immediately to this new normal. We were not able to hop on a plane and travel to Washington, D.C., but spent countless hours in virtual meetings, webinars, and conference calls with federal decision makers.
The National Indian Gaming Association immediately united with our Member Tribes to organize our outreach to Congress to meet this unprecedented challenge. Everyone answered the call and thanks to our united work, tribal governments secured significant resources in both the CARES Act and the American Rescue Plan. Congress ignored the governmental status of Indian tribes in previous national recovery efforts, but the COVID-relief legislation enacted in 2020 and 2021 directly acknowledge Indian tribes as governments on par with the states and territories. These resources are helping blunt the health and economic impacts of the pandemic – providing a bridge to keep Indian Country moving – as we protect and help heal our communities.
However, much work lies ahead to ensure this devastation is not revisited. We must all unite to do more to innovate our operations, diversify our economies, and strengthen our resilience to meet future challenges. Congress is negotiating a once in a generation infrastructure package, and we are at the table. The lack of basic infrastructure was the single biggest factor that made our communities so vulnerable to the virus. Overcrowded homes, substandard health systems, and broken water systems all contributed to the spread of the virus. As schools closed, the lack of broadband made it impossible for many students to engage in remote learning. We continue our work with the Biden Administration and Congress to follow the historic precedent set in the American Rescue Plan to deliver direct resources to tribal governments to help innovate our Nations and build the resilience we need for generations to come.
More than 18 months into this pandemic, we are through the darkest points in the tunnel. The light is within reach, but we still have work ahead to finish this fight. To get there, we must continue reaching out to everyone in our communities to get the vaccine and keep wearing that mask. Do it for yourself and do it to protect your family and your community.
Ernest L. Stevens, Jr. is Chairman of the National Indian Gaming Association. He can be reached by calling (202) 546-7711 or visit www.indiangaming.org.