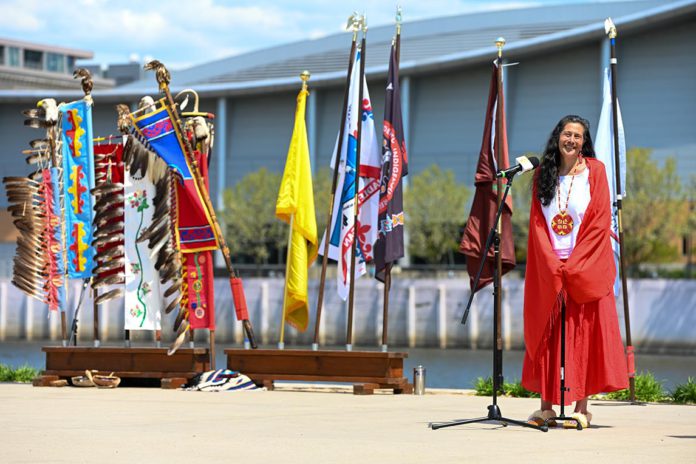 ATHENS, MI – The Michigan Bar Association's Representative Committee will grant its 2023 Unsung Hero Award to Nottawaseppi Huron Band of the Potawatomi (NHBP) Chief Tribal Court Judge Melissa L. Pope. The Representative Committee awards ceremony will occur immediately before the association's Presidential Inauguration & Awards Luncheon in Troy, MI.
According to the Michigan Bar Association, "The Unsung Hero award is presented to a lawyer who has exhibited the highest standards of practice and commitment for the benefit of others."
Acting for the benefit of others, especially those most vulnerable, Judge Pope's record at NHBP demonstrates her diligent advocacy for those who have experienced violence. Since her appointment as Chief Judge of NHBP Tribal Court in 2011, she has been involved with efforts to address the epidemic of violence against Indigenous people.
The contributions of Judge Pope are the results of her decades-long cumulative efforts and service as a judge, advocate, educator and now, Unsung Hero. As a delegate of the Intertribal Technical-Assistance Working Group on Domestic Violence Criminal Jurisdiction (ITWG) and the NHBP Violence Against Women Act (VAWA) Enactment Team, Judge Pope worked in collaboration with NHBP staff to develop the infrastructure, programs, and services needed to adopt a Domestic Violence Code that included restored jurisdiction pursuant to VAWA.
"The exceptional accomplishments and unwavering commitment of the Honorable Melissa L. Pope to create a safer world for the next Seven Generations serves as a beacon of hope," said NHBP Tribal Council Chairperson Jamie Stuck. "Judge Pope's tireless efforts have not gone unnoticed, and we at NHBP are incredibly proud to have her on our team. Her contributions to the legal community and tribal court systems have been invaluable. Her passion for justice is an inspiration to us all. We thank her for her continued service and dedication."
"I am grateful for the gift of learning from many amazing individuals throughout my life – elders, veterans, tribal leaders, advocates, healers, survivors, colleagues, family, and friends," said Pope. "They have taught me through their selfless service to work within the efforts to restore the inherent sovereignty taken from tribal nations that has created predators of Indigenous women, the Missing and Murdered Indigenous Women & Indigenous Relatives crisis, and the epidemic of violence against Indigenous women, children, men, and LGBTIQ+ and Two Spirit Relatives that touches our lives every day."
Judge Pope was also recently awarded the Judith S. Kaye Award for Judicial Excellence by the American Bar Association in June 2023.