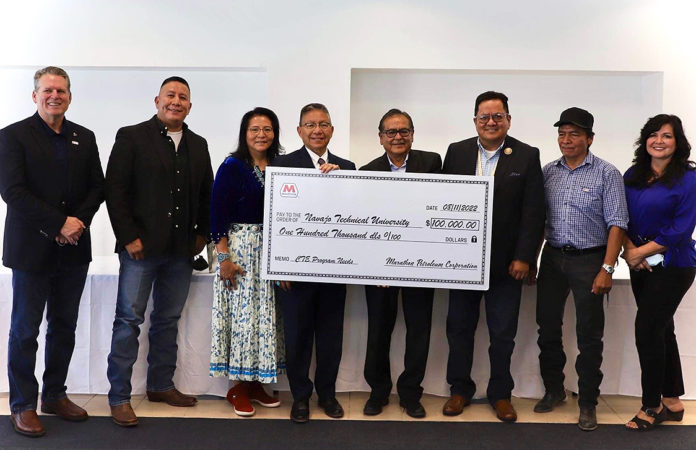 CROWNPOINT, NM – Navajo Nation Vice President Myron Lizer, Second Lady Dottie Lizer, and the 24th Navajo Nation Council Delegate Mark Freeland joined Navajo Technical University officials as they received a $100,000 contribution and tractor trailer rig donation from Marathon Petroleum Corporation to enhance the university's educational program for students earning their commercial driver's license (CDL).
"The Navajo Nation extends our gratitude to Marathon Petroleum for their continuous support and financial contributions to our Navajo entities and communities," said Vice President Lizer. "The collaboration with Marathon has allowed growth and expansion for many people and today, for Navajo Technical University. We are committed to promoting trade schools by instilling a passion for creating an advanced Navajo workforce in the future."
"Our goal is to invest in Navajo Technical University's workforce initiatives that better prepare individuals for professional success by increasing access to high-quality educational training and career readiness resources inclusive of vocational, technical, and skilled trades," said V.J. Smith, Marathon's Manager-ESG & Stakeholder Engagement. "Navajo Technical University plays a vital role in our community, and we are honored to support this mission with both funding and employee engagement."
Navajo Technical University's one-semester certificate program in heavy equipment is intended to prepare students to operate and maintain heavy equipment for professional work in the construction industry. The students will receive classroom instruction and gain hands-on experience for real-world jobs.