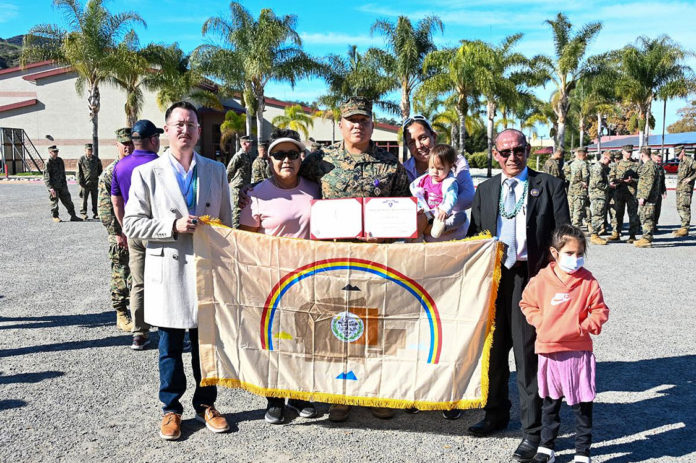 CAMP PENDLETON, CA – Navajo Nation Council Delegates Carl Slater and Pernell Halona attended a Purple Heart ceremony for Navajo Marine Sergeant Alecsaiah Tree at the Marine Corps Base Camp Pendleton in California. The delegates presented a Navajo Nation flag for his heroic efforts during an explosion that occurred outside the Kabul International Airport in Afghanistan on Aug. 26, 2021.
"On behalf of the Navajo Nation, the 24th Navajo Nation Council extends their appreciation to Sergeant Alecsaiah Tree for his courageous actions while serving in the U.S Marine Corps," said Navajo Speaker Otto Tso. "May the Holy People continue to bless and guide Sgt. Tree during his time of healing. We continue to pray for all of our Navajo warriors in the U.S. Armed Forces who repeatedly put their lives on the line to protect our country and Navajo way of life."
Sgt. Tree received a Purple Heart medal, which is awarded to those who have been wounded or killed while serving in the U.S. Armed Forces. Tree was accompanied by his family and the 2nd Battalion, 1st Marine Regiment of the 1st Marine Division along with Battalion Commanding Officer Lt. Col. Glenn P. Baker and Regimental Commanding Officer Col. Brendan P. Sullivan.
"While in the line of duty, Sergeant Tree survived a devastating explosion and was presented a Purple Heart," said Council Delegate Pernell Halona. "We are immensely proud to have a member of our Nation continue his military service to protect our people."
"I've learned to enjoy the simple things in life, for I've been to hell and back to protect innocent men, women, and children who I will never see again," said Tree. "Not a single day goes by that I wouldn't sacrifice my life to protect them from the evil in this world. The same goes for my country, my loved ones, my friends, my neighbors, even those who don't like me. I would do it all in a heartbeat."
Tree enlisted with the U.S. Marine Corps in 2013 and is from Flagstaff, AZ. Since his time with the U.S. Marine Corps, he has received various medals and awards such as the Purple Heart, Navy Achievement Medal with Combat C, Combat Action Ribbon, Good Conduct Medal, National Defense Ribbon, Afghanistan Campaign Medal, Global War on Terrorism, Navy Sea Service Deployment, Marine Security Guard Ribbon, and Navy & Marine Corps Overseas Service, among others.
"The Navajo Nation gives its gratitude to Sergeant Alecsaiah Tree for his invaluable service to the nation," said Council Delegate Carl Slater. "We are blessed and fortunate to have Sergeant Tree here with us today."