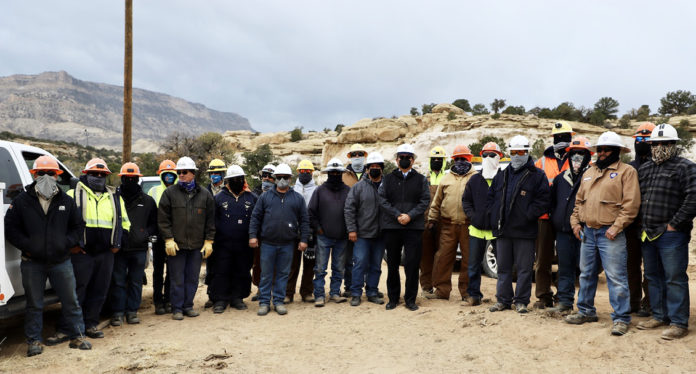 CHILCHINBETO, AZ – Navajo Nation President Jonathan Nez recently met with work crew members from the City of Los Angeles Department of Water and Power (LADWP), who are partnering with Navajo Tribal Utility Authority (NTUA), to extend powerlines to homes in several communities including Chilchinbeto, Kayenta, Chinle, Kaibeto, and Coppermine – all located within the Navajo Nation.
President Nez and NTUA officials met with Los Angeles Board of Water and Power Commission President Cynthia McClain-Hill and Los Angeles City Council members Mitch O'Farrell and Paul Krekorian earlier this year to help develop and formalize the partnership. NTUA invited President Nez to a project site in the community of Chilchinbeto, where work crews are working to extend a nine-mile stretch of powerlines. As of this week, the partnership has successfully connected 29 homes since the work crews arrived from Los Angeles in late November. The goal is to connect as many homes as possible to the electric grid within six weeks.
The partnership allows Los Angeles Department of Water and Power to conduct rural field training for its work crews to help them gain valuable experience with extending powerlines in remote communities under adverse weather and rugged terrain conditions while covering the costs of labor, equipment, and travel expenses. NTUA provides the materials for the projects, labor, and meals for the visiting work crews.
"This is an incredible partnership that is providing direct long-term benefits to many of our Navajo people who have lived without electricity for many years, and in some cases, their entire lives," said President Nez. "On several occasions, NTUA, Vice President Lizer, and I have met with Los Angeles Department of Water and Power to develop partnerships for this purpose as well as to work together on renewable energy initiatives. We appreciate the hard work of all of the work crews and we are happy to see so many families receive electricity to their homes."
President Nez also had a chance to meet with several of the families who are receiving electricity to their homes. Chilchinbeto resident, Wilson Big, said he is excited to finally be able to store food in his refrigerator, host family and friends, and watch television now that his family has a reliable source of power. Another nearby resident said that his wife, who is diabetic, can now store medication in their refrigerator without having to rely on a generator system. They expressed their gratitude to NTUA and its partners for improving the quality of life for their families.
President Nez stated that the partnership builds upon the success of the CARES Act, which allowed over 700 Navajo families to receive electricity, over 300 off-grid solar installations, 117 water and waste water upgrades and replacements, 105 water cistern system installations, 30 waterline connections to homes, 139 broadband installations and upgrades, and four new broadband/cell phone towers, and hardship assistance for Navajo people.