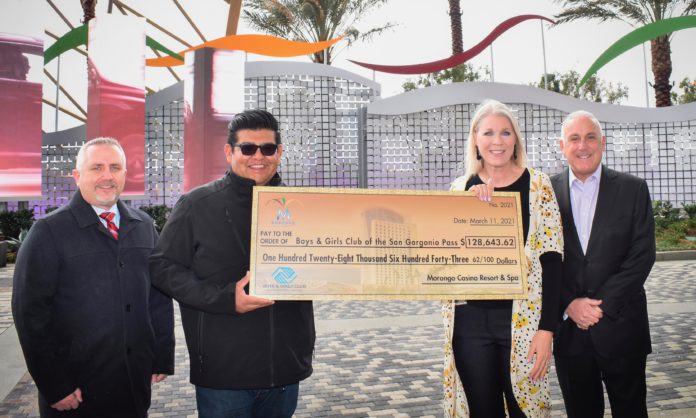 Thanks to the generosity of its guests, the Morongo Casino Resort & Spa presented a $128,643 check to the Boys and Girls Clubs of the San Gorgonio Pass to support the organization's vital community youth programs.
Due to the nationwide coin shortage caused by the COVID-19 pandemic, businesses across the country – including casinos like Morongo – have had limited access to quarters, nickels, dimes, and even pennies. To help alleviate the national strain, Morongo launched a program in July offering its guests a chance to donate the spare change from their winnings to charity, and thousands did.
"We are simply overwhelmed by the outpouring of support from our guests during these challenging times to help local youth through Morongo's community coin donation program," said Morongo's Tribal Chairman Robert Martin. "We want to thank all of our guests who participated in this effort to support local families and children who receive services from the Boys and Girls Clubs of the San Gorgonio Pass."
Amy Herr, the Executive Director of the Boys and Girls Clubs of the San Gorgonio Pass, said the funds will be used to help operate education support and other programs offered by the organization.
"We are beyond grateful for the generosity of Morongo's guests, and for the casino's innovation in turning a nationwide coin shortage into a positive that is benefiting local children during these critical times," Herr said. "Once again, Morongo has stepped up for local youth, and we are very thankful."
In October, Morongo raised $60,000 for the Boys and Girls Clubs at the 24th Annual Morongo Charity Golf Tournament, held at the Morongo Golf Club at Tukwet Canyon.