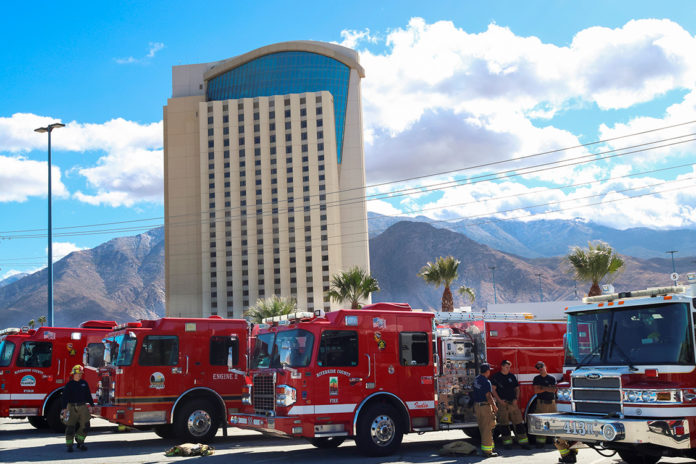 CABAZON, CA – First responders from across Riverside County gathered for a four-day high-rise emergency and evacuation training drill hosted by the Morongo Band of Mission Indians at the Morongo Casino Resort & Spa. 
The Morongo Fire Department joined with a dozen participating county and tribal fire agencies, including Riverside County Fire, CAL Fire, and Soboba Fire, for the intense training exercise involving over 75 firefighters that included in-depth instructional workshops and hands-on emergency exercises with fire crews in full turnouts and equipment engaging a simulated fire.
"When an emergency strikes in Riverside County, it's critical for our region's first responders to have the training and experience to act quickly to protect lives and property," said Morongo Tribal Chairman Charles Martin. "Morongo is happy to have hosted this crucial training exercise to help our tribal fire department and others prepare so they can ensure the safety of our reservation residents, our guests, and communities all across the county."
The training began with two days of classroom instruction educating first responders on high-rise evacuations and important training techniques.
During the last two days, fire crews conducted hands-on training simulations involving staging and carrying hoses and other firefighting equipment up stairwells in the Morongo Casino Resort & Spa, the tallest building in Riverside County. Casino guests were proactively notified of the drills beforehand, allowing the exercise to operate efficiently and without raising concern.
"Whether it's a fire or another incident that may involve evacuation, we must always be prepared to act in critical moments," said Morongo Fire Chief Jason Carrizosa. "County-wide exercises like this help all of us prepare so agencies are trained and ready to respond in unison during a crisis."
Agencies involved in the exercise included Riverside County Training Officers Association, Cal Fire, Riverside County Fire, the Soboba and Pechanga fire departments, as well as the Corona, Riverside, Hemet, Palm Springs, Murrieta, Cathedral City, and Calimesa fire departments.