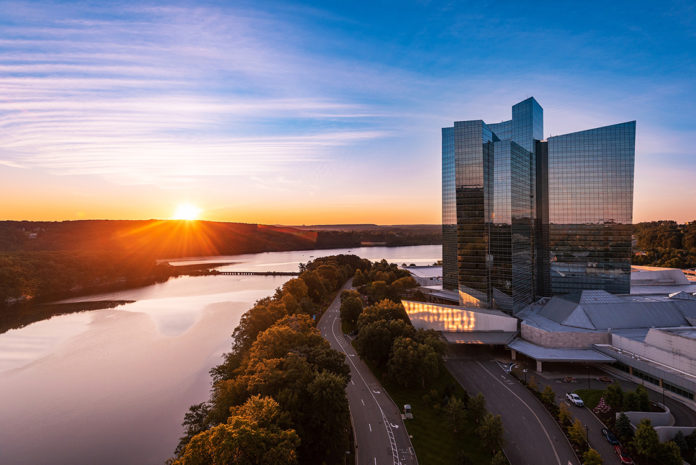 UNCASVILLE, CT – Mohegan Sun has been recognized by two industry organizations, first winning the Platinum MarCom Award for the new "Team Achievement" category from the Association of Marketing and Communication Professionals (AMCP), and second, winning four Platinum Viddy Awards for excellence in Video Production.
AMCP winners are evaluated on their organizational impact, reflecting a team that brings recognition to the company through industry or community endeavors. The AMCP MarCom Awards is an international creative competition that recognizes outstanding achievements, honoring excellence in marketing, creativity, and the hard work and generosity of industry professionals. Mohegan Sun won a Platinum award for its popular digital series Back of House.
The other organization, the Viddy Awards, started recognizing winners in 1995, when it was founded by a group of videographers, editors, producers, writers, and directors. The competition attracts tens of thousands of entries from over 100 countries, making it one of the largest in the history of film and video. Mohegan Sun won one a Platinum Award for its series Back of House and three Platinum Awards for its new advertising brand campaign called "All in for Mohegan."
The online TV series, Back of House, won both a Platinum MarCom and a Platinum Viddy. The series takes viewers through the work lives of some of Mohegan's most talented and engaging team members.
"This team gets a great feeling when Back of House continues to receive industry honors and increases its viewers every year," said George Galinsky, SVP of Marketing Communications for Mohegan. "A thank you goes out to the MarCom and Viddy Awards, and to our many talented and entertaining team members who work diligently to ensure we're demonstrating what it's like to work at one of the largest, most exciting hospitality, entertainment and travel destinations in North America."
New York based, Primal-NY, an award-winning production studio, produces Back of House. This season premiered late last year and featured an all-female cast for the first time. It showcases one-of-a-kind, behind-the-scenes moments at some of Mohegan Sun's milestone events and big celebrations.
The new Mohegan Sun ad campaign, with a 30-second commercial as its centerpiece, won Platinum awards in three different categories, capturing the endless fun happening at the resort and bringing Mohegan Sun's total awards haul to five Platinum Awards last year. The "All in for Mohegan" ad campaign won Platinum Viddy Awards for Web Series, Script Writing and Cinematography.
Created by Advertising agency, TAXI, "All in for Mohegan" currently airs regionally, including spots during major sporting events on network TV. The commercial offers a look at a group of friends' night out as they stop by the Mohegan Sun FanDuel Sportsbook, enjoy dinner at TAO Asian Bistro & Lounge, take in a sold-out Mohegan Sun Arena show, dance at Avalon nightclub, bowl inside Game On, and visit the hotel for an overnight stay.
The commercial now has over 13.1 million impressions and 12.9 million video plays online, and the Back of House series has been viewed in more than 16 countries and 600 cities. The series has also proven to be a new recruiting tool for talent to join both Mohegan Sun and Mohegan Sun's parent company, Mohegan. Back of House has previously won several other awards in its history, which include HSMAI, Telly, Vega and Communicator honors.