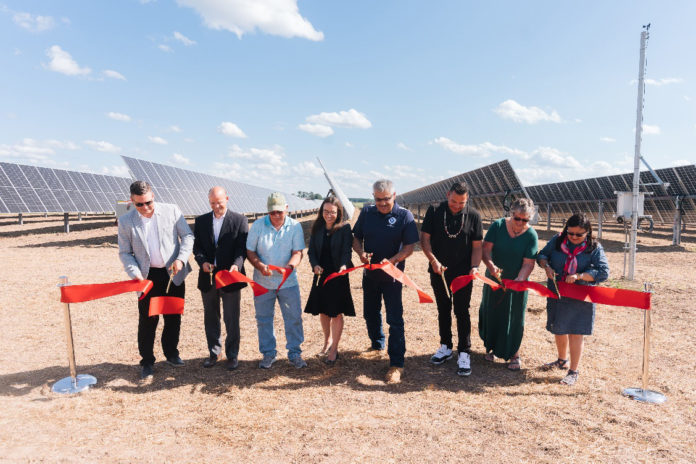 ONAMIA, MN – With temperatures rising along with the demand and cost of resources, including energy, Mille Lacs Corporate Ventures (MLCV) has officially commissioned a solar array in Hinckley, MN. The ribbon cutting ceremony included speeches from Melanie Benjamin, Chief Executive of the Mille Lacs Band of Ojibwe and Joseph Nayquonabe, CEO of MLCV.
The appeal of using renewable resources is much more than an economic strategy for MLCV. The solar array will help preserve the sacred land where it is built, with the goal to lessen the carbon footprint made by MLCV and its subsidiary organizations.
"Today, the world is really caught in the cycle of relying on fossil fuels," said Benjamin. "We all know that those are destroying our earth and climate. As a tribal government, we really work hard to make sure that, whatever we do, we are preventing climate change."
Since going live in May, the solar array has had the same effect as planting more than 18,000 trees and lowered carbon emissions by 725,000 pounds. Located near the pow wow arena, where the Ojibwe customs and traditions are honored, the solar array holds the promise of a sustainable future. 
"This location crosses a line between generations – the beautiful history and culture our ancestors left us and those generations that will come after us," said Nayquonabe. "This, the project of the future, sits in the shadows of that and is a great unity of those two things. I really appreciate the partnerships we've formed to bring this project to fruition."
A partnership between MLCV, NextEra Energy Resources, and ECE brought the solar array to fruition. NextEra Energy Resources developed and will own and operate the solar array and ECE will purchase the array's output and sell to MLCV for a defined period. MLCV is leasing the land to NextEra for free over the next 30 years.