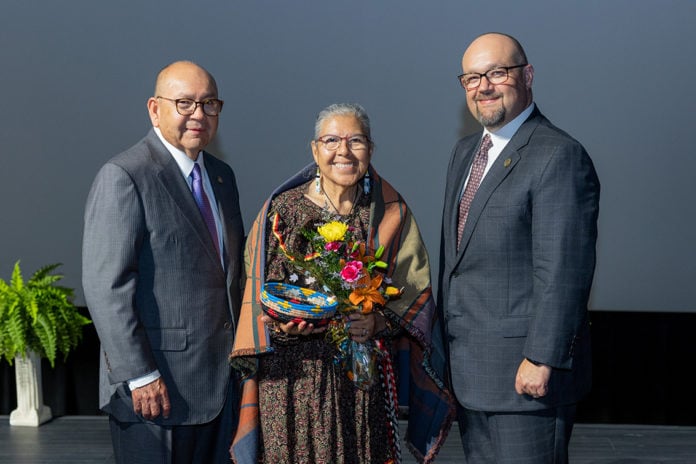 SULPHUR, OK – Chickasaw Nation Governor Bill Anoatubby said the nation's cultural evening, hosted at the Chickasaw Cultural Center, was much more than a traditional celebration of tribal culture and history. "This year's event is especially important, because it is far more than a celebration of culture and history," said Governor Anoatubby. "We haven't been together in person for years now. We have so many things to be thankful for."

Governor Anoatubby acknowledged the importance of promoting and maintaining the continuation of Chickasaw language and credited tribal elders as being critical to that endeavor.

"Our elders have anchored us in our culture and they, along with us being inspired by them, work to preserve our culture for future generations," said Anoatubby. "Through the passing of our language and traditions, their wisdom, the oral stories they have – they've taught us so much. They have taught us what it really means to be Chickasaw. This evening, we recognize their incredible contributions to the preservation of our culture."

The night's festivities were punctuated with the presentation of the 2022 Silver Feather Award to Merry Monroe, a Chickasaw citizen who Governor Anoatubby said embodies all the qualities the award was designed to honor.

"The award is significant in its symbolism," said Anoatubby. "It is silver because of its endurance and captivating shine, which also caught the eye of our Chickasaw ancestors over 500 years ago and became a much sought-after trade item."

Recipients are frequently speakers of Chickasaw language and leaders in their communities.

"Silver Feather Award recipients often serve as protectors, mentors, keepers of wisdom and sources of cultural knowledge," said Anoatubby. "This evening's recipient is all of these and more. Today, we honor Monroe for her lifetime service to Chickasaw and other First American students at Byng Schools and her commitment to our Chickasaw language."

Monroe is a 1969 graduate of Byng High School who started her career in serving others as a teacher's aide at her alma mater. She then served as Byng's Johnson-O'Malley representative and as the Indian education coordinator, and would later aid Dr. Joshua D. Hinson in teaching Chikashshanompa' (the Chickasaw language) at Byng High School. Governor Anoatubby said Monroe eventually assumed instruction duties on her own with the mentorship and assistance of the late Pauline Walker and Geneva Holman.

Monroe was awarded the AARP Oklahoma Native American Elders Award in 2018 and the Chickasaw Nation Dynamic Woman of the Year Award in 2019. Established in 2006, the Dynamic Woman of the Year Award honors Chickasaw women who have made significant contributions to the tribe. They also serve as role models to other Chickasaw women and have made a difference in the lives of Chickasaws and other citizens, enriching their communities and society at large.

Monroe retired from Byng Schools in 2017 and is currently a member of the Chickasaw Language Committee.
The Silver Feather was created in 1999 and is bestowed on selected tribal members who dedicate themselves to the preservation and revitalization of Chickasaw language, culture and lifeways. It is one of the most historically esteemed gifts that can be bestowed upon a Chickasaw.