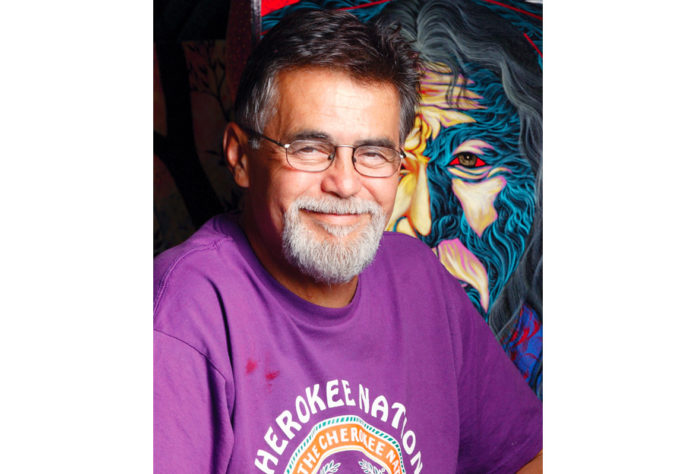 VINITA, OK – The Cherokee Nation is hosting a retrospective exhibit honoring the late artist and Cherokee National Treasure Bill Rabbit.
"Bill Rabbit: Variations on a Rainbow" opens to the public with a special reception on Nov. 17 from 4pm – 6pm and runs through May 12, 2024, at the Cherokee Nation Anna Mitchell Cultural & Welcome Center.
"Dad's been gone for more than a decade now, but so many people still know his name and recognize his work," said his daughter, artist and Cherokee National Treasure Traci Rabbit. "That living legacy is what we've worked so hard to honor and share. This exhibit is a way of letting people get to know the man behind the art and celebrate his diverse skill set and talent for creation."
More than 40 original works by the late master artist are on display, most of which have rarely been seen by the public and are on loan from Rabbit's family.
"Bill was a true original," said Karen Shade-Lanier, Cherokee Nation Cultural Tourism Exhibits Manager. "Most of us know him best as a painter, but he taught himself to work in multiple media, including jewelry, sculpture and stone carving. Guests will gain a sense of his artistic depths and see firsthand how his Cherokee heritage informed some of his signature pieces."
The Cherokee Nation Anna Mitchell Cultural & Welcome Center opened in 2022, offering an exhibit gallery, a grab-and-go café with Native-inspired cuisine, a gift shop, and flexible space for cultural classes and events. It is open to the public seven days a week from 9:00am to 5:00pm and is located at 953 E. Illinois Ave in Vinita,OK.