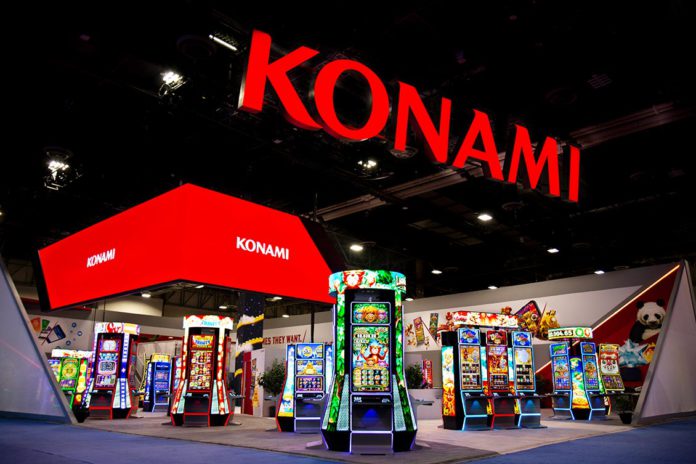 LAS VEGAS, NV – Konami Gaming exhibited at the 2023 Global Gaming Expo (G2E) Las Vegas with a mix of proven popular entertainment and in-demand casino systems technology. Games featured included Dragon's Law Fortune™, Stuffed Coins™, and the new All Aboard™ titles, attracting attention alongside promising brand extensions such as Lucky Honeycomb Fortune™, Unwooly Riches™, Great Guardians™, and Fortune Mint Trinity™. A new Konami slot cabinet called Dimension 43×3™ was a focal point as well, with its oversized frame and big stacked-screen displays, designed to entertain players and pairs. High traffic to the Synkros® casino systems area was due in part to award-winning advancements such as Konetic™ employee mobile application and Synk31™ Title 31/Anti-Money Laundering (AML). Others arrived at the company's exhibit for updates on new Konami IP releases in emerging sectors.

"G2E 2023 was characterized by popular casino game series and the launch of our new for sale Dimension 43×3 cabinet," said Gerard Crosby, Senior Vice President & Chief Games Product Officer at Konami Gaming. "Based on the data from third-party reports and feedback from the field, Konami is confident in the long-term business value for casino operators with our latest game entertainment."
Konami has produced several of the industry's latest top-ranked slot series, such Dragon's Law Fortune – now ranked among the Top 25 Indexing Games – Core (Overall) – and Stuffed Coins – ranked in the Top 25 Indexing New Games – Core, Video Reel for seven months running. These games were shown alongside never-before-seen brand extensions and fresh iterations, including a for-sale series for stacked-screen and portrait-screen machines called Lucky Honeycomb Fortune; a playful portrait-screen linked progressive titled Unwooly Riches; and new All Aboard™ multi-game packs for big-screen Dimension 75C™. Dimension 43×3™ brought fresh content to further heights, by showcasing an eye-catching linked game called Lion Frenzy™ across its large triple-stacked screens in ultra-high definition.  
Konami's Synkros team unveiled several industry-leading new modules for its award-winning Konetic employee mobile application during G2E 2023. This included the Attendant Pays module, which expedites the jackpot hand pay process – from W2G to transfer of funds – by transitioning it to a digital workflow. Additionally, casino teams can also enroll new patrons and provide card reprints on the go through the new Konetic Patron employee module. At G2E 2023, Konami showcased its Synkros Progressive Management™, an integrated system-delivered, floor wide jackpot and mystery progressive system, in addition to Synk31, Konami's comprehensive, all-in-one solution for Title 31/AML compliance.
"Synkros integrated innovations like Konetic, Synk31, Synk Vision, and Progressive Management are time-saving, dependable essentials for Konami's growing global customer base," said Tom Soukup, Senior Vice President & Chief Systems Product Officer at Konami Gaming. "We are especially focused on supporting casinos worldwide with these new features to advance their business and better serve their players. We continue to work in close collaboration with existing and new casino customers to continue to deliver features that help in the casinos success – today and into the long-term future.