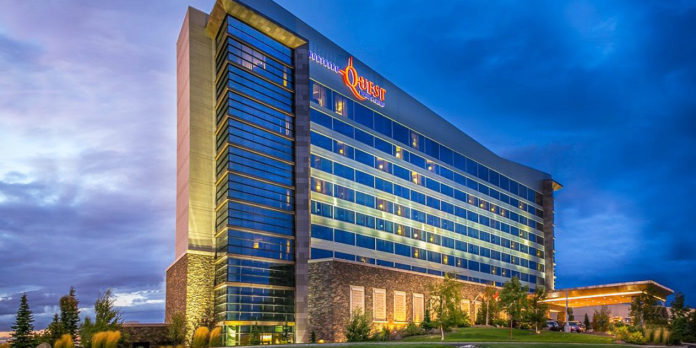 AIRWAY HEIGHTS, WA – As the new owners of the former Spokane County Raceway, the Kalispel Tribe of Indians has selected a new name for the property and is announcing plans for upgrades and a return to racing in spring 2022. The tribe officially closed on the purchase of the three parcels located west of Northern Quest Resort & Casino in October of 2021.
The tribe announced that the new name for the property will be Qlispé Raceway Park (QRP). Qlispé (kuh-lee-SPEH) is the international phonetic alphabet spelling of the Kalispel name, and the original way tribal members pronounced it. It translates to the "Camas people," referring to the beautiful purple flower that grows along the banks of the Pend Oreille River. The bulbs from the Camas plant were harvested in the spring, dried, and then consumed as an important source of protein in the winter, when game and fish were difficult to find.
Qlispé Raceway Park will open with a limited schedule for the 2022 racing season, beginning at the end of April, weather dependent. With a new management team, QRP will primarily be open for leasing and facility rentals early in the season, with plans to hold some smaller tribal-sponsored events later in the summer. Demand for the ability to rent or lease the drag strip, road course and other parts of the property for car races, swap meets, obstacle courses, bicycle races, fun runs, car shows, driving schools and other events has been steadily increasing as the season approaches.
Long term, the Kalispel Tribe's plans are to open Qlispé Raceway Park for a full season of scheduled races on the drag strip and road course by 2023. At this time, the oval track will likely not be used for racing events as it needs new paving and significant additional investment.
The tribe plans to employ approximately 6-10 team members, including the new General Manager, Rodney J. Nomee. Nomee is a long-time racer himself and currently serves on Kalispel Tribal Council.
"I'm excited about the future for Qlispé Raceway Park and as a proud member of the racing community here in the Northwest for many years, I know we can continue to create an amazing experience at QRP," said Nomee. "One of the first investments we're committed to making is the purchase and installation of a new timing system on the drag strip. We're not going to be able to upgrade everything at the strip overnight, but we are taking some positive steps to making QRP the place to be for racers in the region."