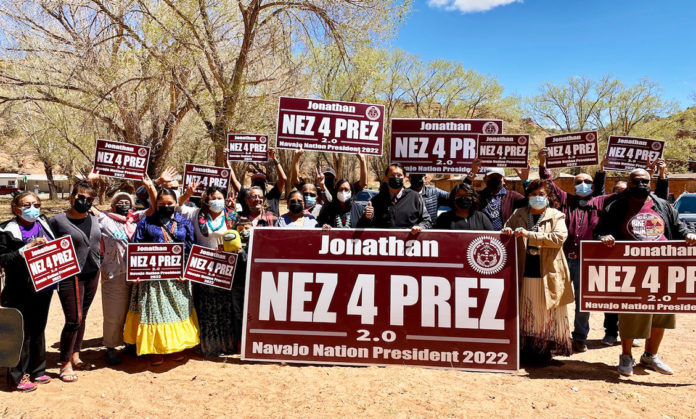 SHONTO, AZ – Joined by family, friends, and supporters, Jonathan Nez formally announced his "Nez 4 Prez 2.0" re-election campaign to serve a second term as President of the Navajo Nation. He was joined by his wife, Phefelia Nez, and their sons Christopher and Alexander under a pavilion in his hometown of Shonto, AZ.
With portraits of past Navajo leaders from Shonto displayed behind him, Nez declared his candidacy as he recalled attending chapter meetings as a child with his grandfather, former Navajo lawmaker H.T. Donald, who inspired him to dedicate his life to public service to help his communities and the Navajo people. Guided by his parents, grandparents, and community elders and leaders, Nez gradually pursued leadership positions starting from the local level, county level, and ultimately the presidency of the Navajo Nation.
At the age of 29, Nez began his public service as the Vice President of Shonto Chapter. He was later elected to serve three terms as a member of the Navajo Nation Council, representing the communities of Shonto, Oljato, Tsah Bi Kin, and Navajo Mountain. He was also elected as a Navajo County Board of Supervisor for District 1 and served two terms. In 2015, Nez was elected Navajo Nation Vice President and took office as President in 2019.
"This is where it all started here in Shonto, AZ," said Nez. "As a young person, I spent years listening to and gradually understanding the issues from the local level on up. Navajo was my first language and my elders used our sacred language to instill our Navajo way of life teachings in me at a young age. The teaching that we know as T'áá Hwó Ají Téego, or self-reliance and self-determination, along with faith and prayer have guided me through life and allowed me to serve and help our people for many years now. It has always been about the people, being among people, and giving back to all communities across the Navajo Nation."
"We were hit hard by COVID-19 during the first-term of the presidency, but we didn't shy away from the challenges," said Nez. "We took proactive measures even before the first case of COVID-19 was confirmed on the Navajo Nation, we stood shoulder to shoulder with our frontline warriors, and we, the Navajo Nation, are now recognized across the country as an example of how to effectively mitigate a pandemic. During our presidency, we visited all 110 chapters on the Navajo Nation, and have worked together to save many lives. The Navajo people are strong and resilient just as our ancestors were, and now have one of the highest COVID-19 vaccination rates in the world. We must continue on the path of recovery and healing together."
Nez also spoke of the need for continuity and stability within the Navajo government to continue healing the people and communities from the pandemic, rebuilding the economy, and building on the success of extending power lines, water lines, and other basic infrastructure to hundreds and thousands of Navajo families.
Under his first term as President, Nez has built strong government-to-government relationships with state and federal partners and played an instrumental role in securing billions of dollars in federal COVID-19 relief funding for the Navajo Nation that led to over 1,000 homes receiving electricity and over 300 homes receiving running water within the past two years. He has also been invited to the White House on several occasions to meet with U.S. President Joe Biden and welcomed U.S. First Lady, Dr. Jill Biden, to the Navajo Nation in April 2021. Nez has also met with numerous high-level Biden-Harris cabinet members, several of whom have visited the Navajo Nation, which has led to even more partnerships and support from the federal level.
Throughout his presidency, Nez has held weekly online town halls, bi-weekly radio forums, and issued monthly newsletters to provide guidance and to help mitigate the pandemic, and to inform the Navajo people of ongoing issues. His social media platforms have also increased transparency and allowed the Navajo people to be informed on issues and Nez's daily meetings and activities. 
Among the Navajo Nation's accomplishments under Nez's leadership include: the ongoing construction of homes for Navajo veterans; the creation of the Tribal Community Response Plan to help find missing persons and to heal families; prioritizing renewable energy development to lower emissions; securing 500 megawatts of transmission lines; the acquisition of a gravel pit to help with road improvements; construction of new health care facilities in Dilkon and Ganado; the permanent extension of the Healthy Diné Nation Act; increasing the number of police officers; supporting relief funds for over 7,000 Navajo-owned businesses and entrepreneurs; supporting the creation of nearly 200 jobs at the Rhino Health, LLC glove factory; installing over 70 FirstNet sites to increase telecommunications connectivity for first responders; advocating for a $50 million scholarship endowment for Navajo students; and revamping the PACE gang and drug task force.
"Our opponents will say that we haven't accomplished anything, but we've done something great for our Nation by working together with federal, state, and local partners to get us through this pandemic and set us on the path to healing and building a stronger Nation," said Nez. "We have nearly four years of experience among our Division Directors and Navajo professionals serving the Navajo people and we have much more work to get done. We need more leaders in all public offices, especially within the Navajo Nation Council, who are devoted to working with and for the people and not to tear each other down and divide our people. In the coming years, we need to continue our work together to improve public safety, build our infrastructure, initiate true government reform, create more opportunities for our youth and elders, improve the quality of life for our elders, and so much more. Unity, hope, and resilience are the foundation of our presidency and we ask for your support as we continue this journey together."