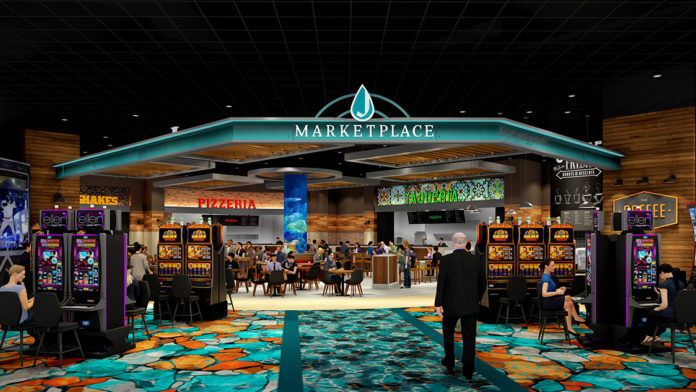 JAMUL, CA – Jamul Casino has announced the newly re-designed Jamul Marketplace, the casino's casual cuisine hub offering a diversity of fun food. With a completely re-imagined design and new culinary offerings, Jamul Casino is curating a unique guest experience featuring food, fun, gaming, and entertainment.
The redesigned Marketplace is inspired by Downtown San Diego's aesthetic. Highlighting warm woodgrain, brick, and custom murals, the Marketplace is reminiscent of San Diego's unique urban environment, just 20 minutes away. Renovations also included new signage, new furniture, re-upholstered booths, specialty lighting, quartz countertops, earth-toned paint, and subway wall tile. The new centerpiece is a 360-degree cylindrical LED video screen extending 17 feet to the ceiling that will offer custom content programming – the only one of its kind in Southern California.
The Marketplace also now features revamped menus at its culinary venues, which include Burgers & Shakes, The Taqueria, Proper Smoked Barbecue, The Pizzeria and The Coffee Shop.
"Jamul Marketplace offers our culinary team the opportunity to put their own creative spin on cuisine after listening to guest feedback," said Mary Cheeks, President and General Manager of Jamul Casino. "This continued investment in Jamul Casino during its fifth year of operations really speaks to the tribe's commitment of making Jamul Casino the freshest, safest, cleanest, tastiest, and most rewarding casino in the region."