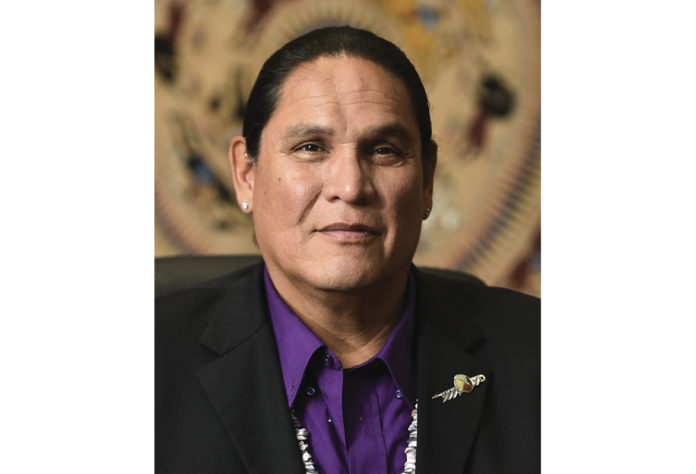 by Ernest L. Stevens, Jr.
The Indian Gaming Tradeshow & Convention has established itself as the premier event for the Indian gaming industry and the figurative heartbeat of Native American economic success. With our meetings and conferences taking a huge hit during 2020 with the COVID-19 pandemic, the National Indian Gaming Association is proud to join the RES Indian Conference as one of the first Indian tradeshows in 2021.
The National Indian Gaming Association will host its 2021 tradeshow in Las Vegas, NV, on July 19-22 at the Caesars Forum. We are working diligently on organizing an event that is fully equipped with our attendee's and visitors' health and safety in mind. Our show will meet and exceed all safety protocols established by the Governor of Nevada and Clark County to provide a safe and effective meeting environment. Protocols will include rapid testing if necessary, ample amounts of PPE for attendees, and social distancing.
While our show's health and safety standards are new, it will not impact the amazing content and exciting networking events. Conducting business this year is uniquely important as the pandemic's devastation can still be felt throughout tribes across the country. As we move into spring and summer, vaccination numbers are growing, and cities across the country are seeing casinos re-open and tribal economies rebuilding business with completely different approaches. Now is a crucial time to come together as tribal businesses recalibrate and re-open.
The Indian Gaming Tradeshow & Convention will present all important aspects of the tradeshow that attendees have come to expect, including the annual membership meeting, workshops, gaming commissioner certification series and the Chairman's honoring luncheon.
We will offer a comprehensive learning experience and the 2021 program will offer a special emphasis on sports betting, COVID-19 and the economic fallout. Each topic will be carefully chosen to offer the best perspectives, strategies, and tactics from experts and thought leaders within the industry organized by our Conference Chair, Victor Rocha, and our Associate Members Education Track Advisory Committee.
Our focus will be centered on the important topics that will help operators and vendors succeed in today's ever-changing gaming landscape as tribes reconfigure and adjust to new business models. With these new approaches in mind, we hope to put on the first large gathering of tribal leaders and casino executives in the country. The Indian Gaming Tradeshow & Convention will build on our strong foundation of networking and be a place the Indian community can gather to learn, exchange industry-specific ideas and celebrate unity and self-reliance.
The National Indian Gaming Association's mission is to protect and preserve the general welfare of tribes striving for self-sufficiency through gaming enterprises in Indian Country. With this in mind, we are excited to be partnering with the National Center for American Indian Economic Development withone goal in mind: getting Indian Country back in business. Similarly, the National Center for American Indian Enterprise Development (NCAIED) hosts the Reservation Economic Summit (RES), which features high caliber networking, winning teaming opportunities, business development sessions, and one-on-one consulting, all centered around American Indian enterprise.
Our great organizations have a long history of coming together to support one another. In this unique year, the joint venture helps coordinate our two shows in one venue, and allows for the maximum amount of time for our attendees to secure vaccinations and safely travel. We will be co-located at the adjacent Bally's and Paris Hotels. The Indian Gaming Tradeshow & Convention and the RES event will focus on driving the all-important business opportunities for the Indian community and adhering to rigorous health and safety standards during the events.
Chris James, CEO and President of NCAIED stated, "We're excited to announce our partnership with the National Indian Gaming Association at this year's Reservation Economic Summit. With this new format, attendees can register for three significant events focused on economic development in Indian Country. Through resiliency and reinvention with our current partnership with American Indian Business Leaders (AIBL), we'll bring together leaders from across Indian Country for a unique opportunity to uplift Native-owned businesses. Attendees can expect the same high-caliber networking, educational, and business development opportunities they've come to expect at RES – plus access to the National Indian Gaming Association's one-of-a-kind trade show. The National Center, National Indian Gaming Association, and AIBL can't wait to build new bridges of economic opportunities this summer."
So please plan on joining us for both the 2021 National Indian Gaming Association's Tradeshow & Convention, along with the National Center for American Indian Economic Development's RES conference, and let's get Indian Country back to business.
Ernest L. Stevens, Jr. is Chairman of the National Indian Gaming Association. He can be reached by calling (202) 546-7711 or visit www.indiangaming.org.