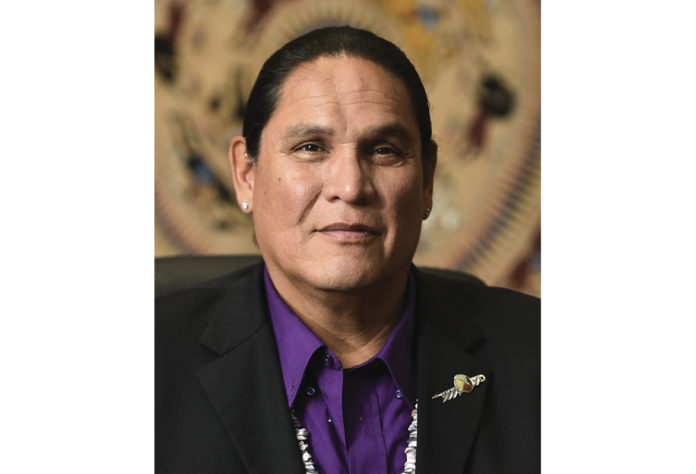 by Ernest L. Stevens, Jr.
The Indian Gaming Tradeshow and Convention was the first gathering of any Native American organization in nearly 18 months. I am pleased to report that the four-day gaming convention saw outstanding numbers, with almost 8,000 attendees to the overall event, including over 350 vendors. This resulted in a $10 million local economic impact. Indian gaming showed up, we rolled up our sleeves, and we did the work united in our efforts to bring our industry back after the pandemic stopped the world in its tracks, fully knowing we have so much more work to do to rebuild and protect our future.
2020 brought the steepest health and economic challenges the world has faced in our lifetimes. We met the challenges with resilience and perseverance. The fact that we reunited with our Indian gaming family last month was a testament to everything that tribal leaders nationwide have done for their communities.
I commend the tribal chairs, presidents, governors, tribal gaming regulators and our gaming professionals, as well as so many others who led their Nations and made these tough decisions, putting community and family first from the very beginning of this global pandemic.
Throughout our planning for the 2021 Indian Gaming Tradeshow and Convention, we kept the safety of our attendees first and foremost in our minds. We followed the official requirements for the gaming show that was in line with the Center for Disease Control (CDC) and the Clark County Nevada guidelines.
Our week together last month hosted a safe and busy schedule. The Indian Gaming Association's membership meeting included critical discussions and updates from PaaWee Rivera, Senior Advisor and Director of Tribal Affairs at the White House Office of Intergovernmental Affairs, and Sequoyah Simermeyer, Chairman of the National Indian Gaming Commission. Rivera shared the Biden Administration's commitment to helping lift Indian Country through the pandemic and listed the resources delivered through the American Rescue Plan that are helping tribal governments continue to provide essential services to all reservation residents.
Chairman Simermeyer spoke to the Commission's focus on prioritizing policies and practices to serve Indian gaming operations through the past year. He also noted the crucial challenges that lie ahead with an increased focus on cybersecurity to protect the integrity of Indian gaming operations. Once again, I look forward to an ongoing dialogue and working relationship with the NIGC.
Keeping our tribal government gaming operations safe is our priority, and we must be proactive in working towards this effort. To that end, I announced that the National Indian Gaming Association has created the Indian Gaming Cybersecurity Task Force to address those ongoing practices of protecting systems, networks, and digital attack programs. The Task Force includes Walt Lamar, a retired FBI Agent; David Vialpando, the Executive Director at the Pokagon Band of Potawatomi Gaming Commission; Oscar Schuyler, the Executive Director of the Tribal Gaming Commission at Morongo; Frances Alvarez, Chairwoman of the Tribal Gaming Protection Network (TGPN) and former FBI Supervisory Agent Michael Lemieux. The task force will explore strategies to address cybersecurity, domestic terrorism and keeping our facilities safe in the current and future tribal gaming environment.
One of the highlights of our show was the tribal government gaming family also came together to memorialize the late Rick Hill, Chairman Emeritus of the gaming organization, at our Tim Wapato Sovereign Warrior Luncheon. Chairman Emeritus Hill journeyed on to the Spirit World on Thursday, December 12, 2019, in Green Bay, WI, unexpectedly, in his family home on the Oneida Reservation.
It was an honor to co-host this tribute with Gay Kingman Wapato, wife of the late Tim Wapato, Hill's son Richard Elm-Hill and former Sycuan Band of Kumeyaay Indians Chairman Danny Tucker. It was essential for us to remember Rick as part of our gathering of Indian gaming family. His passing was a tremendous loss for us all, not only in our gaming industry but all of Indian Country. This tribute to Rick was long overdue. Along with other tribal gaming visionaries like the late Tim Wapato, Rick paved a bright path for many generations to come. The success of Indian gaming is due in significant part to his leadership, passion, and tireless dedication to serving Indian Country. While emotional, this event was very inspirational.
Finally, National Indian Gaming Association Board Secretary Paulette Jordan and I were nominated for re-election to our positions. We successfully garnered unanimous support from the Association's Member Tribes once again. It was a great honor to stand with Paulette and be sworn in by John Echo hawk, long-time lawyer, and advocate for Indian Country.
I am truly humbled and honored by the continued approval of our membership in my eleventh term. I pledge never to stop working to defend tribal sovereignty and the right of tribal governments to engage in gaming to build our communities. I will continue to maintain the belief that my work is my campaign, which I take very seriously.
Throughout my tenure as Chairman, the Indian gaming industry has faced and defeated near-constant attacks. We not only survived but strived through the Great Recession. Our success was possible only because our Member Tribes come together to speak with one voice in times of challenge. I take great pride in building consensus among our Membership and building coalitions with national and regional tribal organizations.
The tribal leadership is the guiding force for the National Indian Gaming Association, and we take our direction from them and re-affirm that commitment. Our strength remains in our united voice, which has helped our industry and all of Indian Country through this most challenging year in memory. We have a big agenda, and we must continue to work together to accomplish that work on behalf of the people we serve and protect Indian Country for the next seven generations.
Most recently, we see a dramatic upswing in positive COVID-19 cases with the Delta variant, throughout the world. This means that we must not rest from our efforts to continue to stay safe. We must continue to be committed to doing our part as individuals and tribal nations to keep our communities safe from COVID-19. That means continuing to follow safety guidelines, such as getting vaccinated or wearing a mask. With the new variant, it is so much safer to wear a mask even if you are vaccinated because it's about keeping our communities safe.
In 2019, the Indian gaming industry generated $35 billion in gross revenue and an additional $6.2 billion in ancillary revenues from hotels, entertainment, restaurants, and retail operations – ranking 11th in overall employment in the U.S. As noted above, 2020 brought our industry and the world the steepest challenges faced in recent memory. The success of the Indian Gaming Tradeshow and Convention proves that we are on our way back, but we must be careful, responsible and patient as we rebuild and create what will be the new normal.
We plan to continue this movement by working hard and building upon the momentum and energy generated by our annual show and taking it to our Mid-Year Conference that will be held at the Pechanga Resort and Casino in Temecula, CA, November 15-17, 2021. I truly hope you can join us!
Ernest L. Stevens, Jr. is Chairman of the National Indian Gaming Association. He can be reached by calling (202) 546-7711 or visit www.indiangaming.org.