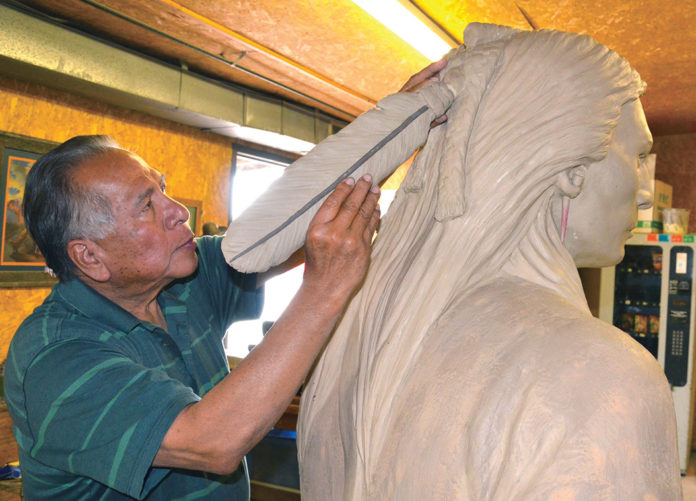 Enoch Kelly Haney died peacefully at home on April 23, 2022, surrounded by his loving family. He was born on November 12, 1940 at Turkey Creek near Seminole, OK, to William Woodrow Haney and Hattie Louise (Harjo) Haney. He earned an Associate of Arts from Bacone College in 1962 and a Bachelor of Arts in Fine Arts from Oklahoma City University in 1965. He also attended the Progress Management Institute in Philadelphia in 1969.
His education in art and business experience served him well. Kelly was a successful and well-known artist, awarded the distinction of "Master Artist of the Five Civilized Tribes" in 1975. He created "The Guardian" sculpture on top of the Oklahoma State Capitol, and many other sculptures, paintings, and lithographs reflecting native culture and enjoyed by art collectors around the world. Kelly continued to work as an artist through the age of 80, and always had ideas of new art projects to pursue.
Kelly was a successful businessman, operating art galleries that not only promoted his own work, but also helped enhance the careers of many Native American artists over the years. More recently, Kelly was proud to be a part of the development of the First Americans Museum in Oklahoma City, which he saw to fruition when he attended its opening in 2021.
Kelly's many contributions to others included extensive public service work. Early in life, he served as a vocational counselor and as pastor and conference youth director for the United Methodist Church, and was a longtime member of the Seminole Hitchiti Church. A fullblood Seminole/Creekcitizen of the Seminole Nation of Oklahoma, he served as planner and business manager for the Nation between 1973 and 1975, as a Seminole Nation Councilperson from 1972 until 1976, and as Principal Chief from 2005 until 2009. He produced and hosted a local television program, Tribes: Voices of the Land, between 1972 and 1976.
In his public service, Kelly served as an Oklahoma state representative between 1980 and 1986, and as an Oklahoma state senator between 1986 and 2002 – the first fullblood Native American elected to those offices. His accomplishments in the state arena included serving as the Chairman of the Joint State Tribal Relations Committee and Chairman of the Senate Appropriations Committee, as well as securing legislation that focused on improving education for all Oklahoma citizens. He made important contributions to the development of working relationships between tribal nations in Oklahoma and the state, such as legislation establishing the first tribal-state compact, and authoring the Oklahoma Indian Child Welfare Act. Kelly also served in the Oklahoma National Guard between 1960 and 1966.
In recognition of his achievements, Kelly was awarded an honorary doctorate from Oklahoma City University. He was the recipient of many awards for his artistic achievements and political contributions, too numerous to list. More importantly, he was known for his generosity, and was loved and respected by countless persons whose lives he touched.
Kelly enjoyed talking about his travels, and particularly relished experiencing different cultures in his trips to China, the United Kingdom, and France, among other countries. He loved socializing, no matter what the venue – be it a formal state event, an art show, a stomp dance, or a simple lunch at a favorite restaurant.
Kelly was very proud of his seven children, one of whom, Micco Paul Haney, preceded him in death. He is survived by sister, Greta ("Tiny") Ruminer and nephew Keith Ruminer; brother Terry ("Hvtke") Spencer and wife Marva; children Kutcha John Haney, Damaris Joy Haney and husband Elmer, Kathy Marie Haney, Will ("Hulpahtah") Haney and wife Hannah, Kelli Brooke Haney, John Hudson Haney and partner Cynthia; grandchildren Micco, Enoch, Ashley, Matthew, Caitlin, Deacon, Jack, Sam; uncle Jerry Haney and wife Barbara; great-grandchildren; and numerous loved nephews, nieces, cousins and friends.