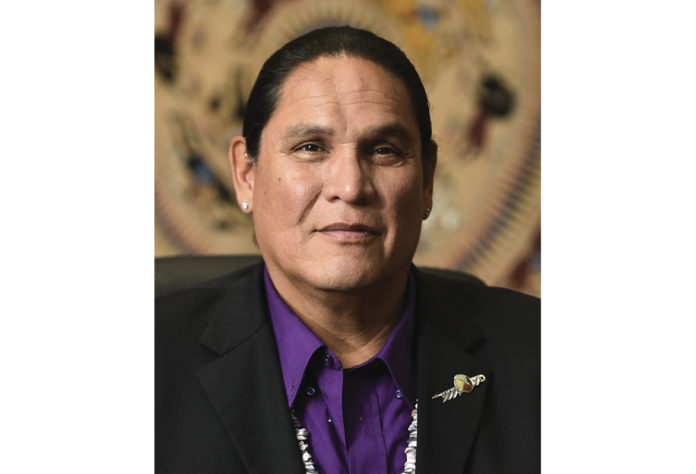 by Ernest L. Stevens, Jr.
As many from the Indian gaming industry prepare to descend on Las Vegas to participate in the Global Gaming Expo, we plan to celebrate the recovery of tribal gaming while also keeping a sharp focus on the significant challenges ahead.
The recent rebound of the Indian gaming industry came as no surprise to those who live and work in Indian Country. The COVID-19 pandemic had a disproportionate impact on Native communities from both the health care and economic perspectives. To address the health threat, tribal leaders put their communities first, closing Indian gaming operations nationwide for a good portion of 2020. Indian gaming revenues suffered a resulting 20 percent decrease that year.
With the vision of putting the health and safety of people first, combined with world-class regulation as tribal gaming operations slowly reopened, tribal hotels and casinos maintained our leadership in COVID safety. We implemented state industry standards, instituting strict testing, masking, and social distancing standards.
This tireless and meticulous work built trust and confidence in our operations, and led to an incredible post-pandemic resurgence for Indian gaming nationwide. Indian gaming revenues topped $39 billion in 2021: an increase of 40 percent over 2020 and more than 13 percent over the record revenues generated in 2019. The tribal gaming industry's comeback is a resounding affirmation of Indian Country's resilience and the safety-first approach taken by tribal leadership nationwide.
The state of the Indian gaming industry is strong and growing stronger. But we cannot rest. We know more must be done to protect and strengthen tribal sovereignty. In the 117th Congress, we have done just that.
Congress delivered historic levels of investments to Native Nations through the American Rescue Plan and the Bipartisan Infrastructure Act. These laws provide state, local and territorial governments with resources to help fight the pandemic and rebuild communities. Both laws delivered similar resources directly to tribal governments, acknowledging and respecting the status of Indian tribes as separate distinct governments.
Another long-awaited policy victory for Indian Country came earlier this year with the reauthorization of the Violence Against Women Act (VAWA). VAWA 2022 reaffirms tribal sovereignty and will go far in addressing the tragic crisis of missing and murdered Native people while also improving public safety and justice in our communities.
While we celebrate our resurgence and these policy gains, all of Indian Country remains focused on a series of court battles that threaten foundational principles of federal Indian law.
We saw this in the Castro-Huerta case. On June 29, 2022, the United States Supreme Court, in Oklahoma v. Castro-Huerta, ignored two centuries of precedent by granting state courts jurisdiction over crimes committed by non-Indians in Indian Country. For 200 years, courts followed the principle that states have no power on Indian lands unless Congress authorizes it. The Supreme Court turned this foundational principle on its head.
We are working with our champions in Congress to address this dangerous decision, but we are also keeping an eye on two upcoming cases that attack the very core of tribal sovereignty.
On November 9, 2022, one day after the midterm elections, the Supreme Court will hear arguments in Brackeen v. Haaland. In this case, states and adoption agencies falsely claim that the Indian Child Welfare Act (ICWA) is based on race and ancestry. ICWA has worked for a half-century to keep Indian children with Indian families. Congress enacted this crucial law in response to the high number of Indian children being removed from their families by public and private agencies and placed in non-Indian families. The purpose of ICWA is to "protect the best interests of Indian children and to promote the stability and security of Indian tribes and families." In doing so, ICWA respects tribal government laws and tribal court systems.
A similar case, Maverick Gaming, LLC v. United States, involves a commercial cardroom in the State of Washington, again falsely claiming that the Indian Gaming Regulatory Act is based on "race and ancestry." The same law firm seeking to overturn ICWA is representing Maverick Gaming in this case. The case is a direct attack on the Indian gaming industry. We applaud the Shoalwater Bay Indian Community who has now applied to intervene in this case.
While not grounded in law or fact, we take this challenge head-on because of what's at stake. More than 240 tribal governments have used Indian gaming to revive our communities for 50 years. Indian gaming generates more than 300,000 direct jobs on Indian lands annually. Our operations serve as economic anchors for community development and entrepreneurship. Revenues generated from Indian gaming have worked to rebuild basic infrastructure and enhance the delivery of health care, education, and public safety services to Indian Country. Moreover, the tremendous revenue offshoot of our Indian gaming industry has contributed significantly to the overall economic and employment growth in the U.S.
Like the Indian Child Welfare Act, the Indian Gaming Regulatory Act is based not on the race or ancestry of any individual. Instead, it is grounded in the U.S. Constitution's acknowledgement of Indian tribes as separate distinct governments. These legal attacks serve to highlight the importance of the upcoming midterm elections. Our vote is our voice and our power.
The Indian Gaming Association's "My Vote Will Count" campaign is partnering with Member Tribes and sister organizations to educate, empower, and encourage all of Indian Country to register and commit to making a plan to vote. The My Vote Will Count campaign has stops planned throughout Indian Country. We know that Native youth are the key to unlocking the full potential of our vote. We are recruiting young men and women warriors to serve as ambassadors to organize their communities and educate everyone about the importance of their vote.
Exercising our voting rights empowers our people and advances our future. Importantly, it also serves to honor the sacrifices of our ancestors who fought to protect tribal sovereignty and our way of life.
The consequences for Indian Country in this election are existential. Your vote will ensure that we send people to Congress who will work with Indian Country to protect tribal sovereignty and put judges on the federal bench who understand federal Indian law.
As we gather to celebrate our industry at the Global Gaming Expo, we will do so with a fierce focus on our communities and the continued right of tribal governments to protect Native families, our ability to promote tribal government economic development, and our very way of life.
Ernest L. Stevens, Jr. is Chairman of the Indian Gaming Association. He can be reached by calling (202) 546-7711 or visit www.indiangaming.org.