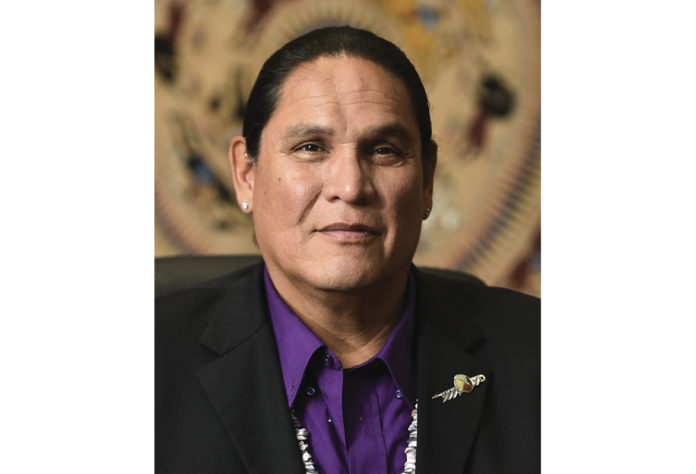 by Ernest L. Stevens, Jr.
The recently reactivated National Congress of American Indians/Indian Gaming Association Task Force held its first meeting during NCAI's Midyear Conference on the homelands of the Shakopee Mdewakanton Sioux Indian Community June 4-8, 2023. The meeting took place before a standing room only audience of tribal leaders, advocates, and representatives to discuss the many challenges facing Indian Country today.
The primary mission of the Task Force is to protect the inherent right of tribal governments to conduct gaming to support their communities. However, the mission goes beyond gaming – including the protection of tribal sovereignty and Native homelands.
At the top of the two-day discussion was an examination of the significant threats to tribal sovereignty that are currently before the United States Supreme Court.
The most highly anticipated case was Haaland v. Brackeen, which involves challenges to the constitutional validity of the Indian Child Welfare Act. During the Task Force meeting, many tribal leaders and attorneys expected a split decision in the case that would require an immediate legislative response. However, little more than a week after the meeting, the Supreme Court handed down its decision in Brackeen. On June 15, 2023, the Court, in a resounding 7-2 decision rejected all challenges as it upheld the constitutionality of ICWA.
The majority opinion, authored by Justice Amy Coney Barrett, rejected arguments that questioned Congress' power to even enact ICWA. The Court cited longstanding precedent of Congress' "well established and broad" constitutional authority to legislate with respect to Indian affairs. The Court wrote, "We held more than a century ago that 'commerce with the Indian tribes means commerce with the individuals composing those tribes.' So that argument is a dead end."
The Court also rejected, out of hand, challenges that ICWA violated the anti-commandeering doctrine, which protects state rights. Noting that it already found ICWA to be enacted pursuant to Congress' Indian commerce authority, the Court held that "[W]hen Congress enacts a valid statute pursuant to its Article I powers, 'state law is naturally preempted to the extent of any conflict with a federal statute.' End of story. That a federal law modifies a state law cause of action does not limit its preemptive effect."
In a separate concurring opinion, Justice Neal Gorsuch – arguably the biggest champion of tribal sovereignty on the Court – detailed the tragic history that led to ICWA's enactment, including forcing Native children into federal boarding schools. Gorsuch lauded the opinion as "further steps in the right direction," expressing his hope that the court would "follow the implications of today's decision where they lead and return us to the original bargain struck in the Constitution – and, with it, the respect for Indian sovereignty it entails."
The Brackeen decision was a welcome return to respect for precedent and for historic norms relating to federal Indian law. Just one year ago, this same Court handed down Oklahoma v. Castro-Huerta, which overturned two centuries of federal Indian law. In dissent, Justice Neal Gorsuch called the Castro-Huerta decision an "ahistorical and mistaken statement of Indian law. [The decision] marks an embarrassing new entry into the anticanon of Indian law."
The decision, however, did not decide on the merits the question of whether ICWA violated the Constitution's Equal Protection Clause. The Court rejected the petitioner's argument on grounds that they did not have standing to raise the claim. As a result, the equal protection question remains open to a future legal challenge, one which Justice Brett Kavanaugh characterized as a "serious" and "significant question under bedrock equal protection principles."
A similar equal protection claim is actively being pursued by Maverick Gaming, a commercial gaming corporation based in Washington State. Maverick claims that the Indian Gaming Regulatory Act violates equal protection, because it "irrationally and impermissibly discriminates on the basis of race and ancestry." This misguided claim clearly ignores the fact that the U.S. Constitution acknowledges Indian tribes as separate distinct governments, not a race, and as such – federal laws enacted pursuant to Congress' Indian Commerce authority are based on the political/governmental status of Indian tribes and not race or ancestry.
Another gaming related challenge that lies on the horizon relates to both Internet gaming and IGRA's tribal-state compacting process. Since the Supreme Court's 2018 decision in Murphy v. NCAA, online sports betting has become the fastest growing aspect of the national gaming market.
While many tribal governments have adopted sports betting components to their brick-and-mortar gaming operations, only a few have moved to accept online sports wagers. Some tribes have negotiated IGRA tribal-state gaming compacts to employ geo-fenced online sports betting models that require the customer placing the bet to be located on Indian lands. Others are working outside of IGRA to conduct sports betting through a state-regulated model.
In 2022, tribal governments in the State of California won a hard-fought battle to prevent the broadest expansion of gambling in state history. Supporters of the proposal were led by DraftKings and FanDuel – two of the nation's largest commercial online gaming operators.
The Interior Department is currently reviewing a positive effort to strengthen the ability to tribes to offer online sports betting throughout a given state pursuant to tribal-state compacts. The proposed rule would also make significant positive changes to the IGRA tribal-state compacting process relating to revenue sharing provisions.
However, the iDevelopment and Economic Association (iDEA), a group of commercial online gaming corporations and law firms supporting them, is waging a battle against promulgation of the proposed rule. Both DraftKings and FanDuel are members of iDEA. The Association is joined by a group of state attorneys general in hoping to take down the proposal.
The NCAI/IGA Task Force discussed strategy to counter these and other challenges to the Indian gaming industry, including a national public relations effort to educate policymakers and the public about the longstanding benefits of Indian gaming to both Indian Country and our neighbors.
The Task Force also held a deep discussion about the need to address climate change. Tribal nations are on the frontlines of climate change, which threatens our homelands, food sources, and sacred ways of life. Climate impacts – including drought, wildfires, rising sea levels, and extreme weather events – have exacerbated pre-existing challenges and inequities.
While tribal governments nationwide support the Biden administration's efforts to reduce the impacts of climate change, many are concerned that these efforts – that now include a call for permitting reform – are compromising tribal homelands and sacred places in the process.
Tribes support efforts to address impacts of climate change, but our lands have historically been treated as dumping grounds for the mining industry. These industry-driven projects have resulted in hundreds of superfund sites that continue to poison tribal government homelands and protected treaty resources.
Indian Country will continue to work with Congress and the Administration to ensure that any federal actions, including permitting of new mines or infrastructure projects, protect Native homelands and sacred places, and include full and meaningful government-to-government consultation with Indian tribes.
There are times when Indian Country must come together. The wide-ranging threats to tribal sovereignty, Indian gaming, and tribal government homelands that we now face demands that today is that time.
The NCAI/IGA Task Force is bringing the two largest national tribal organizations together to unite all of Indian Country in the fight to protect sovereignty and our sacred treaty rights. This Task Force will use every available tool to protect the inherent rights of tribal governments.
The Task Force is a true call to action that will include efforts to get out the Native vote to elect officials who will appoint and approve judges that understand tribal sovereignty and who will make changes in Congress and at the agency levels.
Great thanks go out to the National Congress of American Indians for providing the NCAI/IGA Task Force this important forum for Indian Country to come together. We have much work ahead, but this first Task Force meeting brought many great ideas and a strong resolve that has already energized tribal leaders nationwide to prepare for the significant challenges ahead.
Ernest L. Stevens, Jr. is Chairman of the Indian Gaming Association. He can be reached by calling (202) 546-7711 or visit www.indiangaming.org.