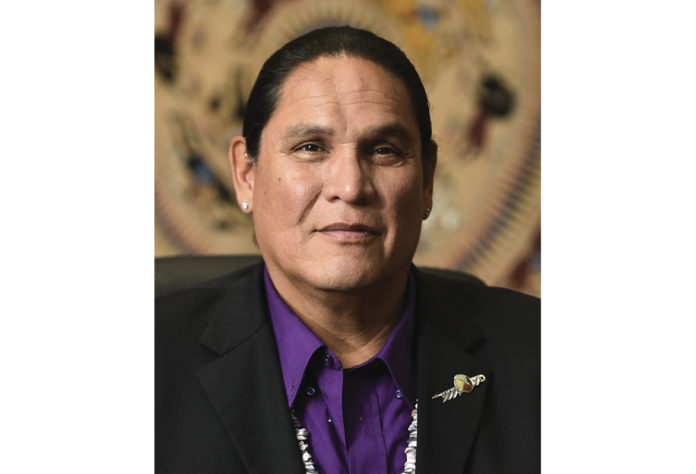 by Ernest L. Stevens, Jr.
Throughout November, all of Indian Country, many state and local governments, and the federal government celebrate Native American Heritage Month. This is an opportunity to tell the story not only of our perseverance, but also the important contributions of Native Americans to the quilt of American history and culture.
Countless advances in American medicine, environmental stewardship, agriculture, and engineering would not have been possible without the influence of Native healers, farmers and thinkers.
It should be a well-known fact that our ancestors inspired the infrastructure of America's early democracy. Our ancestors were not lost or discovered, but instead were here since time immemorial.
When Europeans made first contact, they found vibrant, distinct Native Nations with diverse cultures and millions of citizens. European nations all acknowledged the inherent governing authority of Indian tribes. They entered into treaties with tribes to secure peace and trade agreements and to foster government-to-government relationships.
Upon its formation, the United States likewise honored the governmental status of Indian tribes, entering into several hundred treaties with Native nations. Our nation's founders based the confederation of the original 13 colonies in part on the political system developed by the Iroquois Confederacy. Many of the democratic principles incorporated into the U.S. Constitution itself were based on these Indigenous systems of government.
Of course, this early respect for Indigenous peoples was followed by a series of misguided federal policies that fostered the taking of Indian lands, and the removal of Native children from their families – where they were forced into boarding schools and forbidden from speaking their language or practicing their religion. However, our ancestors persevered. They fought and many made the ultimate sacrifice to protect tribal sovereignty and our way of life. And still, they continued to help move our nation forward.
Even before being recognized as U.S. citizens, Native men and women warriors have stepped up to protect and serve our nation and this democracy at five times the national average. To pay tribute to Native warriors past and present, this month we formally observed the long-awaited formal dedication of the National Native American Veterans Memorial in Washington, D.C. The dedication and procession honored all indigenous veterans and their families and culminated in a ceremony in front of the U.S. Capitol.
The formal dedication, initially scheduled for November of 2020, was delayed because of the COVID-19 pandemic. This pandemic rocked Indian Country to our core. From day one, tribal leaders put the health and safety of people and communities first. This safety-first approach fostered trust in our operations. While Indian gaming revenues fell for the first time since the great recession, our revenues topped $39 billion in 2021, beating our pre-COVID record revenue by more than 13 percent. This resurgence is a reflection of our hard work and the current Administration's effort to bring the entire country back from the devastation we endured in 2020.
The Indian gaming industry's comeback is also a resounding affirmation of the vision and approach to the pandemic taken by tribal leadership. Their concept of community and caring for people first is paramount for Indian Country. We will continue to forge forward, keeping our communities, employees, and visitors safe as our top priority. This energy, along with Indigenous People's Day last month, helped us meet the goals and objectives to educate America and tell the true story of Native people, culture, and our contributions.
This month, as we reflect on this history and the contributions of our ancestors, we should feel comfort in knowing that their sacrifices are being honored. Native Americans today continue to step up and serve this nation both in the military and in public service. Today, the U.S. Congress and State houses have more Indigenous representation than any time in history.
The Biden Administration has elevated the bar for Native representation in the Executive Branch, including the honorable Deb Haaland, the first Native American to serve in a Cabinet position and the first Native to lead the U.S. Department of Interior, and Mohegan Nation's Lifetime Chief, Lynn Malerba, who is now our United States Treasurer. And they are joined by many more Native firsts in this Biden Administration.
Native Americans today carry the legacy of our ancestors, and we are teaching the generations of tomorrow about resiliency, dedication, and our many contributions.
As we celebrate Native American Heritage Month 2022, let us remember who occupied and protected these lands from time immemorial. In the face of tragic policies that sought to erase our culture and take our homelands, Native Americans have continued to mold, and contribute to the history of America.
Recognition of Native American Heritage Month is powerful because it is an enduring symbol of this country's appreciation and respect for America's First Nations. Let us never forget the strength and resiliency of our young nation was possible only because of the generosity and empathy our ancestors.
It is my hope that we all take a moment to celebrate this Native American Heritage Month by working to understand the true history of Indian Country – erase the myths and legends – not to dwell on the past, but to educate, heal, and honor the gifts that our ancestors have given us all.
Ernest L. Stevens, Jr. is Chairman of the Indian Gaming Association. He can be reached by calling (202) 546-7711 or visit www.indiangaming.org.