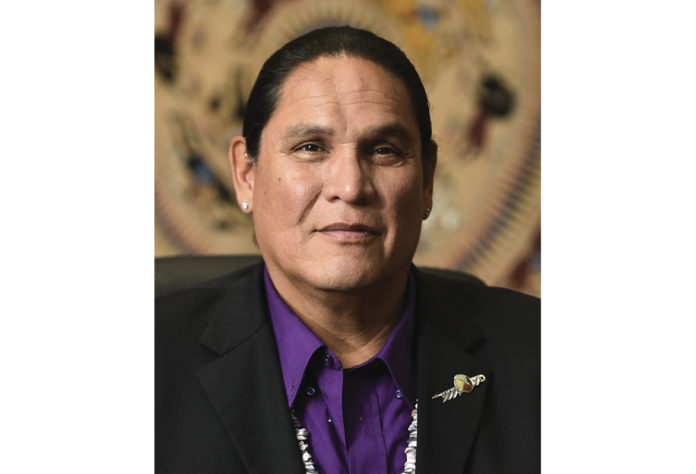 by Ernest L. Stevens, Jr.
American voters delivered a split decision in the 2022 midterm elections, with Democrats retaining control of the U.S. Senate and Republicans taking the U.S. House of Representatives. Each will have a narrow majority in the next session of Congress.
The results of federal elections play an outsized role in the everyday lives of residents of Indian Country. Tribal governments rely on Congress to uphold the solemn treaty and trust obligations and to protect tribal sovereignty and self-governance. Unless we hold Congress accountable through the power of our vote, history has shown that Congress will not only fail to uphold its obligations to Indian Country – the government will work to the great detriment of our people.
The first Americans were the last to be granted voting rights. For the first 150 years of our nation's history, American Indians had no vote, and no say in federal policies that stole our lands, authorized the forced removal of Indian children from their families, and outlawed the expression of Native culture, language and religion. It wasn't until 1924 that Indians were granted the right to vote in federal elections. Many states continued to deny American Indians the right for decades after 1924. Even today, tribes must fight to fully exercise the voting rights of their community.
The Native American vote is our voice and our power to ensure that policymakers are held accountable. To help energize the Native vote this past fall, the Indian Gaming Association's "My Vote WILL Count" campaign held stops throughout Indian Country, recruiting young warriors to organize their communities. Exercising our voting rights empowers our people and honors the sacrifices of our ancestors who fought to protect tribal sovereignty and our way of life.
The Native vote once again played a pivotal role in many tight races. What is even more encouraging is the growing number of Native candidates. In the 2022 elections, that number grew to a record 140 Indigenous candidates for federal and state offices in the general election. While not every candidate won election or reelection, Indian Country applauds their efforts to serve their communities. They elevate the visibility of all Native Americans and our issues.
Indian Country will again be strongly represented in the 118th Congress. Rep. Markwayne Mullin (R-OK) (Cherokee) will be the first enrolled member of a federally recognized tribe since the great Ben Nighthorse Campbell (R-CO) (Northern Cheyenne) to serve in the upper chamber. House Native American Caucus Co-Chairs, Representative Tom Cole (R-OK) (Chickasaw) and Representative Sharice Davids (D-KS) (Ho-Chunk), easily won reelection. Rep. Davids won reelection to her third term in Congress in the face of a toughly redrawn district, winning the race by double digits. And finally, Rep. Mary Peltola (D-AK) (Yup'ik) won her race to serve a full two-year term as the At-Large Representative for the State of Alaska. Rep. Peltola, the first Alaska Native to serve in Congress, won the special election in August to serve the remainder of the term for the late Congressman Don Young, the Dean of the House of Representatives.
However, after every election, while we celebrate these victories, we know that the months ahead require a united education effort. The 118th Congress, which opens on January 3, 2023, will seat dozens of new Members of Congress, many who do not represent tribes or even have tribal governments in their state. In total, 83 new Members of Congress will be sworn into office.
From January through March of 2023, the Indian Gaming Association and sister organizations hold legislative summits and impact weeks to discuss Indian Country's policy priorities and challenges. We also take these opportunities to meet with new Members of Congress and educate them about Indian Country, our culture, and the federal government's relationship and obligations to our communities.
When new Members of Congress are sworn in, they take a solemn vow to uphold the U.S. Constitution. We take these early opportunities to remind them that the U.S. Constitution they swore to uphold reaffirms the status of Indian tribes as separate sovereign governments. We remind them that treaties are the Supreme Law of this nation. For the Indian Gaming Association, we also share the history of Indian gaming and its vital importance to tribal government economies, the 300,000 direct American jobs that Indian gaming generates annually, and the fact that revenues generated from our industry are reinvested in Native communities to improve education, health care, public safety and other essential community services. Indian gaming is tribal government self-determination.
As we prepare to gather with family and friends this holiday season, in the wake of a momentous midterm election, we applaud those Native warriors who worked to organize their communities and those who put their names forward to serve. The holidays and the celebration of the coming year are a welcome respite to recharge and prepare for the work that lies ahead.
Ernest L. Stevens, Jr. is Chairman of the Indian Gaming Association. He can be reached by calling (202) 546-7711 or visit www.indiangaming.org.