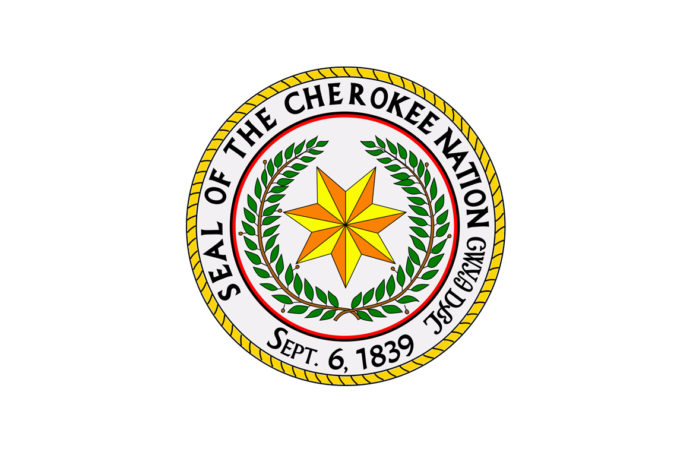 TAHLEQUAH, OK – Cherokee Nation Principal Chief Chuck Hoskin Jr. and Deputy Chief Bryan Warner are proposing a historic $120 million in funding to expand affordable housing options and offer low-income home repairs and other related housing needs for Cherokee citizens across the reservation.
The proposal reauthorizes the Hoskin-Warner administration's landmark Housing, Jobs and Sustainable Communities Act (HJSCA) of 2019, which this year will complete repairs and replacements of nearly 200 homes for Cherokee elders or Cherokee citizens with disabilities. The 2019 law, funded completely with revenue from the tribe's business arm, also upgraded community buildings with energy conserving projects such as solar panels and energy efficient appliances.
"Deputy Chief Warner and I proposed the Housing, Jobs and Sustainable Communities Act right after we took office in 2019 because housing is a critical component for building a strong foundation and strong communities, particularly for our elders," said Chief Hoskin. "The Housing, Jobs and Sustainable Communities Act's initial $30 million investment was the largest housing investment in Cherokee history. We did it purely with our tribal business revenue and before we had a single extra penny of federal funds. Even though the COVID-19 pandemic brought construction to a halt for more than a year, by this year's end we will have met our goal of serving every elder or Cherokee with a disability who was on the housing rehab waiting list as of August 2019. But, we have so much more work to do to meet the housing needs of the Cherokee people. This proposed reauthorization will provide even more stability and security for our citizens."
The proposed HJSCA reauthorization by Chief Hoskin and Deputy Chief Warner would be funded with a combination of unspent general fund revenue authorized under the existing law and additional funds available under the American Rescue Plan Act. Aspects of the proposed $120 million plan include:
$20 million for low-income housing rehab or home replacement, primarily for Cherokee elders and Cherokee citizens with disabilities
$10 million for low-income emergency housing rehab, primarily for elders and citizens with disabilities
$30 million for constructing new homes for pending applicants who own their own land on the Housing Authority of the Cherokee Nation's current "New Construction Home Ownership Program" (NCHOP) waiting list
$30 million for constructing new homes for pending "landless" applicants on the Housing Authority of Cherokee Nation's (HACN) current NCHOP waiting list
$4 million for new, low-income housing rental units
$4 million for building or expanding fluent Cherokee speaker villages
$10 million for crisis shelters for homeless citizens or victims of domestic violence
$7 million to continue Cherokee Nation Community and Cultural Outreach's "Sustainability Grants" for Cherokee community organizations and buildings
$5 million for land acquisition and development for housing projects in the proposal
Deputy Chief Warner said the proposal's historic commitment to new affordable housing has the potential to make generational change in the Cherokee Nation.
"Repairing the homes of our elders in need is absolutely essential," said Deputy Chief Warner. "But, so is making sure that young Cherokee families can put down roots close to their home communities. Our commitment of $60 million to build new homes across the reservation means we have an opportunity to grow stronger communities, help Cherokee families increase their economic wealth, and the way the program is structured, actually boost funding for our housing programs for generations to come. We can make generational impacts with this plan."
The proposal's $60 million in new home construction will help shorten wait times for current applicants under HACN's New Home Construction Program. Under that program, participants receive a new home on a rent-to-own basis with a 30-year payoff and a monthly payment below market rate. Under Chief Hoskin and Deputy Chief Warner's proposal, payments on new homes would go directly into funding future housing programs. Under a unique provision of federal law, the new homes can also potentially harness federal impact aid funds for local public schools.
Chief Hoskin and Deputy Chief Warner's proposal is on top of over $40 million in recent expansions of various mortgage assistance programs as well as emergency rehab programs operated by Cherokee Nation and the Housing Authority of the Cherokee Nation. HACN is also planning millions of dollars in additional low-income rental projects using other federal funding sources.
The current Housing, Jobs and Sustainable Communities Act is on course to hit several major milestones of success, including:
On track this year to complete 184 housing rehab or replacement projects for low-income Cherokee elders and those with disabilities since 2019, on top of 67 federally funded such projects during that same time period
Created or supported 259 jobs
Reduced energy consumption through dozens of sustainable communities projects for Cherokee community buildings
The Housing Authority of the Cherokee Nation recently approved an $8 million package to finish out the current year's Housing, Jobs and Sustainable Communities projects, the largest such housing rehab bid package in HACN's history.
HJSCA expires September 30 unless reauthorized by the council. Chief Hoskin and Deputy Chief Warner's proposal, which quadruples the spending of the current law, would immediately extend HJSCA through September 2025.
"The Housing, Jobs and Sustainable Communities Act of 2019 was the most ambitious housing plan in Cherokee history," said Chief Hoskin. "But it pales in comparison to our new proposal. I look forward to working with the council on this new plan, because we have no time to lose when it comes to taking care of our elders and literally building a better future for our Cherokee families."
District 6 Tribal Councilor Daryl Legg, of Sallisaw, a sponsor of the legislation, said the plan is in part a response to needs he has seen since taking office.
"As proud as I am about what we did with the original housing act in 2019, the fact is we still have great need and this will help us do more," said Councilor Legg. "This is particularly true when it comes to emergency rehab for Cherokee elders and others who simply have no hope for safe housing without our help. This legislation helps address that problem and does so much more."
District 13 Tribal Councilor Joe Deere, of Tulsa, a co-sponsor of the measure, expressed optimism that the new law will reach parts of the reservation that have been historically underserved.
"There are housing needs across the entire 7,000-square-mile reservation. An expanded housing act can help meet those needs like never before, especially in my district," said Councilor Deere.
Chief Hoskin and Deputy Chief Warner's housing plan goes before the council's Rules Committee on March 31. If approved during committee, it could see final approval at a special council meeting later the same day.