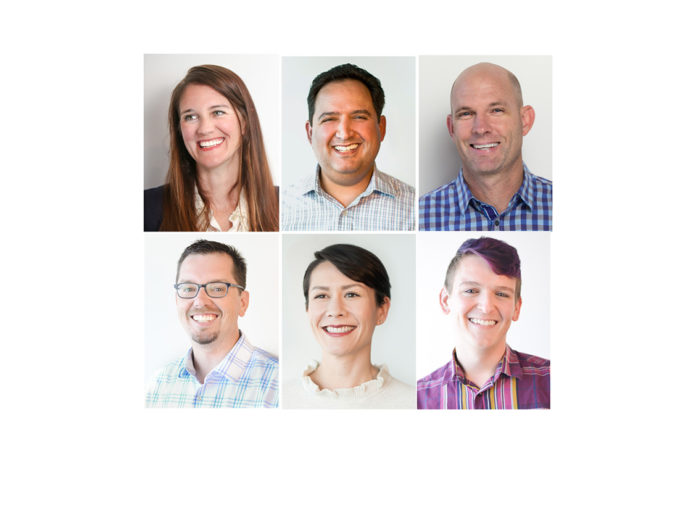 MEMPHIS, TN – HBG Design has announced new promotions and elevations of staff that emphasize the depth and breadth of talent across the span of the entire firm.
"We welcome this next generation of leaders whose voices are already making an impact on how we operate and practice industry-leading design," said Nathan Peak, AIA, LEED GA, Practice Leader at HBG Design. "Congratulations to these HBG Design employees on their recent firm promotions and advancements!"
Deidre Brady, AIA, NCIDQ, LEED AP BD+C – Promoted to Principal / Project Management Leader

As both a licensed architect and interior designer, Brady has focused her work on providing HBG Design's clients with excellent service, team communication and project management, for clients that include the Chickasaw Nation, Ho-Chunk Gaming, and IHG/Intercontinental Hotels Group.
Michael Ochoa, AIA, Project Manager – Promoted to Senior Associate

Ochoa is a knowledgeable and well-respected Project Manager for hospitality and entertainment projects, serving clients such as Caesars Entertainment and the Pokagon Band of Potawatomi. His evolution from Project Architect to Assistant Project Manager to Project Manager at HBG Design has helped solidify his abilities as a skilled client service manager and design advocate. Ochoa recently led the design of the debut Rock & Brews Casino and Restaurant in Braman, OK, for the Kaw Nation.
Jason Fox – Promoted to Senior Associate / Construction Administration Leader

With almost 20 years of construction management and administration experience, Fox facilitates the delivery of well-constructed buildings with large-scale budgets and equally complex building systems. He is regularly sought after by owners, such as the Pokagon Band of Potawatomi, due to his extensive construction knowledge, straightforward communication style, and team-centered approach.
Chris Devine, AIA – Promoted to Senior Associate / Documentation & Specification Leader

Devine and his Documentation Standards Team have meticulously developed new practice tools and approaches that enhance the way HBG Design works by bringing clarity to highly complex processes. These enhancements and streamlining of standards have allowed their project teams to amplify their design collaboration and produce design drawings and Revit models more efficiently and more accurately, with a substantially increased level of quality.
Leslie Thompson – Promoted to Senior Associate / Process Improvement & Resource Leader

As a bridge between all aspects of project delivery at HBG Design, Thompson is the go-to person for practice-related processes and procedures, bringing a high level of communication and strategic thinking to every initiative she spearheads for the firm.
Christopher Wood, IIDA, NCIDQ, Interior Designer – Promoted to Associate

Wood was recently recognized by Boutique Design magazine in the 17th annual group of BD18 honorees – the rising design stars who are creating some of today's most thoughtfully designed hospitality venues. Over his nine years at HBG Design, Wood has worked with commercial and Native American clients to create meaningful, operationally efficient hotel and casino design concepts based on cultural, regional and brand influences – infused with a bit of glitz and glam.