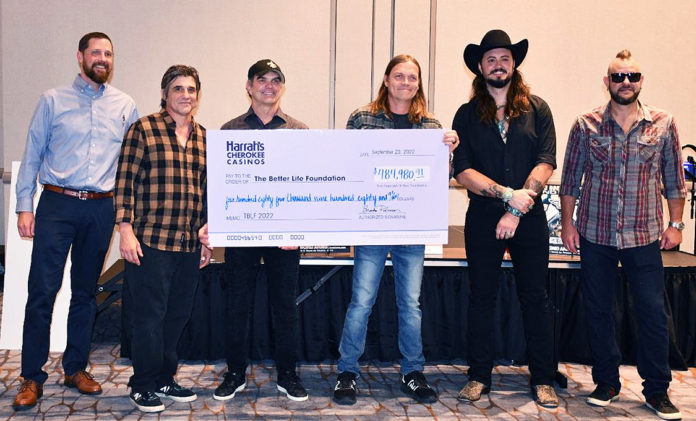 CHEROKEE, NC – For the fifth year, 3 Doors Down performed for a cause at Harrah's Cherokee Casino Resort with their 17th annual charity concert, motorcycle ride, motorcycle raffle, and silent auction to benefit The Better Life Foundation (TBLF).
The weekend began with an invite-only superfan and VIP party where attendees enjoyed food, beverages, and blackjack with the band. Following, motorcycle riders arrived at the resort's Riverwalk before venturing to Harley-Davidson of Asheville. After the ride, a silent auction was held in The Cherokee hotel lobby that offered guests an opportunity to bid on unique band and sports memorabilia. Before ending the weekend festivities with their concert, 3 Doors Down also made a live call to the lucky winner of the custom Harley-Davidson motorcycle raffle.
Over $484,000 in raffle and concert ticket sales, as well as in-kind donations, were raised by Harrah's Cherokee Casinos for TBLF, bringing total donations over the last five years to over $2.2 million.
"We are always excited to be able to partner with The Better Life Foundation to help make a difference in the lives of so many people," said Brian Saunooke, Regional Vice President of Marketing. "This event embodies two of our core values – having fun and giving back to others. This is definitely an event we look forward to each year."
3 Doors Down established The Better Life Foundation in March of 2004 with the mission to make a positive change in the lives of children and young adults by providing food, shelter and medical assistance through funds distributed to organizations and hospitals. The organization is a 501(c)(3) federally tax exempt charity. To date, the foundation has raised and distributed over $3 million to reputable children's charities, local municipalities and faith-based groups to achieve its goals in helping communities and children in need.