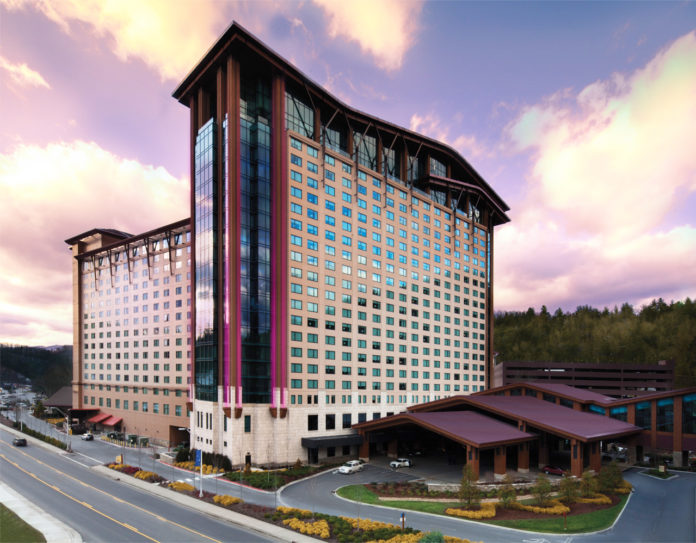 CHEROKEE, NC – In 2022, Harrah's Cherokee Casinos impacted the economy and surrounding communities in Western North Carolina through sponsorship donations to local non-profits and team member volunteer efforts. Harrah's Cherokee Casinos also added economic value to the surrounding communities through wages and benefits paid and payments to vendors for goods and services. In 2022, this included $16.1 million in payments to vendors, $18.719 million in team member salary and wages, and a $7.5 million payment to the Cherokee Preservation Fund – an organization that supports the revitalization of the Cherokee downtown district and offers grants that help sustain local organizations.
"25 years ago, Harrah's Cherokee Casinos made a commitment to be a good business partner by enriching the lives of our team members and our surrounding communities in western North Carolina," said Brooks Robinson, Harrah's Cherokee Regional Senior Vice President & General Manager. "It illustrates the results of our efforts in upholding that promise and represents an important message – we are more than gaming."
As one of the largest employers in western North Carolina, Harrah's Cherokee Casinos team members dedicate time to the community through the company's program H.E.R.O (Harrah's Employees Reaching Out). In 2022, 117,490 volunteer hours were recorded. Organizations in western North Carolina supported by H.E.R.O included:
MANNA Food Bank
NC Beautiful
Cherokee Hospital
Western Carolina University
No Barriers
Young Harris College
WNC Communities
Blue Ridge Pride
K-9 for Warriors
The Giving Spoon
PAWS Animal Shelter
In addition to volunteer efforts, Harrah's Cherokee Casinos continued to support local non-profit organizations through sponsorship donations totaling $425,000 in cash and services for 2022. This was done through numerous community events, including:
Folds of Honor – Harrah's Cherokee Casinos held a six-week beverage fundraising event at its properties that generated a $70,000 donation to Folds of Honor. 2022 marked the sixth consecutive year that the company successfully led this fundraising initiative. The donation from the event helped fund 14 educational scholarships.
3 Doors Down & The Better Life Foundation – 3 Doors Down rocked out for a cause at Harrah's Cherokee Casino Resort with their 17th annual charity concert, motorcycle ride, motorcycle raffle and silent auction to benefit The Better Life Foundation (TBLF). Over $484,000 in raffle and concert ticket sales, as well as in-kind donations, were raised by Harrah's for TBFL, bringing total donations over the last five years to over $2.2 million.
Make-A-Wish Western & Central NC – A vendor appreciation event was held at Harrah's Cherokee Casino Resort to support Make-A-Wish Western & Central NC. Community partners, representatives from Harrah's Cherokee and Make-A-Wish, as well as vendors of Harrah's Cherokee from across the nation gathered to participate in the two-day experience. A $43,000 donation by the company, coupled with donations from other participants, produced an all-in donation of $184,000 to support 25 wishes for kids in western North Carolina.
NRT Charity Donations – At Harrah's Cherokee Casinos, guests are given the option to donate their change to local non-profit organizations at ticket redemption kiosks. 2022 was the inaugural year for this initiative that garnered an impressive total donation of over $92,000. Organizations impacted include: Meals on Wheels, Make-A-Wish, Cherokee Cancer Support and Blue Ridge Health.
Giving Tuesday – To celebrate Giving Tuesday, the company matched donations by its team members made via payroll deduction to Lunchbox Heroes to help provide lunches to local students in Jackson, Swain, Graham, Cherokee, Haywood, Macon, and Clay Counties. The all-in donation totaled $18,109.
Giving Month Recognition – During the first-ever Caesars Giving Month held in November, two team members from Harrah's Cherokee received recognition for the highest individual donations to Meals on Wheels across the enterprise. Harrah's Cherokee Casinos also received recognition at the property level for highest donation to Meals on Wheels. Team members received a celebratory gift card, and the property will received $8,000 in gift cards that will be donated to a non-profit organization.