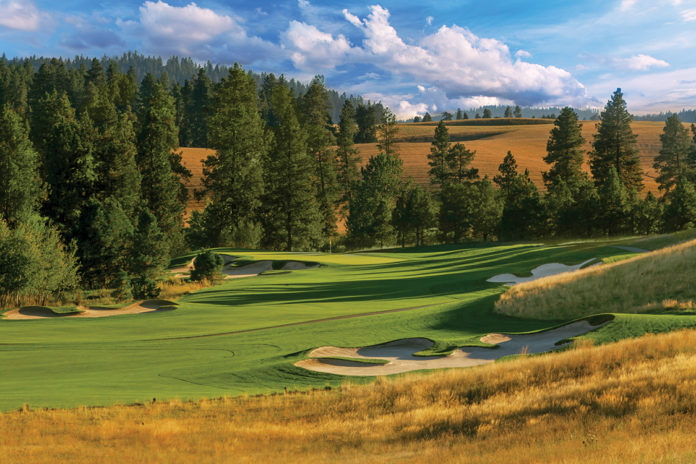 Over the next several months, Indian Gaming magazine is featuring tribally-owned golf courses across North America. This month we spotlight a number of top courses in Washington, Oregon and Idaho. With spring now in full swing, it's time to get your golf game on!
Jamestown S'Klallam Tribe
Cedars at Dungeness
Sequim, WA
7 Cedars Casino (12 miles away)
7cedars.com/golf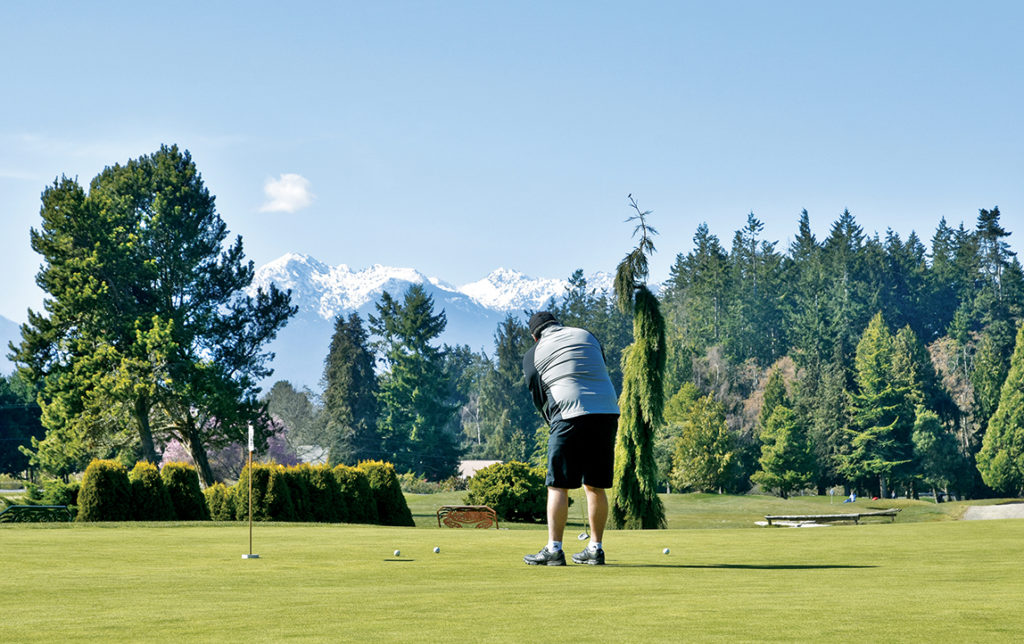 Located on 122 acres in the rain shadow of the Olympic Peninsula, the Cedars at Dungeness is considered one of the top courses in the Pacific Northwest because of its dry, year-round playing conditions. Built in 1970, Dungeness boasts a 6,456 yard, 18-hole championship golf course. The signature hole is the 3rd, a Dungeness crab-shaped sand trap, appropriately named, "Ole Crabby."
The 2006 acquisition of the Dungeness Golf Course by the Jamestown S'Klallam Tribe was an early step in the expansion of 7 Cedars Resort Properties, providing a high-quality golf experience to its local members and year-round visitors.
The Cedars at Dungeness is far from ordinary – offering a wide range of golf necessities, including a fully stocked Pro Shop, club rentals, push carts, and electric golf carts. Play 9, 18, or utilize the chipping, putting, and driving range. Whether you'd like to try taking up the sport or you're perfecting your craft, professional golf instruction, lessons, camps and leagues are available.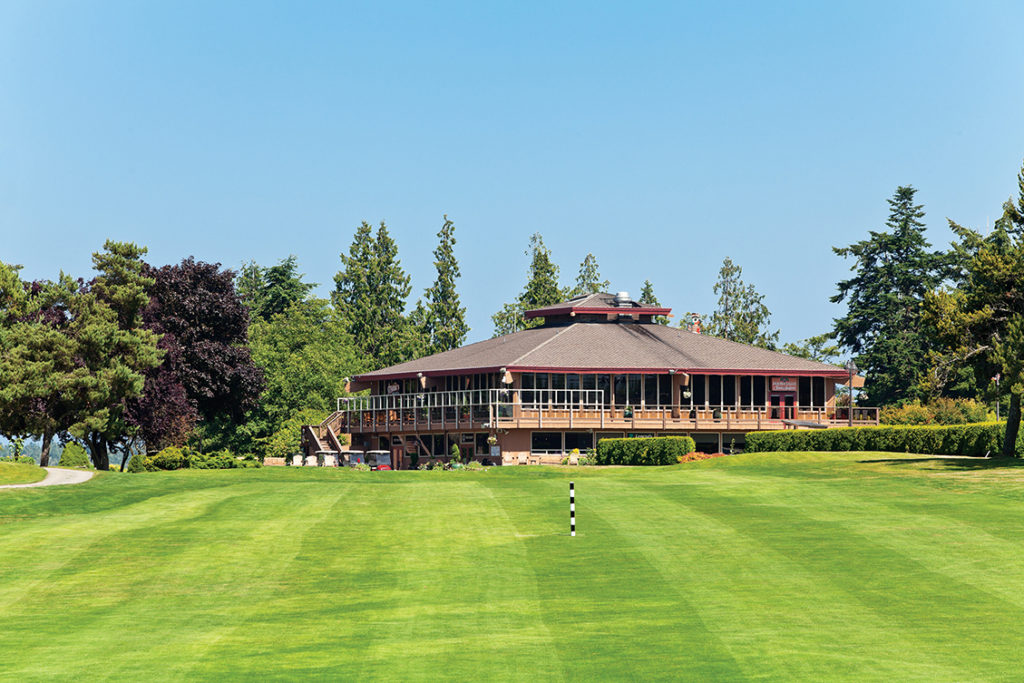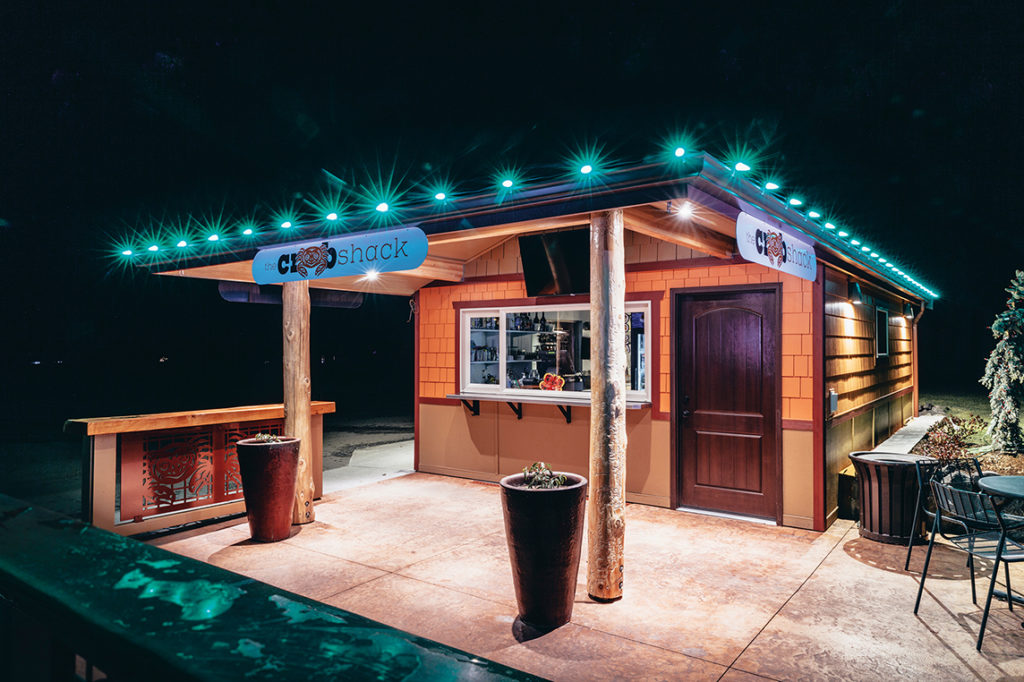 Home of the Washington Senior Open, the Crab/Crabette, and WWCPGA Pro and Pro/Am, the Cedars at Dungeness is tournament friendly. From private groups of 16+, fundraising events, and more; the Cedars at Dungeness hosts a variety of tournaments throughout the year to suit any skill level. The friendly staff and tournament coordinators will ensure a seamless tournament and a championship experience.
Discover where locals dine at Double Eagle Steak and Seafood, Stymie's Bar & Grill, or the Crab Shack. Whether stopping in for a quick drink or celebrating a great round, there is a wide range of options to satisfy any appetite – breakfast, lunch, and dinner, all with indoor and outdoor seating options.
The 7 Cedars Hotel offers a wide variety of golf packages designed specifically to celebrate the Jamestown S'Klallam's tribal culture, natural beauty of its coast lines and wildness of the Olympics – all with a comfortable, peaceful experience in mind.
The Lummi Nation
Loomis Trail Golf Course
Blaine, WA
Silver Reef Casino Resort (15 miles away)
golfloomis.com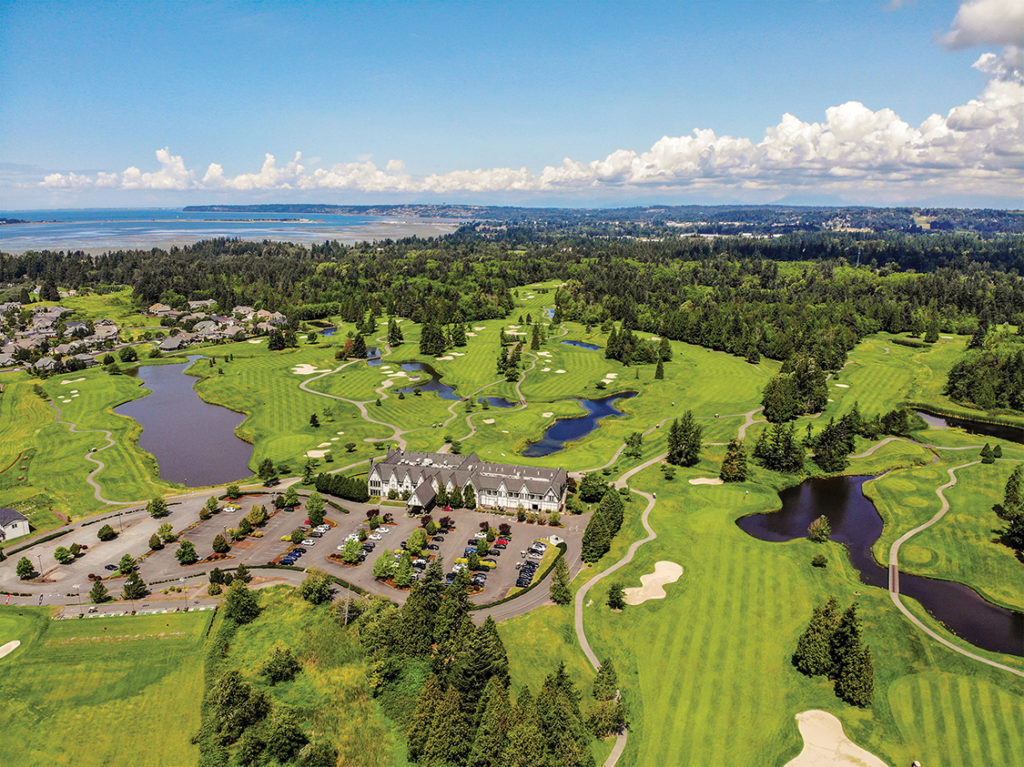 Loomis Trail Golf Course, acquired by The Lummi Nation in October of 2018, is considered a premier golf destination in the Pacific Northwest. While the championship-caliber course has been an impactful addition to the resort and the Northwest Washington golfing community, the significance is rooted far beyond golf.
Loomis Trail landholding is within the tribe's St'l'elnep – their ancient ground or village. Loomis Trail, Dakota Creek, California Creek, and the surrounding areas were important to the tribe's ancestors and the history of the Lummi people. Acquiring 180 acres of their St'l'elenp is something the Lummi people are proud of, on behalf of their past, present, and future.
The formerly private club now is open to the public 365 days a year. Designed by Graham Cooke, Loomis Trail Golf has been ranked by GolfWeek as the #5 public golf course in Washington. Constructed with the Northwest in mind, Loomis Trail is at the top of the list for year-round play with excellent drainage and immaculate greens. The scenic beauty is unsurpassed, and the consistently smooth, fast, and true greens put Loomis Trail among the Northwest's finest courses. An extensive canal and lake system brings water into play on all 18 holes, giving Loomis Trail one of the highest slope ratings in Washington. From the first tee to the eighteenth green, golfers will find themselves challenged, not only by water\hazards, but also by tree-lined fairways and smooth bunkers. Loomis Trail has something to challenge golfers of all skill levels and abilities.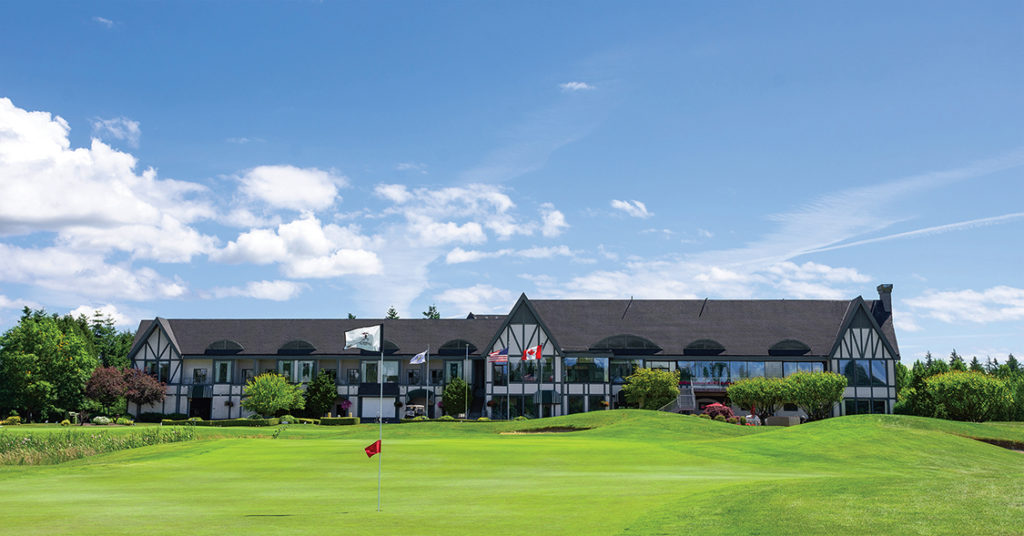 The extraordinary Tudor-style clubhouse offers a range of amenities including the Loomis Trail Bar & Grill, and ample banquet and event space. Couple all of that with the amenities offered through Silver Reef Casino Resort, including 206 luxury suites and hotel rooms; world-class gaming; multiple award-winning Steak House; rejuvenating spa, and more; and The Lummi Nation has created a Vegas-like escape that is unmatched. The golf course perfectly complements the resort atmosphere at Silver Reef that The Lummi Nation are proud to offer. With 'stay and golf packages' available featuring multi-night stays and unlimited golf, primetime and twilight specials featuring fantastic, discounted rates and extras, and a friendly and knowledgeable staff, Loomis Trail is at the top of its class, and rightfully so.
The course, located on the tribes' ancestral lands, has been a tremendous addition to their Silver Reef Casino Resort. Loomis Trail has elevated not only itself but has made the resort a premier casino resort destination in the region.
Squaxin Island Tribe
Salish Cliffs Golf Club
Shelton, WA
Little Creek Casino Resort
salish-cliffs.com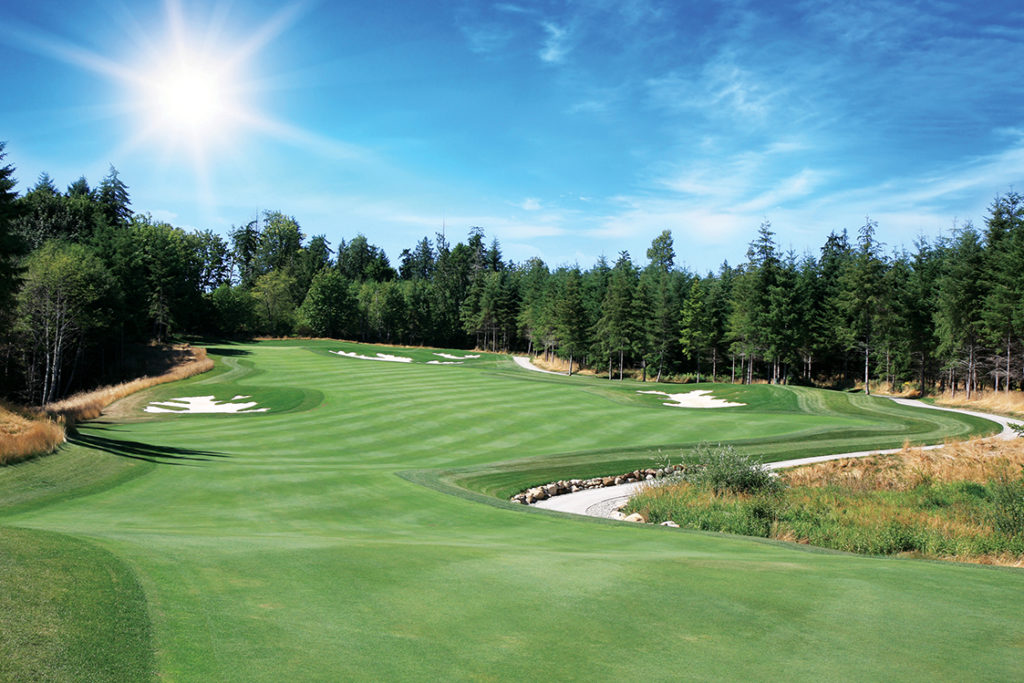 Located just 20 and 70 minutes from Olympia and Seattle respectively, the par 72 layout offers world-class golf, stunning Pacific Northwest views and plays 7,269 yards from the championship tees. Accompanying the outstanding golf course, GPS-enabled cart fleet, driving range and practice areas, a full-service restaurant and golf shop inside the beautiful log/cedar clubhouse will further enhance your golfing experience at Salish Cliffs Golf Club.
Salish Cliffs is celebrating 10 years having opened in 2011, and features a 360-degree view of Kamilche Valley, rock facings and elevation changes of 600 ft. with smooth transitions. Privacy abounds with 16 of 18 holes encircled in lush forestry. Holes 9 and 18 share expansive 15,000 sq. ft. double green with a sparkling lake and wetland preserve to separate the holes.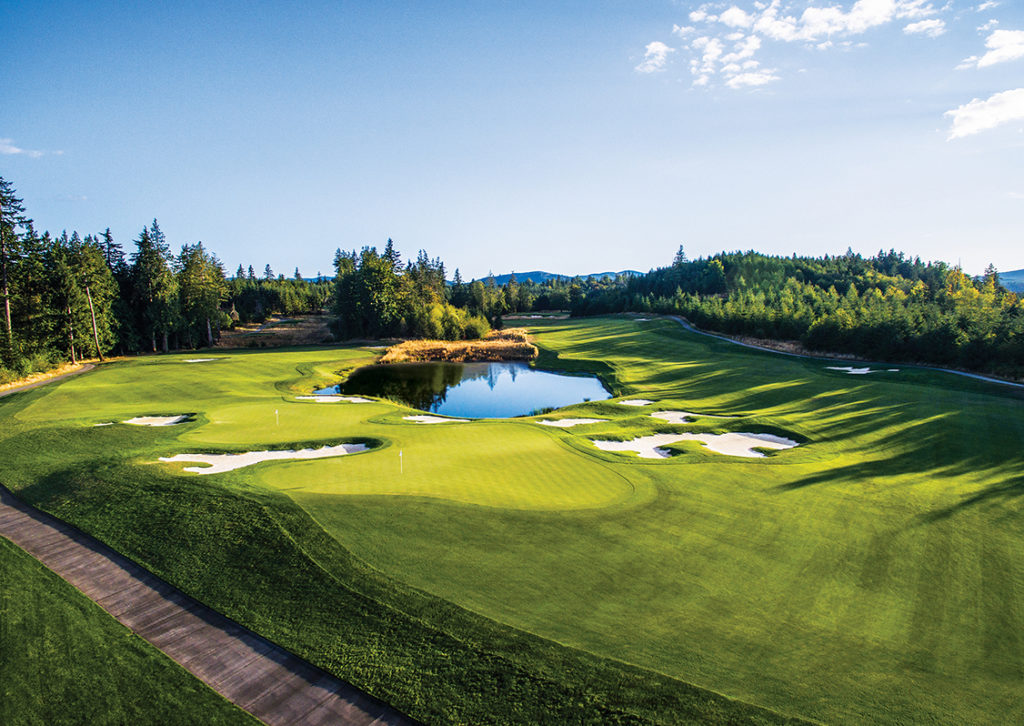 The clubhouse includes a wrap-around outdoor patio with a 2nd floor mezzanine that overlooks holes 9 and 18 with cedar-style architecture that compliments the resort. The restaurant within the clubhouse of Salish Cliffs Golf Club follows in the tradition of the Little Creek Casino Resort by offering great food at reasonable prices. Indoor and outdoor (weather-permitting) dining is available, allowing guests to enjoy stunning golf course and ravine views. Before, during or after your round, the Salish Cliffs Grille will satisfy anyone's appetite. The big-screen televisions, amazing views, friendly service, and a comfortable, relaxing atmosphere, invites guests to enjoy food and drink even when they're not playing golf.
Salish Cliffs offers a variety of things to do off the course as well. Located at Little Creek Casino Resort, the property offers a 190-room hotel for the perfect getaway. Stay, play and spa packages are always available as well as annual memberships.
Suquamish Tribe
White Horse Golf Club
Kingston, WA
Suquamish Clearwater Casino Resort (10 miles away)
whitehorsegolf.com
White Horse Golf Club in Kingston, WA, is one of the premier Pacific Northwest golf destinations. Once considered among the most difficult golf courses in the region, White Horse is now enjoyed by all levels of golfers from around the area.
Nestled among 456 acres of old-growth cedar, spruce, fir and hemlock, this full-service golf club offers an all-grass practice facility, three putting greens, chipping area, a Pro Shop, Cedar Ridge Grill and 18 incredible holes of golf. Located just five minutes south of the Kingston/Edmonds ferry terminal, White Horse is easily accessible to the Seattle Metro area.
Opened in 2007, the course was originally designed by Cynthia Dye McGarey, niece of design legend Pete Dye, and was named to Golf Digest's list of America's Best New Courses in 2007. Known as one of the toughest golf courses in the region, golfers initially enjoyed the challenge but soon the novelty began to wear off as the course was too difficult for average players.
In 2010, the Suquamish Tribe purchased White Horse and one of the first priorities was to "soften" the course and make it more playable. They enlisted John Harbottle, a local architect who had designed several layouts throughout the state. By removing nearly half of the 137 bunkers, Harbottle widened the fairways and made the landing areas more generous. Since the update, White Horse continues to be challenging, but can still be played by golfers of all skill levels, offering five sets of tees that allow play from 5,022 to 7,093 yards.
The clubhouse, built in 2013, has the look and feel of a Northwest lodge with a welcoming atmosphere for both golfers and the general public. The on-site restaurant, Cedar Ridge Grill, boasts a spectacular view from the outdoor terrace that overlooks the 18th hole. Picture windows from the clubhouse offer striking views of the golf course, while providing 2,000 sq. ft. of banquet space to accommodate events up to 150 guests.
In 2021, White Horse Golf Club was voted as the #40 best golf course in the U.S. on Golf Advisor's "Golfer's Choice Top 50 U.S. Courses" list, #13 in the U.S. on the list of "Top 25 Golf Courses for Off-Course Amenities," along with currently holding the #1 spot as the "Best Golf Course in Washington."
Following a round of golf, guests can enjoy a scenic 15-minute drive to Clearwater Casino Resort for an exciting evening of casino nightlife.
Confederated Tribes of Siletz Indians
Chinook Winds Golf Course
Lincoln City, OR
Chinook Winds Casino Resort (1 mile away)
chinookwindscasino.com/amenities/golf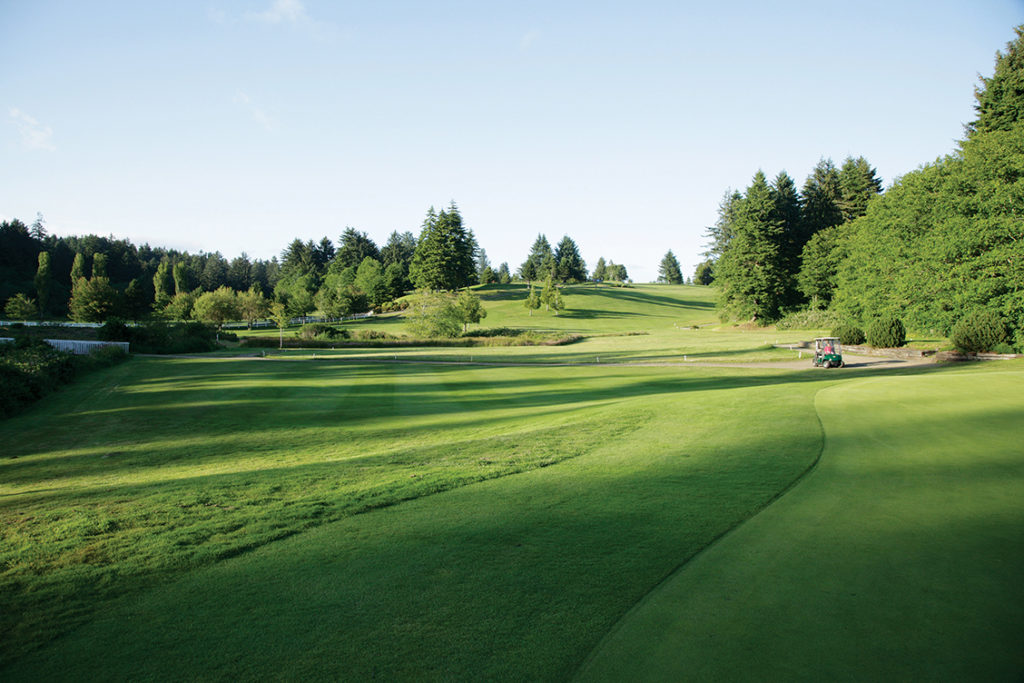 Chinook Winds Golf course is located at the beautiful Oregon Coast town of Lincoln City. In 2005, the Siletz Tribe purchased this popular course, originally named Devils Lake Golf Course. Chinook Winds is part of the "Seven Miles of Smiles" attracting golf and coastal enthusiasts from all over the country. This 18-hole course is set up for all levels of golf skills from beginner to advanced with its challenging hills, greens and tree lines, while the length is forgiving. Both men's and women's leagues play here as well as the new Flexible League encouraging golfers of all skills to work on their game, earn prizes and better their handicap over the spring and summer. The course is home to the local high school golf team, hosting numerous youth athletes every year for competitive and leisure play. Juniors are welcomed with low rates and a fun course set up for any skill level. Chinook Winds Golf Course has the only indoor driving range on the Oregon Coast allowing players to work on their game all year round. Chinook Winds Fitness Center is located right behind the pro shop for those interested in staying fit for the links. Free and nautical weight systems as well as cardio equipment provide a variety for every type of workout.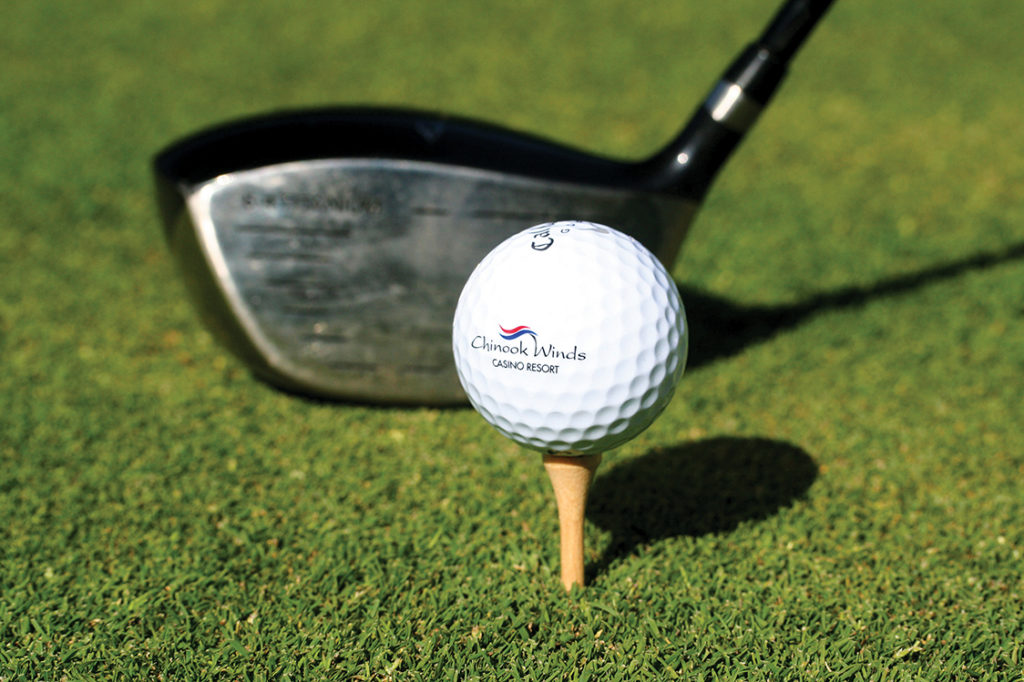 Aces Sports Bar & Grill, the biggest sports bar in Lincoln City, is located just above the pro shop. With 18 televisions fed by satellite, cable, and pay-per-view, odds are your game, match, race, round or fight will be on. The full-service bar boasts 28 taps (including two nitro handles for Guinness and a hearty seasonal brew), featuring the region's best microbrews. So, if a guest wants a glass or growler filled, Acres Sports Bar & Grill is pouring. And when you're hungry, the hearty menu of pub fare really satisfies.
The 18-hole picturesque course has everything for the amateur golfer to enjoy. There are long, challenging, and short precise holes, for all levels of play. Before play, guests can warm up in the indoor driving range next to the full-service pro shop. A fitness center with steam rooms, saunas and racquetball courts is located adjacent to the pro shop.
Coos, Lower Umpqua and Siuslaw Indians
Ocean Dunes Golf Links
Florence, OR
Three Rivers Casino Resort
threeriverscasino.com/golf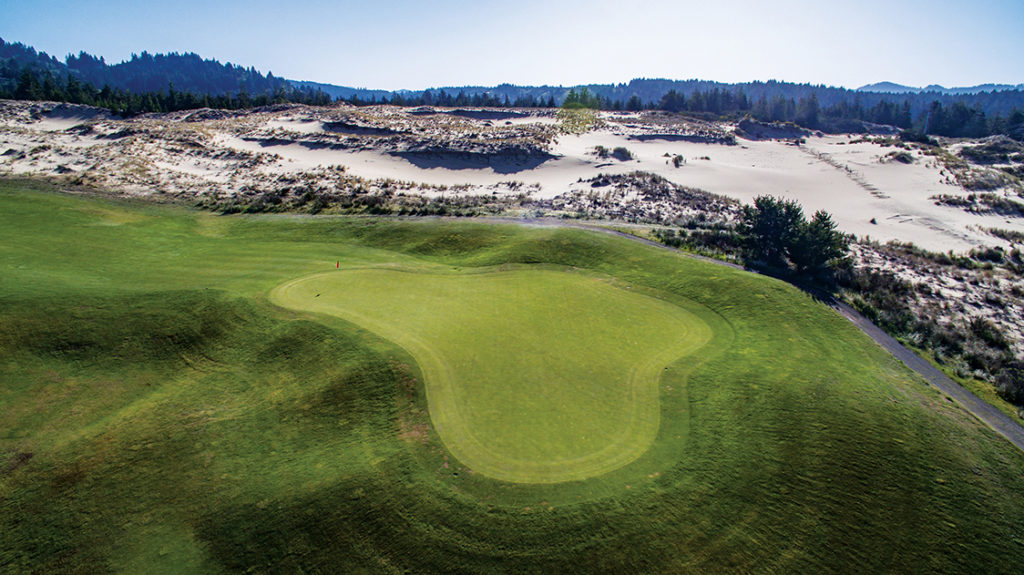 A true golf links is defined as a golf course built on sand left by the sea – influenced by natural forces such as wind and rain. Ocean Dunes fits this definition to a tee. Built on top of the Oregon Dunes, Ocean Dunes Golf Links is a truly unique golfing experience. It's referred to as "a wee bit 'o Scotland on the Oregon Coast." If you've never been to Scotland to play the links there, this is your next best experience. Playing at 6,100 yards par 71, with a slope of 124, this course is all you need to know what links golf is about. If you're lucky, and really want the Scottish challenge, the wind might blow, which gives Ocean Dunes' bite even more teeth. As the Scots say, "nay wind, nay golf."
It will take a couple of times around the links to learn the true character, and best of all, no round is ever the same. Built on a sand dune base, the fairways are always firm, allowing golf to be played year-round. Between the wind, narrow fairways, pot bunkers, double green and the gorse, Ocean Dunes is always ready to challenge you.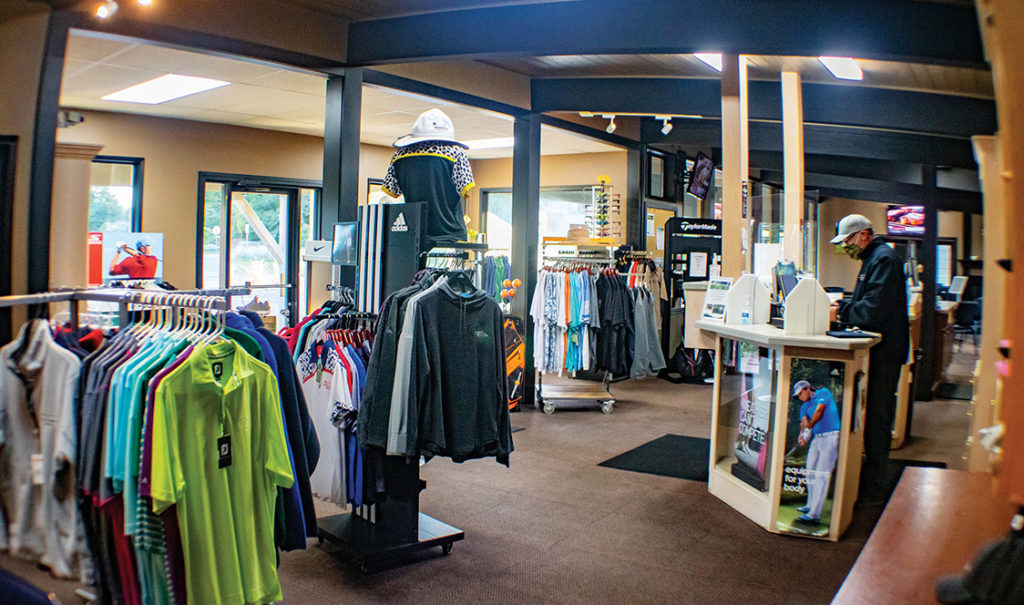 Designed by noted Golf Course Architect William G. Robinson, Ocean Dunes Golf Links is an 18-hole unique, challenging and enjoyable golf experience. Be ready for the beautiful scenery. The fairways tend to be tight and challenging. Oftentimes you will find that a blind shot can be either risk or reward. The fairways wind thru the sand dunes and are bordered by beach grass, shore pine, rhododendrons, wax myrtle, scotch broom and gorse. Another aspect of the course is the wildlife you will see throughout a round. The greens tend to be average in size. You may find that contour is difficult in some areas, but not so bad in others. With continuous care, they have come to be firm and quick. While playing, you will notice that there are four elevated tees leading to some of the greens. Surrounded by bunkers and dunes, they truly are a site to see. The course also has a unique double green that is both quite large and sloping. Players aim for the right flag or they are in for a long putt.
Tournaments are available as well as yearly memberships. Ocean Dunes is owned by Three Rivers Casino Resort, which includes 93 deluxe hotel rooms, signature steakhouse, sports bar and lounge, and a 90,000 sq. ft. casino with Vegas style games.
Confederated Tribes of the Umatilla Indian Reservation (two courses)
Wildhorse Resort & Casino Golf Course
Pendleton, OR
Wildhorse Resort & Casino
wildhorseresort.com/resort/golf
Nestled in the foothills of Oregon's Blue Mountains, you will find the Wildhorse Resort & Casino Golf Course. Modeled after the traditional Scottish style links with deep bunkers and tall fescue grass, this course offers a challenge for players of all abilities. The impeccably maintained course has gently rolling hills, beautiful lakes, long fairways and deep bunkers. It is challenging yet playable for all skill levels.
This course can have a variety of different looks depending on the length you choose and the direction of the breeze. Designed by legendary golf architect John Steidel, the course can play long or short with four sets of tees ranging from 4,996 to 7,112 yards. The longest hole at the Wildhorse Golf Course is the 572-yard, par 5, third hole. The shortest is the 122-yard 16th hole, made more challenging by water hazards that surround the fairway. Total length for most golfers is 6,150 yards, off the white tees or 6,647 off the blue tees.
In 2020, Wildhorse Golf Course opened its newly constructed clubhouse with improved amenities, comfortable furnishings and much more space. The building includes a pro shop carrying top brands, a large banquet room, a bar and a covered patio where guests can enjoy cuisine from the large menu and a full line of beverages.
Adjacent to the pro shop, a work room provides a spacious area where tournament officials can gather in comfort to compile scores or evaluate rules. Several monitors placed throughout the building allow team and individual scores to be posted and viewed in real time during tournaments. The clubhouse also features a private conference room useful for small meetings and intimate events.
A simulator room allows golfers to analyze their swing and improve their performance. The Trackman launch monitor uses Doppler radar to map a golfer's swing and provide instant feedback on club delivery, launch, ball flight and landing.
Open to the public, the course offers a complete array of services including professional instruction for men, women and children, a driving range, practice greens and rental clubs. It is also home to the Clubhouse Grill, serving breakfast, lunch and dinner. A pavilion east of the clubhouse is available for barbecues and other golf-related events.
The Wildhorse Golf Course is part of a complete destination resort that includes a full-service casino, hotel, RV park, Family FunPlex, tribal museum, many restaurants, and travel center. Golf/hotel packages are offered. Weather permitting, the Wildhorse Golf Course is open year-round from dawn to dusk.
Golf Course at Birch Creek
Pendleton, OR
Wildhorse Resort & Casino (15 miles away)
birchcreekgolfcourse.com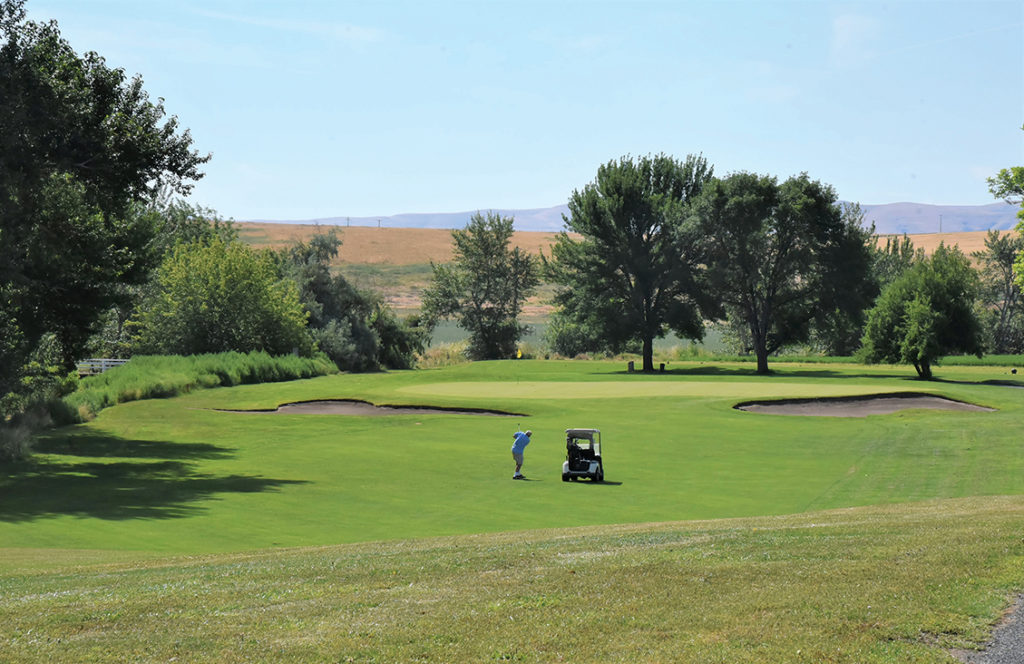 Near the site of the historic encampment of the Cayuse Indians lies a 248-acre oasis known as the Golf Course at Birch Creek (GCBC). The rural property settles gently into rolling farmland, divided by the meandering Birch Creek where golfers may see native fish or roaming deer as they drive their carts along well-groomed fairways. Established in 1957 at its current location south of Pendleton, OR, GCBC was member owned and its use was available to a select group. Now, the golf course and its amenities are open to the public.
The par 72 championship golf course stretches for 6,394 yards on the blue tees. Four more sets of tees accommodate play at any skill level. A great value, fees are sensible and tee times are readily available.
With the creek and two ponds, water comes into play for about half of the 18 holes. Several bunkers can be found guarding the greens or in unexpected places and the deep rough is best to be avoided. Locals love this course for its wide fairways and consistent, level greens; visitors like the country setting, great views, challenging play and mix of shot styles and approaches. An added bonus is the knowledgeable pro staff and appetizing food.
The full-service pro shop at GCBC provides everything you might need to get started as a golfer and any last-minute items you may have forgotten. The staff is accommodating and will guide you through your purchases and play. With competitive prices and valuable warranties, the pro shop is a must-visit.
Famous locally for its magnificent view overlooking the Birch Creek Valley, the dining room is the perfect location for an intimate dinner for two or a celebratory gathering. During peak season, the restaurant serves breakfast, lunch and dinner with special menu choices for seniors and kids. If you haven't built up a hunger yet, wet your whistle with a cold beverage at the bar.
Because of the scenic, serene location, GCBC is a perfect venue for weddings and receptions. Catering is provided by Wildhorse Resort & Casino, with plenty of space and a gorgeous backdrop for photos of the bride and groom. The outdoor swimming pool and surrounding area create an elegant atmosphere for a reception.
With the new ownership of the Confederated Tribes of the Umatilla Indian Reservation and experienced management of Wildhorse Resort & Casino, GCBC is expected to rival the best golf facilities in the region. The already highly rated course promises to be even better as upgrades continue.
Coeur d'Alene Tribe
Circling Raven Golf Club
Worley, ID
Coeur d'Alene Casino Resort Hotel
cdacasino.com/golf
Discerning golfers care about great playing conditions, wonderful course designs, setting, service, and the satisfaction derived from money well spent at places that move them. Circling Raven Golf Club checks all those boxes and then some. An amenity of the Coeur d'Alene Casino Resort Hotel in the Idaho panhandle, the Gene Bates-designed course winds through 620 acres of Palouse Region terrain. That's a vast amount of land compared to most courses globally, and it ensures that the land unfurls naturally, as the Creator intended. And it's an ideal, serene place to play the deeply satisfying game amid pristine beauty in the perfect social-distancing environment. Named for a seminal Chief who guided the tribe through some of its most difficult times, Circling Raven has garnered many honors since opening. Some of the award categories include Best Casino Course, 100 Greatest Public Courses, 100 Best Resort Courses, Pro Shop Merchandiser of the Year, and No. 1 Course in Idaho.
Constantly fine-tuning the operation and golf course is something the tribe and resort do annually. Adding services and programs that appeal to players is a core competency of the team at Coeur d' Alene Casino Resort Hotel and Circling Raven. This year the Coeur d'Alene Tribe announced its partnership with the Notah Begay III Junior Golf Championship, bestowing the 2020 girls 14-18 winner an exemption into this summer's Circling Raven Championship, a Symetra "Road to the LPGA" Tour event. The partnership is ideally aligned. A popular professional golf broadcaster, Begay is a Native American and PGA Tour member who has dedicated himself to promoting opportunities for youth through golf. The Coeur d'Alene Tribe has used its award-winning golf course similarly and chose to host the Circling Raven Championship to empower youth, women, and Native Americans through the game.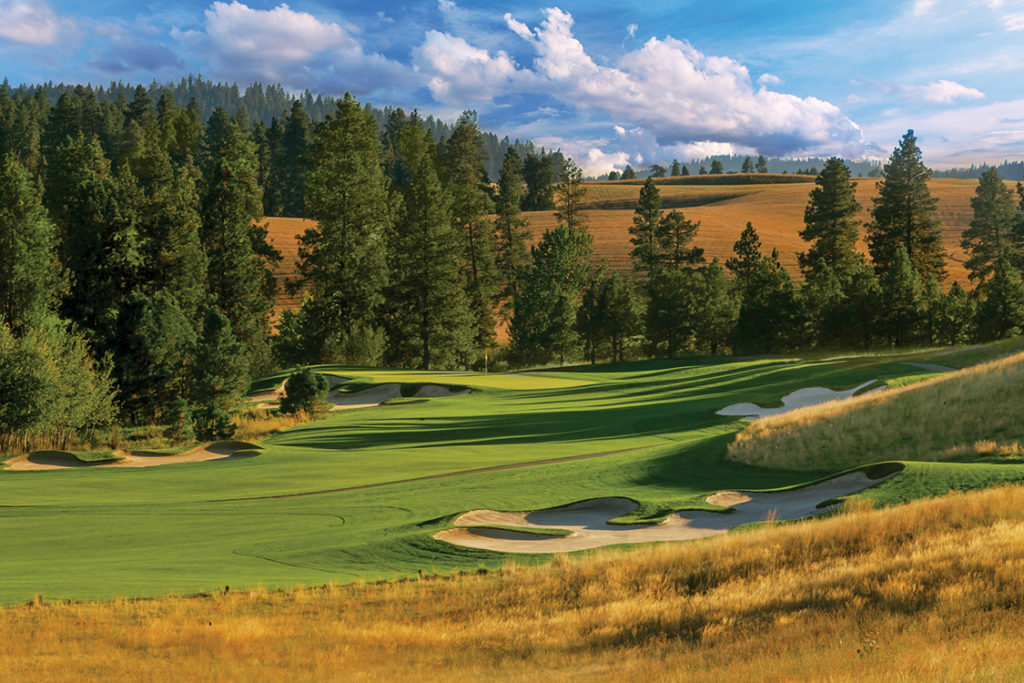 In addition to Begay's Junior Tour champion, Allyn Stephens, the tribe has provided a 2021 sponsor exemption to Gabby Lemieux, a Native American and Symetra Tour member. This is an ideal relationship as the Coeur d'Alene Tribe's mission is to educate and celebrate the traditions, values and history of its people. Partnering with the Notah Begay III Junior Golf National Championship at the Circling Raven Championship meshes perfectly with that mission, and supporting the dreams and aspirations of young people and women golfers through the Symetra "Road to the LPGA" Tour benefits all parties involved.
After golf, players may enjoy the amenity-rich resort for its other exciting options, including full-service spa, restaurants, casino, and Native American cultural tourism activities.