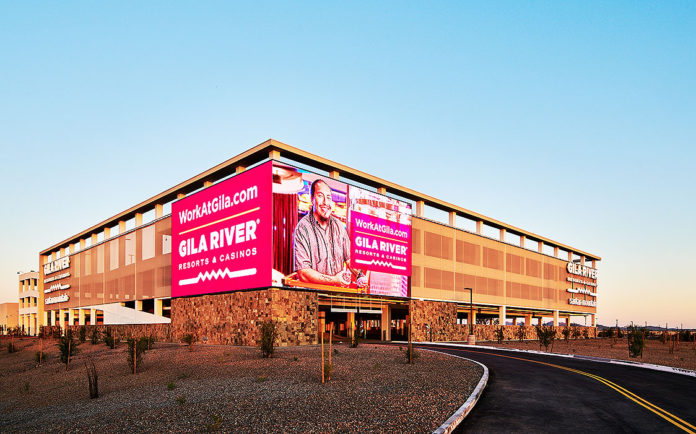 CHANDLER, AZ – Santan Mountain Casino has selected IGT Advantage as its casino management system (CMS), connecting over 800 slot games on the gaming floor.
"We are excited to deploy the IGT Advantage CMS at our fourth location, Santan Mountain Casino, and extend our exclusive The Card® loyalty program across all of our properties to create memorable guest experiences," said Dominic Orozco, President & CMO of Gila River Resorts & Casinos. "IGT's leading-edge systems and games have been instrumental in providing our players with elevated entertainment, and we are confident that IGT's innovations will position us to maximize operational efficiency and continue to drive play at our new property."
"IGT congratulates Santan Mountain Casino on its opening, and we look forward to supporting its growth as the standout gaming technology supplier," said Nick Khin, IGT Chief Operating Officer, Gaming. "Through the deployment of our IGT Advantage CMS and the placement of our dynamic games and hardware, IGT will enable Santan Mountain Casino to be yet another Gila River Resorts & Casinos venue that offers an exceptional gaming portfolio that meets evolving player preferences and expectations."
With the IGT Advantage CMS, Santan Mountain Casino will leverage IGT's M5 content delivery solution to run the Lucky Coin™ bonus, one of IGT's highest-performing bonusing apps. The property will also utilize IGT Advantage to deliver the Beverage on Demand service app, next-generation Avento™ in-game hardware, and the Bonusing Suite to engage players.
In addition to IGT's systems solutions, Santan Mountain Casino will offer an assortment of IGT games. Highlights include the award-winning Prosperity Link™ video slots on the PeakSlant49™ cabinet and Game King™ X multi-game poker on the PeakBarTop™ cabinet. To meet the preferences of traditional slots players, guests will have access to themes like Pinball Double Gold™ and Double Top Dollar™ on the DiamondRS™ mechanical reel cabinet.