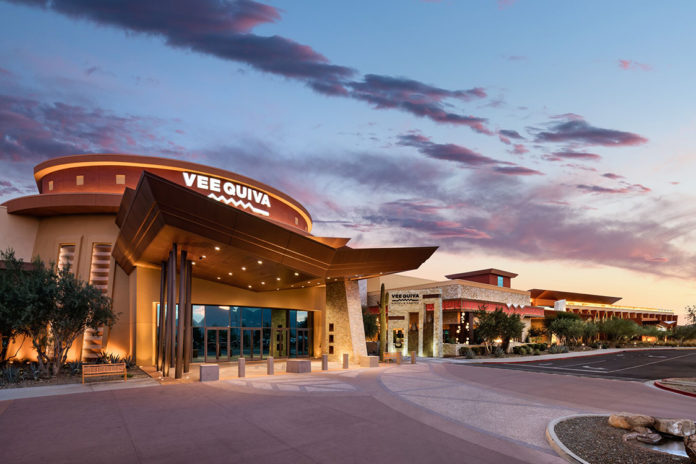 CHANDLER, AZ – Gila River Resorts & Casinos will host jobs fairs in May and June to fill 700 positions. The new and existing roles are available at all four locations including Lone Butte, Wild Horse Pass, Vee Quiva and the soon-to-be open Santan Mountain Casino. Job fairs kick off on Tuesday, May 2 and will run through Friday, June 29 at various locations throughout the Valley including Sacaton, Casa Grande and Coolidge. Positions are available in all departments including security, guest services and gaming operations. Santan Mountain Casino is expected to be open in late June.
Interested candidates are encouraged to apply for positions online, bring two forms of identification and four references to the job fairs for same-day interviews.
Newly hired team members will receive state-of-the-art education with virtual reality training. The virtual reality program was designed to give each team member a 3-D view of the entire enterprise. Team members can experience the sights and sounds of the gaming floors, resorts and back-of-house through innovative technology.
"With the privilege to hire and train 700 new team members, it was only natural to elevate the experience by upgrading our technology with a fun and unique program," said Dominic Orozco, President and CMO of Gila River Resorts & Casinos. "The virtual reality program gives us the opportunity to teach Gila River's mission, history and values through a memorable and innovative video game-like experience that targets a younger demographic of team members. We couldn't be more excited to unveil this technology ahead of the Santan Mountain grand opening and to welcome new Moment Makers to the Gila River family."
To learn more about Gila River Resorts & Casinos and job opportunities available, visit workatgila.com.
May Schedule:
May 12, 12:00-4:00pm, District Two Service Center Multipurpose Room, 8070 Park Street, Sacaton, AZ 85147
May 13, 9:00am-3:00pm, The Arizona Forum, 2301 S. Stearman Road Chandler, AZ 85286
May 16, 9:00am-3:00pm, Gila River Resorts & Casinos, 5040 Wild Horse Pass Blvd. Chandler, AZ 85226
May 18, 12:00-4:00pm, District Three Service Center, 18 E. Pima Street, Sacaton, AZ 85147
May 20, 12:00-4:00pm, District Six Service Center 5230 St. Johns Road, Laveen Village, AZ 85339
May 22, 1:00-4:00pm, District Seven Service Center Gymnasium, 8035 S. 83rd Ave., Laveen Village, AZ 85339
May 23, 12:00-4:00pm, District Four Service Center, 1510 W. Sesame Street, Sacaton, AZ 85147
May 24, 12:00-4:00pm, Central Arizona College 8470 N. Overfield Road, Coolidge, AZ 85128
May 25, 12:00-4:00pm, District Five Gymnasium 3456 W. Casa Blanca Road, Bapchule, AZ 85121
May 27, 12:00-4:00pm, Community Recreation Center, 1905 N. Peart Road, Casa Grande, AZ 85122
May 29, 12:00-4:00pm, Chandler – Gilbert Community College, 2626 E. Pecos Road, Chandler, AZ 85225
May 30, 12:00-4:00pm, District Four Service Center, 1510 W. Sesame Street, Sacaton, AZ 85147