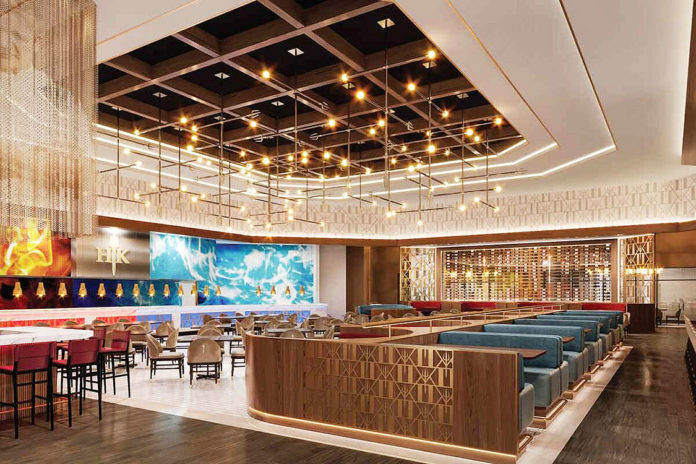 MASHANTUCKET, CT – Foxwoods Resort Casino will hold the grand opening of Gordon Ramsay Hell's Kitchen at the property on Saturday, July 15. Inspired by the hit television series, the restaurant will offer guests a unique dining experience featuring Gordon Ramsay's signature dishes.  
Located in the Grand Pequot Concourse, Gordon Ramsay Hell's Kitchen joins Foxwoods' collection of global dining options, bringing the celebrated chef's cuisine to guests. The restaurant provides seating for nearly 260 patrons, featuring a chef's counter and an exclusive 40-seat private dining room. This marks the sixth U.S. location of Gordon Ramsay Hell's Kitchen, adding to the legacy of the culinary empire.  
"We are incredibly excited about the grand opening of Gordon Ramsay Hell's Kitchen at Foxwoods Resort Casino," said Jason Guyot, President & CEO of Foxwoods Resort Casino. "This partnership with one of the world's most renowned chefs further enhances our commitment to offering unparalleled experiences to our valued guests. We welcome guests, food enthusiasts, and fans of the hit show to experience the energy, sophistication and exceptional cuisine that Hell's Kitchen is bringing to the property."
The new restaurant at Foxwoods transports guests, immersing them in a dining experience that combines the energy and excitement of a bustling kitchen with the elegance of upscale cuisine. The menu showcases classics from the show, including beef Wellington and sticky toffee pudding alongside an extensive selection of wines, handcrafted cocktails, and a curated array of beers and spirits.  
"I'm so excited to open the doors to Hell's Kitchen at Foxwoods Resort Casino," said Chef Gordon Ramsay. "Not only is it our sixth location of this incredible concept, but being at Foxwoods means it'll be a destination for guests throughout the Northeast."