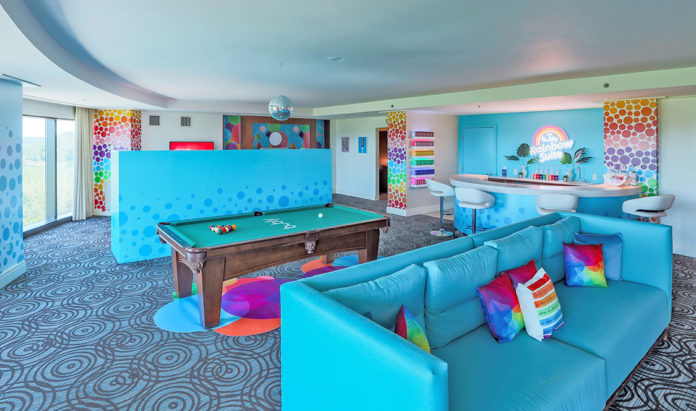 MASHANTUCKET, CT – In partnership with Bubly sparkling water, Foxwoods Resort Casino recently announced the launch of the Bubly Rainbow Suite – a vibrant, interactive suite at Foxwoods designed to celebrate diversity, equality and champion the LGBTQ+ community and culture.
A modern and refreshing celebration of love, acceptance and progress, the suite features art from LGBTQ+ artists Zipeng Zhu and Noah Camp and photography featuring drag queens from Bubly's recent "Drag For All Flavors" campaign adorning the walls. Interactive installations include the Instagram-ready Magic Mirror, a custom-designed centerpiece rainbow couch in the shape of Bubly's signature smile, an in-suite Bubly bar and selfie-worthy light-up rainbow wall made from iconic Bubly cans. Guests can mix up colorful beverages to jump-start an amazing day or night out at Foxwoods, where there is something for everyone all in one place.
"We're thrilled to unveil this amazing new suite experience in partnership with Bubly as we remain committed to celebrating and elevating the voices and culture of the LGBTQ+ community," said Jason Guyot, President and CEO of Foxwoods Resort Casino. "We pride ourselves on being an inclusive resort where we, not only celebrate diversity and acceptance of our guests during Pride Month, but all year-long – each and every day."
"PepsiCo has a longstanding relationship with Foxwoods, and we are excited to partner to bring the Bubly Rainbow Suite to life in celebration of the LGBTQ+ community during Pride month and beyond," said Kathy Kennedy, Sr. Director of Marketing, PBNA North Division. "As a like-minded brand to Foxwoods, Bubly is committed to uplifting and supporting members of the LGBTQ+ community and its allies. The Bubly Rainbow Suite exemplifies this support, as well as the unique flavors and vibrant packaging of the brand to help those who stay in the suite crack a smile." 
"The Bubly Rainbow Suite is a special retreat recognizing how our unique distinctions are what makes everyone so special," said Monique Sebastian, VP of Entertainment and Entertainment Marketing at Foxwoods Resort Casino. "At Foxwoods, we're proud supporters of the LGBTQ+ community and empower our guests to 'Live Out Loud,' which is part of our resort ethos around celebrating everyone, regardless of race, gender, sexual orientation or religion."
The suite is bookable to guests at Foxwoods.com/RainbowSuite.