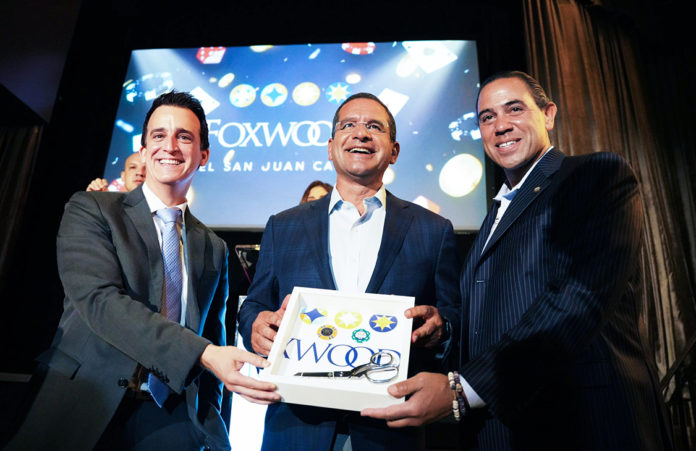 SAN JUAN, PUERTO RICO – The Mashantucket Pequot Tribal Nation and LionGrove announced that Foxwoods El San Juan Casino, located at the Fairmont El San Juan Hotel in Puerto Rico, has officially welcomed the public through its doors for a soft launch. A grand opening celebration is planned for January 2022.
Puerto Rico Governor Pedro Pierlusi, Mayor of Carolina José Carlos Aponte Dalmau, Tribal Council members, local dignitaries and members of the community gathered for a ribbon cutting and welcomed thousands of guests ready to experience the new casino, which complements the resort's well-appointed luxury accommodations and amenities.
"As planned, we are thrilled to finally reopen our doors after five years and deliver exciting new gaming and entertainment experiences to the wonderful people of Puerto Rico and visitors from afar," said Stuart I.C. Levene, Managing Director/GM of Foxwoods El San Juan Casino. "This property has been emblematic for Puerto Rico and thus our intent was to maintain the rich history of the venue, and we truly believe the casino's new identity beautifully pays homage to the casino's legendary history. Today marks the beginning of an iconic new chapter for Puerto Rico's gaming innovation, and we are excited for all to experience the revitalized Foxwoods El San Juan Casino firsthand."
"Today is a landmark milestone for the Mashantucket Pequot Tribal Nation as we expand the Foxwoods Resort Casino brand – for the first time ever – to the Caribbean," said Mashantucket Pequot Tribal Nation Chairman Rodney Butler. "We are honored to bring real economic value and tourism to the region – including an estimated economic impact of $22 million – with the launch of Foxwoods El San Juan Casino, and remain a committed partner as we help build a bright future for the island. We thank our partners at LionGrove and Fairmont El San Juan for making this happen."
"This past January, we made the historic announcement that this iconic casino would reopen its doors," said Governor Pierluisi. "After a lot of work, today I am pleased to be present to formalize the opening of Foxwoods El San Juan Casino. With Foxwoods El San Juan Casino's capital investment of $12.5M, the casino will positively impact our economy and create over 150 direct jobs. I remain committed to the economic development of our island, through efforts like Foxwoods El San Juan Casino, to boost tourism growth and investment in Puerto Rico."
"We are proud to help drive the economic development of Puerto Rico with this new alliance through the reopening of our luxurious casino and with all that has been achieved with our iconic Fairmont El San Juan Hotel, recently named by the prestigious Condé Nast Traveler magazine as the number one hotel in Puerto Rico and number three in the Caribbean," said Andro Nodarse-Leon, Founder & CEO of LionGrove, Co-owner of El San Juan Hotel.
The Mashantucket Pequot Tribal Nation also owns and operates Foxwoods Resort Casino in Mashantucket, CT, the largest resort casino in North America. Recently named a #1 "Best Casino" by USA Today readers for the third time, Foxwoods Resort Casino offers guests a resort experience through its six casinos, AAA Four-Diamond hotels featuring over 2,200 rooms, dining options, luxurious spas, and state-of-the-art theaters. Foxwoods El San Juan Casino is now open from 10:00am to 2:00am daily through mid-December, with future plans to be open 24/7 – COVID protocols permitting.