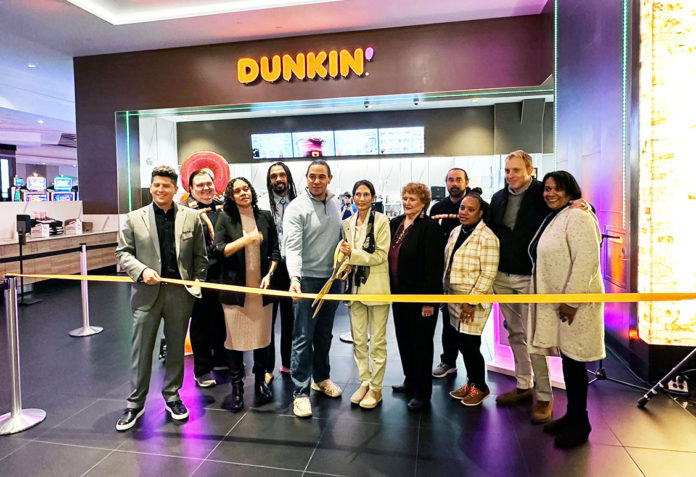 MASHANTUCKET, CT – Native Way Blend has reopened its Dunkin' franchise at Foxwoods Resort Casino. The expansive new location offers the same Dunkin' menu customers know and love, including hot and iced coffee, donuts, breakfast sandwiches, and a variety of other bakery items. The new Dunkin', located in the Grand Pequot Concourse, celebrated its grand opening with a ribbon cutting ceremony to commemorate the occasion.  
Native Way Blend was founded in 2009 under guidance from the Mashantucket Pequot Tribal Council, who encouraged members of the tribe to become independent business owners. In 2011, Dunkin' was the first company to aid those interested in franchises. Today, Native Way Blend owns the first Native American-owned Dunkin' franchise.
"We are thrilled to introduce a new, revamped Dunkin' franchise location at Foxwoods Resort Casino," said Nancy Insalaco-Whitford, President and Operations Manager of Native Way Blend. "Being a part of this brand is a family partnership that we are proud of, and we are excited to continue fueling the Mashantucket community with delicious coffee and breakfast and bakery items all day and all night long."
The new Dunkin' location at Foxwoods Resort Casino has a fresh new look and is the peak of what is happening at Foxwoods Casino. It is the only 24-hour eatery on the property, providing guests with a convenient spot to grab their favorite coffee, breakfast items, various sandwiches, and bakery items at any time of day.
"We are thrilled to unveil Native Way Blend's new Dunkin' location in the Grand Pequot Concourse," said Jason Guyot, President and CEO of Foxwoods Resort Casino. "This partnership represents our continued commitment to supporting tribally-owned businesses and creating economic opportunities for our community. With its fresh new look and convenient 24-hour service, the new Dunkin' location is sure to be a hit with our guests. We look forward to a long and successful partnership with Native Way Blend and Dunkin'."
"As a tribal nation, we are committed to supporting our community through economic development and creating opportunities for our members," said Mashantucket Pequot Tribal Nation Chairman, Rodney Butler. "The reopening of Native Way Blend's Dunkin' franchise at Foxwoods Resort Casino is a testament to that commitment. We are proud to help our members become independent business owners and are thrilled to see the success of Native Way Blend. We congratulate Native Way Blend on this accomplishment and look forward to their continued success."