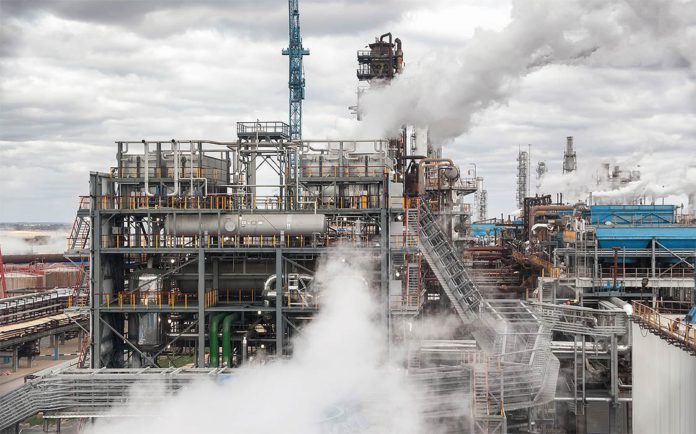 FLANDREAU, SD – The Flandreau Santee Sioux Tribe (FSST) formally announced its support of the Adams Fork Energy clean ammonia facility and urged the federal government's backing to secure a steady supply of clean, low-cost ammonia for tribal nations.
Announced in April of this year, the Adams Fork Energy project is expected to have initial annual ammonia production capacity of approximately two million metric tons and will displace more than two million metric tons per year of CO2 equivalent. Ammonia production at the Mingo County, West Virginia site will support clean agricultural, fuel, and power generation demand.
"With a total of 56.2 million acres of trust land held by the 576 federally recognized tribes across the United States, the preservation of land through best agricultural practices is key to sustainability," said FSST President Anthony Reider. "The Flandreau Santee Sioux Tribe depends heavily on its agricultural resources on and off its reservation to provide programing for tribal members and to supplement the bare-bones federal funding it receives. The decreasing availability of ammonia has created sharp increases in costs, thereby impacting the agricultural economy. The tribe is hopeful to utilize a substantial portion of the Adams Fork Energy ammonia as fertilizer for its own land and for other United States tribes."
Adams Fork is an anchor project in the Appalachian Regional Clean Hydrogen Hub's (ARCH2) application to the U.S. Department of Energy. ARCH2 is a regional hub bringing organizations across the Northern Appalachian region together including West Virginia, Ohio, Pennsylvania, and Kentucky. The region is the ideal location for a clean hydrogen hub due to its unique access to ample low-cost natural gas feedstock, end-user demand, workforce and technology capability, and carbon sequestration potential.
"The advancement of this project will provide a critical economic benefit to tribal nations," said President Reider. "However, we need assurance from the federal government they will support projects using all resources – including low carbon intensity natural gas feedstock – for Adams Fork to become a reality."
Guidance from the U.S. Department of Treasury on the 45V hydrogen production tax credit, which was created by the Inflation Reduction Act in 2022, is expected to be released later this month. The program is critical to supporting emerging clean energy industries such as hydrogen and ammonia, and eligibility for the full 45V credit will expand market opportunities for projects such as Adams Fork while also helping to scale a nascent industry.
"Our participation will present unique opportunities for federal funding for the project and the tribe will benefit from educational opportunities afforded by the project's sponsors to our tribal members," said President Reider.
Adams Fork Energy was founded in 2010 to convert stranded American fossil fuels into usable chemicals. To that end, in 2010, Adams Fork Energy received a Minor Source Permit from the State of West Virginia Department of Environmental Protection for the conversion of 7,500 tons of coal into 18,000 barrels per day of sulfur free, high-octane gasoline. Shortly thereafter, two similar permits were obtained from the State of Kentucky's Department of Environmental Protection. In 2022, Adams Fork Energy partnered with the Flandreau Santee Sioux Tribe to develop these projects. The Flandreau Santee Sioux Tribe has been a leader in helping to ensure American energy security as well as keeping air and water clean and pristine.