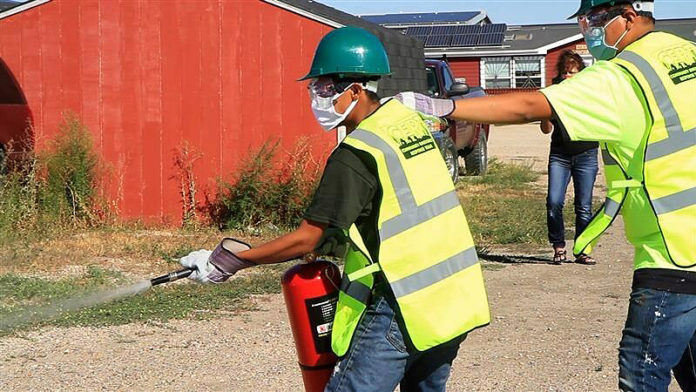 DALLAS, TX – More than 70 natural disasters have occurred on tribal lands in the last decade due to climate change and human activities, and food insecurity impacts one in four Native families – the highest rate in the U.S. As part of its Natives Prepared Project, Feeding America turned to Partnership With Native Americans (PWNA), a Native-led non-profit, to lend its expertise in providing services for both emergency preparedness and food sovereignty.
The Natives Prepared Project will develop and deploy a multi-level, community-based training program to enhance community resilience in the face of large-scale disruptions such as natural and human-caused disasters, climate change and severe economic downturns. The project includes five pre-selected pilot sites, each comprised of Feeding America food banks and Native nation partners. As the lead partner for the Sisseton Wahpeton Oyate and the Hualapai Tribe pilot sites, PWNA will address capacity and resource gaps in emergency preparedness and food sovereignty using their training models that have proven effective in other tribal communities.
"For nearly a decade, PWNA has conducted Native-led training on emergency preparedness and response team certification, as well as ancestral foods and food sovereignty," said Joshua Arce, President and CEO of PWNA. "We are proud to support Feeding America in their Natives Prepared Project, and we look forward to seeing the impact it makes on the selected tribes and nations."
"Feeding America is delighted to collaborate with PWNA on this incredibly important project that merges disaster preparedness with food access and food sovereignty," said Mark Ford, Director of Native and Tribal Partnerships for Feeding America. "PWNA and Feeding America have shared an essential role in providing disaster relief and emergency food to Native communities impacted by disaster. The Natives Prepared project allows tribes to create a disaster preparedness plan with their local food bank to respond to the needs of their communities before, during and after any disaster. PWNA is an experienced first responder with a strong track record in helping tribes create their own disaster plans. We look forward to the technical expertise PWNA will bring to build capacity of Native nations to respond to disasters and partner with local food banks."
Participants of the Natives Prepared Project will be provided with the resources and training necessary to achieve a clear, sustainable path toward disaster preparedness and food sovereignty. The project is underway and will conclude by year-end.
Partnership With Native Americans is a national, Native-led non-profit championing hope for a brighter future for Native Americans living on remote, geographically isolated reservations. Established in 1990, PWNA collaborates with tribal programs to address immediate relief and long-term solutions such as education, emergency preparedness and food security, improving the lives of 250,000 tribal citizens annually.