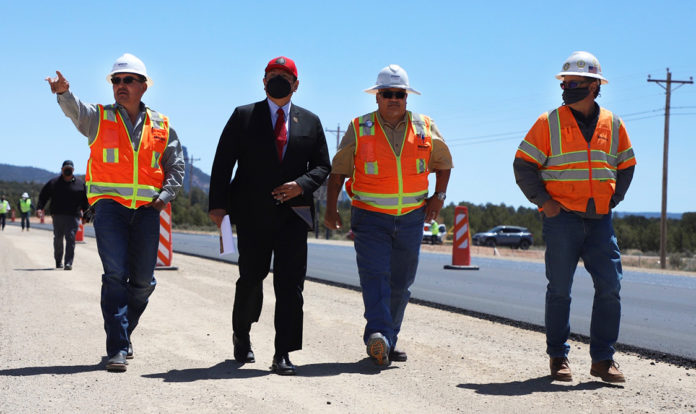 TSAILE, AZ – This week, Navajo Nation President Jonathan Nez joined Navajo Division of Transportation (NDOT) Director Garret Silversmith and officials with the Navajo Engineering and Construction Authority (NECA) for a site visit to view the progress of the ongoing reconstruction and widening of Navajo Route 12, a primary route for Tsaile/Wheatfields residents, Diné college students, first responders, and many others. 
The project will expand the old narrow roadway to create shoulder lanes and graveling on both sides of a 10-mile stretch of N12 beginning north of Wheatfields Lake to the Tsaile intersection. Once completed, the project will allow more room for drivers to maneuver in case of emergencies or to avoid collisions with livestock and other wildlife that are common on N12.
"It is encouraging when residents see this sort of progress in their community," said President Nez. "I commend NDOT Director Garrett Silversmith, his team, and NECA for working collaboratively and prioritizing the safety of our people along the way. Our Nation is in great need of stronger infrastructure in terms of roads, water systems, electricity, and broadband. We are making progress and creating more opportunities for our people and to help build our Nation. The reconstruction and expansion of N12 is a part of nation building. This project employs our Navajo people and creates revenue for our Nation. The completion of this stretch of roadway would not be possible without the strong voices of leaders like the late Nelson S. BeGaye, who advocated for his communities and voiced their concerns with N12. This project is a great tribute to him and his family."
Construction on the 10-mile stretch of highway includes the reinstallation of drainage structures, fencing along the highway, signage readjustments and pavement installation. Additionally, two new bridges were installed along the route to provide a safer commute for residents and Diné College students who use the route on a daily basis.
In 2019, President Nez and Vice President Myron Lizer were joined by the late former Council Delegate Nelson S. BeGaye and Tsaile/Wheatfields residents, as they finalized a contract to begin the reconstruction of the road. From there, the $33.36 million project was granted a Notice to Proceed in November 2019, but multiple unforeseen extensions were implemented due to the impacts of COVID-19 and inclement weather conditions.
"It's indeed wonderful to progressively administer, manage, and successfully complete new construction projects such as this one for the communities of Tsaile and Wheatfields," said Silversmith. "Together OPVP, NECA, the Navajo Nation Council, local Chapter's leadership, Federal Highway Administration, and Navajo DOT implemented this project uniquely, and now we're only a month and half away from completion. This nearly 11-mile new roadway corridor contains improvement enhancements such as new bridges, safety elements, new asphalt surface, and more."
The Federal Highway Administration allocated over $31 million. A contract modification by the FHWA's Tribal Transportation Program allotted an additional $1.5 million for construction costs.
"Completing road projects not only helps create a safer community, but also helps our vehicles last longer and makes way for further development for the area as a whole," said Vice President Lizer. "We look forward to seeing what our very own Navajo construction professionals can accomplish this construction season as they complete projects that will help benefit our communities' safety for generations to come."
During the tour, Silversmith indicated that construction is scheduled to finish on June 17, 2022. He also highlighted two other ongoing Federal Highway Administration road projects, including a new bridge reconstruction near Sonastee, NM and road work near Mariano Lake Chapter.