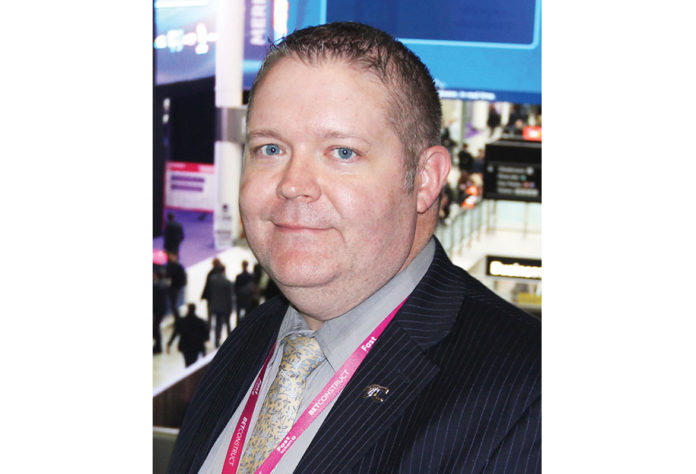 Skyelar Perkins has worked for the Choctaw Nation of Oklahoma's Division of Commerce at Choctaw Casinos & Resorts for over 20 years, with the last 16 years in slot operations after working his way up from slot attendant at the site level to his current role. Choctaw Casinos & Resorts operates 13,000+ machines consisting of numerous Class II and Class III manufacturers across 22 properties in Southeastern Oklahoma. The flagship property in Durant, OK has 7,300+ machines.
For the last seven years, Perkins has been an Adjunct Instructor in Native American Gaming Management at Southeastern Oklahoma State University in Durant, OK. Perkins lives in Durant, OK with his wife and two children, who are citizens of the Choctaw Nation of Oklahoma.
What kinds of trends are you noticing on slot floors? Where are things heading?

There aren't really a whole lot of new trends right now. Pretty much it's more of the same, however, there is a lot of variety to choose from between all of the manufacturers. Slot floors are going to head wherever they are heading. Obviously, if we all knew where it was already going, one of us would be the rich one with the crystal ball.
The technology on the floor has evolved, and there is a lot more of it. The future of the slot floor is going to continue to be much more adaptable. If you think about slot floors 10-15 years ago, so much has changed. The technology continues to be further integrated, and it will continue to evolve and develop into whatever it is that makes sense for the player next.
Right now, existing customers and core demographics are still more than happy with the way things are, so there is not a crazy need for things to change. But with these advancements in technology, the ability for casinos to adapt has gotten easier.
What do you look for in a successful slot game?

First, things that are doing well now. That's usually the easier part – anything that's working well – for instance, hold and respins at the moment. Then I like to try to find things that are different. Sega Sammy is coming out with a game that is based on pachinko math, and it's interesting and a little different.
The only way to see where things are going on the slot floor is to try new things. For instance, with Incredible Technology, when they came out with the Skybox, that really changed the industry from that point on. But up to that point, everybody had been like, 'eh, there's not really a reason to do something like that.' It's looking for those types of things that are outside the box, or at least a break from whatever the norm is. It's a balance between both, obviously. Give the consumer what they want, because they're voting with their wallet, and then give them a few things to look at that are different and see if there's anything they latch onto.
When you're introducing a new idea or a new concept, what kind of strategy or approach do you like to take as far as getting that in front of the right player?

At some of our bigger properties, we have new slot areas, and everybody expects there to be new things there to look at. Sometimes introducing something different is as simple as sticking some balloons on it. You don't necessarily have to do something crazy to draw attention. For a higher profile game, you could do a whole marketing strategy, have an event and give away swag. I don't think I've ever found that any one approach is more successful than another. You can have success with something as simple as giving away ChapStick, just to draw traffic to a game and get exposure to it.
We try to tailor promotions to meet the theme of the game, if possible. We just have fun with it and make sure the guests are having fun too. That's usually a good way to introduce them to something new.
Do you have a favorite game right now?

I do gamble at times because I don't think you can do what we're doing and not experience it and understand what it's like being the player. One of my older favorites is Aruze's mechanical reel called The Gold. I always try to find it. As far as something newer, I really like Lightning Link. It's one of those games that you see on any report coast to coast. It's definitely one of those great games, and started the whole hold and respin trend here stateside.  
Is there anything in particular that you will be looking for at IGA 2023?

At IGA, we will continue to see cashless become a more mature product. It's still a little clunky here and there, but it's continually improving. We are looking for a couple of those options and want to see some of the next iterations and next steps with that, such as the ability to have that single cashless solution that can go from an online space into the casino seamlessly. It's getting closer. And then also making the rounds to see if there's anything else.
At industry tradeshows, we are always trying to see everything. Is there anything that's going to help us protect the tribe's interest or make us better at what we do? We always enjoy that aspect – trying to get out there and see what's available.
You recently attended ICE London in the UK. What was your experience seeing the technology coming out of Europe?

Many things happening stateside are still in their infancy, especially with regard to the proliferation of sports betting, online, iGaming, and things associated with that. Whereas, European markets have been doing some of these things for 15 to 20 years. And so, the technology out of Europe is much further along in those segments than where it is in the U.S. There are a lot of new technologies happening in Europe that are still in the "next" phase for us. It was important to visit ICE in order to see some of that. Many of the European vendors maybe don't see the U.S. as a market for them yet, or maybe they don't have the means to get to the U.S., whatever the case may be. So, to be able get there and find out what the options are, was really the point of the trip.
I already know certain vendors from the U.S. that do certain things, but at ICE, there are another 15 vendors that do those things as well. So, it provides additional opportunities to try to make sure that we are making the best choices we can. Now, we have got more avenues to try to verify those important decisions. And then, like any trade show, it's about making relationships. Not necessarily relationships for today, but we've started some of these European relationships now so they understand who we are and what we're doing.
ICE was exactly what I thought it would be, except it was 10 times bigger. It was a huge show.
For more information about Choctaw Casinos & Resorts, visit www.choctawcasinos.com.