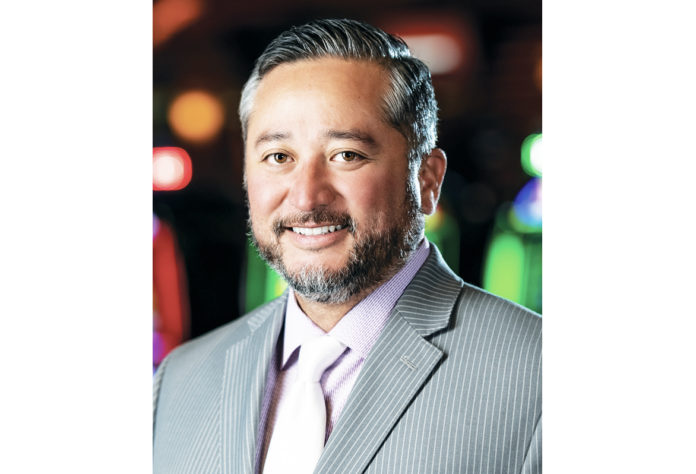 Indian Gaming magazine had the opportunity to speak with Peter Arceo, General Manager of San Manuel Casino. Arceo joined the management team in August 2015 as Chief Marketing Officer. He concurrently served as CMO and acting Chief Operations Officer while later assuming the position in 2018, where he led the casino operations team to all-time records. Arceo was announced as General Manager of San Manuel Casino in March, 2019. A casino and hospitality executive with over 24 years of experience, here is what he had to say…
What is your personal approach to leadership? Have you had important mentors over the years that have informed your leadership style?

I'm a big believer in trying to help people reach their full potential. If an employee is interested in expanding their knowledge and reach, I want to put them in a position to stretch themselves and let them go try things and make mistakes. I have a 'fail-fast, learn faster' approach. By allowing people the opportunity, you're going to make them stronger, give them the ability to think and make decisions, and come up with better ways of doing business. It's also very important to put together a team that works well together. Teamwork is what makes everything function well in an operation. Putting a collection of people together that gels and supports each other is crucial to fostering and creating a healthy environment where people can then excel.
Over the years, I've had various mentors even going back to my first job at age 13. Every step along the way, I've tried to learn from others. There have been two or three big overarching mentors that I've remained friends with over a long period of time. When I come into a situation where I need a second set of eyes or somebody to talk through a particular issue with, I reach out and it's nice to have that. I also try to pay it forward and extend that opportunity to anybody who would like that from me, as well. I stay in touch with many individuals that have worked with me in the past, and when they run into an issue, they reach out. There's something quite satisfying about that, and it helps me grow as a person as well.
What challenges and opportunities have presented themselves over this last year and a half plus?

With regard to the pandemic, there were the obvious health and safety concerns. Now that we're a year and a half into the situation, we are now dealing with some things that were not so obvious. For instance, things have changed in the labor market – there are more work-from-home job opportunities than ever before, which takes the pool of available people and makes it even smaller. Another challenge is the supply chain – things are taking longer to get here and are more expensive. You also can't always count on when a product will be delivered.
We were fortunate enough during the pandemic to have spoken to economists in September and October of last year, who predicted, correctly so, that there would be huge supply chain issues coming down the pike. We took advantage of that information and made sure we placed orders with guarantees, and in some cases, had vendors hold inventory for us until it was ready for delivery. Now that those inventories are dwindling, we're back to the same constraints as others in that supply chain problem. So those are some challenges that we still contend with today.
Opportunity-wise, it has caused us to think a little bit differently about how we approach things. It has sharpened our edge to some degree on how we think through, not only health, and safety, but also overall operating procedures. We took the opportunity to fine tune some inefficiencies that perhaps we didn't have time to look at very closely in the past. We used the opportunity to take a closer look at how we do business, sharpen up, and do business a better way.
Tell us about the recent major expansion at San Manuel. What excites you the most about it, and how did you and your team get that done coinciding with a global pandemic?

I have to give credit to the San Manuel Band of Mission Indians – the expansion was their vision for where they wanted to take the property into the future. That led the charge. There was a point during the pandemic where there were discussions – 'do we put the project on pause, or do we continue?' Through their leadership, the decision was made to continue as long as we could operate safely, which the contractors told us we could do. The project was going to create a lot of jobs and economic impact in the area, so there were far more positives to continuing to move forward than there were to put it on pause. We continued as planned and while business was a little bit lighter, took the opportunity to refresh the existing property so that it would match the fit, finish and design of the new expansion. I can't tell you how far that's gone with our guests and team members. They love the fact that they can't really tell where the new space begins and where the prior casino space ends. It brings the property together as one and allows us to provide an experience that can flow throughout.
The people working at San Manuel Casino are what really bring the property alive and create magical experiences for guests. That was a heavy lift because we had to hire 1,500 team members for this phase one expansion in the middle of a very difficult job market. We did so by communicating that this is not just a job, it's a career. The tribe really values team members. We are part of the extended family here at San Manuel, and there are some wonderful stories about people who have started from the ground up and built very illustrious careers over time.
When the doors to the expansion opened and every machine was packed within two minutes, the team members came alive and they were so excited – there was a buzz. You could see the guests walking around with big eyes, smiling, enjoying the new bars, restaurants, slot machines, table games and high-limit room. People are what makes the place special and our team members came through and were able to bring the energy and excitement that matched the design and decor of the space they were working in.
Are there any new technologies that you have implemented recently or are looking at implementing in the near future to streamline operations?

Cashless is a big topic throughout the industry. We've taken the position that we are going to see where it settles. Our approach to launching any type of new technology is to study it from the experience of the user. We tend to be a little slower in that regard – we want to get it right and design something that will be an easy-to-use interface for users. With regard to cash handling, we have leveraged all of our ATMs throughout the property to offer guests the option to get cash or a ticket. The positive there is a guest can have less interaction with cash, which as we know, isn't the cleanest instrument. When presented with the option, we see a significant utilization rate by guests. That's been a big benefit for us as it reduces the amount of cash we have to process, which also increases our efficiencies throughout the property, cage and count team.
We are constantly looking at new innovations to enhance our current experience, and have an innovation team in IT that helps us spearhead these projects. There are a lot of things in motion right now, yet to be launched. A year from now I will have more specific examples because some of these things will have made it through the pipeline by that time.
What are your current smoking and masking policies at San Manuel Casino?

We currently have a requirement by both team members and guests to wear masks while on property, regardless of vaccination status. With respect to smoking, our entire facility at this point is non-smoking. We do, however, have outdoor smoking patios available for folks who would like to smoke. At this point in time, our intent is to keep things non-smoking, but we will continue to evaluate the situation and see how this plays out. At some point, we may allow smoking to return, but our preference at this particular moment is to remain non-smoking.
What has surprised you the most in the last year and a half, and where do you see the most opportunity for San Manuel Casino going forward?

What surprised me the most was the scale of people that still wanted an in-person entertainment experience. I thought perhaps the pandemic would have people thinking twice about doing activities such as visiting a casino or a restaurant. I knew there would be some changes related to health and safety, but would it change the behavior of people wanting to go out and be around others? From what I've seen, it's actually increased the demand. People having that time to themselves, while it was appreciated for a period of time, yearned to be around others as long as it felt safe. Looking at the casino visitation numbers in the U.S. nationally, people were wanting to get back out. That was a surprise.
Regarding opportunities for San Manuel Casino going forward, with our new 432 room hotel slated to open this winter and a 2,800-seat theater that will open in 2022, we will be expanding our reach because these are two amenities that we have not had before on property. Offering guests a spa, pool – everything that you find in an integrated resort – combined with the new theater, will be awesome. We used to do concerts at our bingo hall, which was nice, but because it was also bingo, we weren't able to do them on a regular basis other than one day a week. With the flexibility of having a dedicated theater and the ability to draw guests from a greater radius because of the hotel, the biggest opportunity for us at this point is to expand our reach into markets that traditionally have been out of reach for us because we didn't have these amenities. And that should set us up for success into the future.
For more information about San Manuel Casino, visit sanmanuel.com.