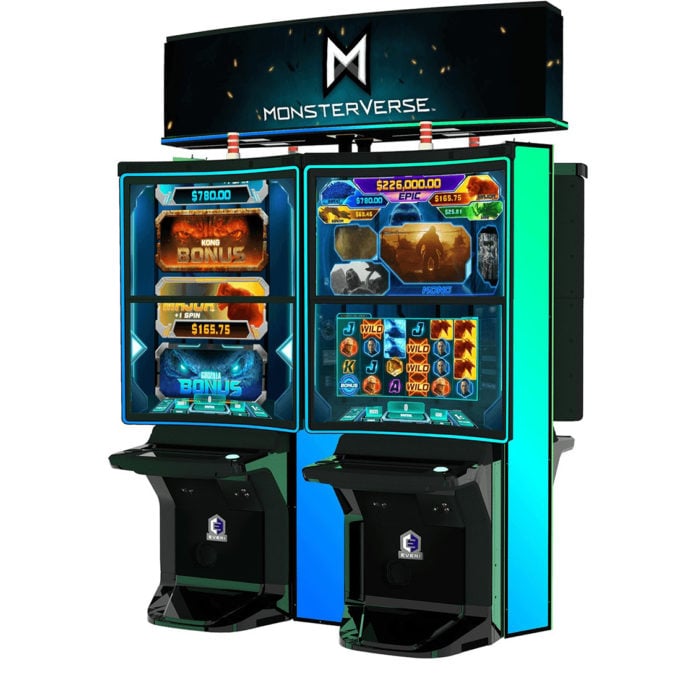 LAS VEGAS, NV – Everi has announced the launch in the Southern California market of its MonsterVerse™ wide-area progressive (WAP) game at San Manuel Casino. The WAP game, featuring Kong and Godzilla™ in 4K display, is based on Legendary Entertainment's Monsterverse.
Legendary's Monsterverse is an expansive story universe of multi-layered experiences centering around humanity's battle to survive in a world that is under siege by a catastrophic new reality – the monsters of our myths and legends are real. Beginning in 2014 with Godzilla and continuing with 2017's Kong: Skull Island, 2019's Godzilla: King of the Monsters, and 2021's Godzilla vs. Kong, Monsterverse films have accumulated close to two billion dollars globally at the box office.
Now, the two titans Kong and Godzilla, as well as other iconic kaiju monsters, are showcased in San Manuel Casino's newest gaming offerings, which also features the "Monster Bet," daring players to bet big to play four arrays at once. MonsterVerse is the latest series on Everi's Empire DCX™ premium cabinet, complete with dual-curved 43-inch monitors with integrated edge lighting, a 4K display providing an immersive player experience, enhanced game-controlled lighting, premium 4.1 surround sound, and convenient mobile device charging ports.
"San Manuel Casino is a great partner for the launch of our newest WAP game in Southern California, which extends the breadth of our high-performing premium games portfolio in this market," said Dean Ehrlich, Everi Executive Vice President and Games Business Leader. "MonsterVerse continues to deliver the elevated, engaging gaming experience for players our premium games on the Empire DCX™ are known for while providing our customers with an attractive return on their investment."
Located just 60 minutes outside of Los Angeles, San Manuel Casino features two stories of mechanical reels, video reels, video keno, in-house progressive jackpots, wide-area and mystery jackpots, and wide-area progressive (multi-casino) jackpot machines. San Manuel Casino recently hosted the Ultimate Titan Showdown, a slot pull tournament in celebration of the MonsterVerse launch.
"The summer is known for blockbuster premieres and so is San Manuel Casino," said Peter Arceo, San Manuel Casino General Manager. "Creating innovative experiences for our guests is the foundation of our success and will remain a focus with our upcoming expansion and beyond."