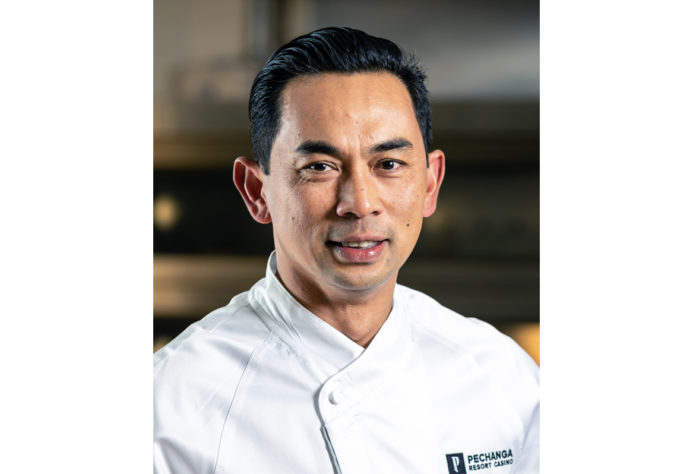 Pechanga Resort Casino welcomed esteemed pastry and bread artist, cookbook author and well-known pastry chef Deden Putra as its new Executive Pastry Chef. With more than 20 years of experience as a chef, Chef Deden's colorful background in the culinary scene will bring a diverse set of ideas and creations to the already decadent and notable breads, pastries and confections served throughout the resort/casino.
At Pechanga, Chef Deden will lead his team of 22 on a journey to find the freshest ingredients and add creative flair to some of the guest favorite pastry items. Chef Deden's enthusiasm is palpable and acknowledges the hard work that goes into refining these treats. In his own words, "it's not how you start, it's how you finish. It's about putting your mind into it and fine-tuning until you get what you want."
Chef Deden has competed in several pastry competitions and has won many awards throughout the years. Select accolades include runner up at the Chicago Restaurant Pastry Chef Competition, where he was also able to introduce his take on traditional Indonesian desserts to the world, and Runner Up and Audience Favorites Desserts at the prestigious Gateaux Pastry Competition, which doubled as a fundraiser to raise money for New Orleans non-benefit organizations.
Prior to Pechanga, Chef Deden has held numerous pastry chef positions at luxury five-star resorts such as the Waldorf Astoria Beverly Hills and the Ritz-Carlton Bacara. His passion for desserts and how they are presented has taken him from Indonesia to some of America's top tourist destinations such as New York City, Beverly Hills, Santa Barbara, and Hollywood.
"Pechanga is a great opportunity for me to continue on with my culinary experience, said Pechanga Executive Pastry Chef Deden Putra. "I'm excited to create that extra surprise and delight to guests through fresh and creative pastries. This is what I do best. I want my team to be a family and inspire each other with our creations and experiences. This is the vision I have for the Pechanga Bakery and I plan to make this vision come to life. Working for the largest casino and resort property on the west coast is a dream."
"We're incredibly excited to have Chef Deden on our team. As a cookbook author who has made national television appearances on the Rachel Ray show and others, and has been featured in magazine articles such as Esquire, Chef Deden's credibility and knowledge in the kitchen is unmatched," said Pam Toscano, Vice President of Food & Beverage. "Known mostly for his creative flair and quality baking, we know he can take Pechanga to another level of culinary excellence in the pastry arena."
Chef Deden graduated with a culinary degree from the National Hotel Institute of Indonesia. When he is not creating new takes on the crowd favorites or managing his dream team of confectionary artists, he likes to spend time with his two-year-old son playing outdoors in the beautiful Temecula weather. With his recent move to Temecula, CA, he is looking forward to becoming active in the local community. Chef Deden also enjoys reading to his son, crafting and drawing with him and playing sports. Chef Deden's favorite item to bake for his family are chocolate chip cookies. Baking for his family and company is now a Putra family tradition and he has started to show his son how to bake as well. With his recent move to Temecula, CA, Chef Deden is looking forward to becoming active in the local community. He is currently a member of the American Chef Federation.