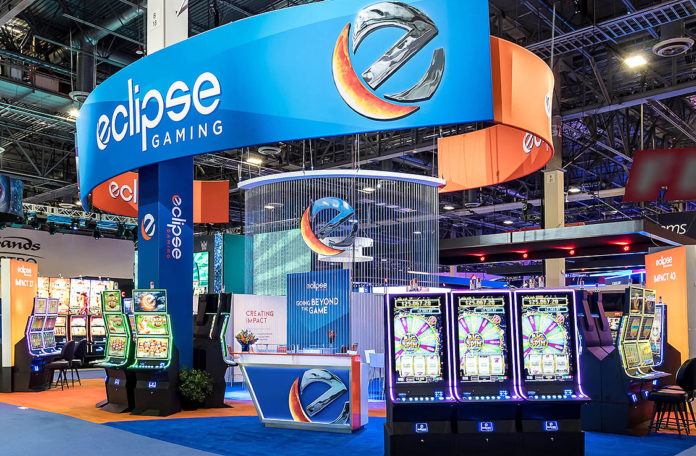 DULUTH, GA – Eclipse Gaming has been awarded the "2023 Large Supply Chain Pioneer of the Year" award in the Partnership Gwinnett Movers & Makers Awards ceremony held last week. The award recognizes companies based on their customer service approach, economic impact, and innovative products/service.
"We are honored and overwhelmed by this recognition for the work we do manufacturing gaming machines in Gwinnett County, with our corporate headquarters based in Duluth, GA," said Tim Minard, Eclipse Gaming Chief Executive Officer. "Gwinnett County has always been our home; it is a community that supports business and provides a deep pool of incredible talent that is helping our business grow."
"This award is dedicated to our team of professionals who work hard every day to deliver exceptional products and service to our customers across the U.S," said Rob Visintainer, Eclipse Gaming's President and Chief Operations Officer. "We thank and celebrate our amazing employees."
In addition to winning the award for "Supply Chain Pioneer of the Year-Large," Eclipse Gaming was a finalist for the Corporate Citizen Award and the Manufacturer of the Year Award.
The Movers & Makers Awards recognizes the manufacturing and supply chain management industry in Gwinnett County, GA, a northeast suburb of Atlanta, GA, with a population of nearly one million people. There are more than 4,700 manufacturing and supply chain companies in the county that employ 80,000 employees.
Eclipse Gaming has been based in Gwinnett County since the company's founding in 2008. With a focus on the Native American gaming market across the U.S., Eclipse Gaming designs, manufacturers, and markets games and innovative solutions that engage players and deliver measurable results for the company's casino gaming partners.