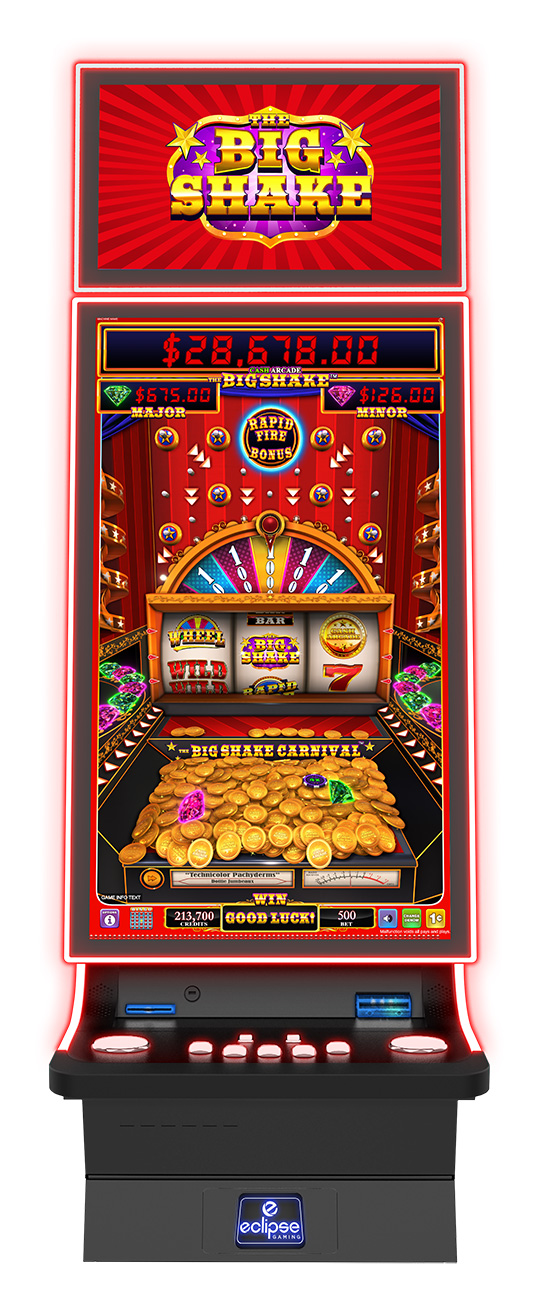 DULUTH, GA – Eclipse Gaming launched Big Shake Carnival, the second game in the company's new Cash Arcade series featuring a unique perceived skill bonus feature.
The Big Shake Carnival three-reel video slot gives the player a true classic coin pusher experience that they would experience in an arcade. Themed to replicate the fun of a carnival, this title keeps the excitement spinning with second-chance re-spins, wheel bonuses, multi-level progressives, and a first-of-its-kind Rapid Fire Bonus perceived skill feature that allows the players to control the dropping of coins onto the coin table. To add immersion, the player can choose their favorite tune from three different soundtracks by touching the track pick button on the front of the coin deck, an Eclipse Gaming first.
"We are very excited to see Big Shake Carnival launch into casinos across the U.S.," said Steven Slotwinski, Eclipse Gaming Chief Technology Officer. "With all its bonus features, including a wheel bonus, the game itself is a classic and easy-to-play game that delights players with a whimsical carnival theme and arcade nostalgia. Players get to feel like they have some control over game outcomes during the Rapid Fire Bonus, where they have a few seconds to press and slide a slider bar on the game's touchscreen display to hit a rubber duck and potentially win large credit awards as coins and rubber ducks fall over the ledge into the prize chute."
Slotwinski said that Big Shake Carnival follows on the success of the recently launched Big Shake Neon™, a similar game with a retro 1980's theme. "The Big Shake Neon has been providing high levels of player entertainment since we launched it late last year, and we think Big Shake Carnival will be a strong incremental addition and bankable companion to the Neon title," said Slotwinski.
The Big Shake Carnival slot title won a Global Gaming Awards shortlist "Product Innovation of the Year" honor at the Global Gaming Expo (G2E) in 2022.