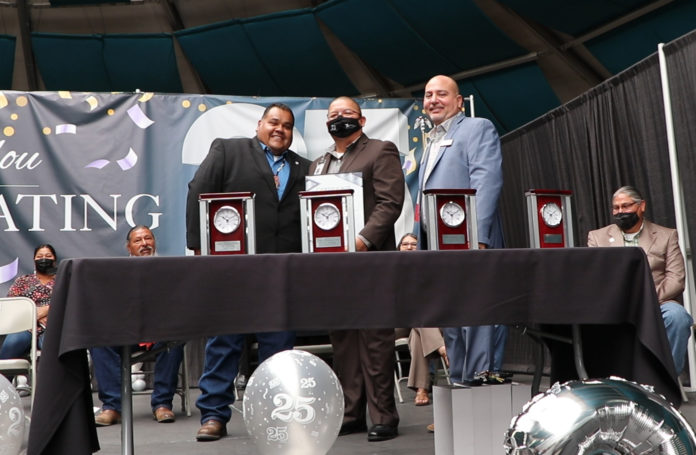 PORTERVILLE, CA – Eagle Mountain Casino celebrated 25 years by recognizing team members that have been with the casino since its opening in June of 1996. More than 100 team members attended the event held at the Eagle Mountain Casino event center where they were treated to a catered lunch by Juicy Burger, a local favorite in Porterville. Throughout the anniversary month, team members have been entered into an ongoing raffle to win prizes including HD TV's, Beats headphones, and bluetooth speakers to name a few. Team members heard from speakers General Manager Matthew Mingrone, Chairman Willie Garfield, and Vice Chairman Neil Peyron, detailing the importance of the work that they do, and how greatly they are appreciated.
"At Eagle Mountain Casino, team members are appreciated, and we want to make sure they know how valued they are," said Casino General Manager, Matthew Mingrone. "They are a big part of why Eagle Mountain is known as 'the people's casino' and
recognized as the place guests enjoy because of how great our guest experience is."
Eight team members who are still with the casino since day one were honored from different departments. Theses honored team members received a commemorative clock and a certificate to honor the work that they have done over the years and their commitment to the casino and Tule River Tribe.
"It's been a fun ride these first 25 years, and I'm looking forward to the next 25 years with this great team," said Dennis Hunter, Director of Casino Operations and one of the eight team members that was honored. "I look forward to helping the casino grow in the new property."
"The hard work of our team has provided for this community and for our people, I want to thank everyone for hanging in there through the tough times," said Chairman Garfield. "The Council sees all the hard work that the team has put in, and on behalf of my family and our tribe, we appreciate everything you do for Eagle Mountain Casino," added Vice Chairman Neil Peyron.