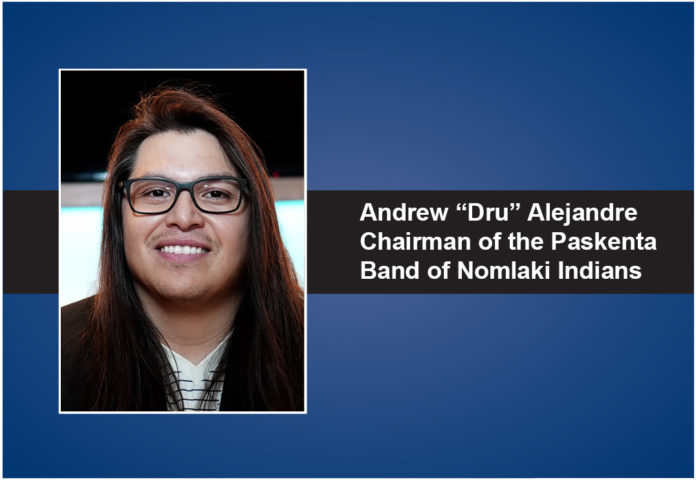 by Andrew "Dru" Alejandre
I grew up in Williams, CA and moved to Corning in 2001, when our tribe, the Paskenta Band of Nomlaki Indians, opened Rolling Hills Casino. At that time, the casino offered the promise of driving economic growth that would strengthen our tribe's future while uplifting our neighbors and surrounding communities. That promise needed to be nurtured for our community and economy to thrive.
We have stayed true to that promise, and over twenty years later, we are proud that our tribal enterprise is one of the top three employers in Tehama County. Yet, there is still room for expansion and security of our future, that is why as part of our diversification strategy, Paskenta opened the first tribally-owned distillery in California, the Paskenta Brewery and Distillery. Tribes must seek and forge new paths for the security and the growth of their tribe for generations to come.
While many tribes have opened breweries, Paskenta is forging a new path with a distillery that represents an exciting new opportunity for our tribal community, made possible by the repeal of an antiquated law dating back to 1834, the Indian Trade and Intercourse Act, which banned distilleries from tribal lands. This positive step gave 574 Native American tribes the right to distill liquor on tribal lands.
Not every tribe, however, has the resources or opportunity to open a brewery or distillery or even a casino. And even for tribes like Paskenta, casino revenue alone is not enough to thrive today and build a sustainable future for decades to come. Rather, to remain financially sustainable, with the brewery and distillery we have built a more diversified revenue through deliberate investment into our own economy.
Once our distillery officially debuts, it will have the capability to produce 2,400 proof gallons (1,200 cases) with a maximum capacity of 9,600 proof gallons (4,800 cases) annually. Our community members won't just be making and serving drinks; they will be learning new skills and expressing their creativity. We will help our people gain the skills required to run and operate our distillery, including producing new spirits, engineering of the distillery machines, and enhancing sales and customer service.
For our tribe, opening a distillery that can ferment and produce state-of-the-art bourbons, gins, vodkas, and other carefully crafted liquors and cordials on our own land will provide employment opportunities as new generations of our tribe seek careers to express their entrepreneurship and creativity.
But our distillery is more than an economic milestone.
It's allowing us to create a visionary tribute to the gifts of nature that reflect the time, place, and spirit of our tribe and our ancestors. In the spirit safe, the tribe has a large uncut obsidian stone that all spirits will be dripped through for filtering and for a transformative journey that is close to our heritage. It's also giving us the pride of developing high-quality products that other distilleries produce at a higher cost. Revenues from the distillery will also be a new resource to fund our charitable foundation, helping us to continue delivering on our commitment to support local health, safety, and education programs. Through the Paskenta Nomlaki Foundation, we have turned revenues from the casino into grants of more than $6,725,000 to support local economy in Tehama County.
As excited as we are about what the Paskenta Brewery and Distillery means for us, we think distilleries provide exciting opportunities for other tribes as well. Having established a new enterprise, we understand the complexities bringing this concept to life and our work can serve as a blueprint to other tribes looking to change their economic mix and help continue to secure their financial future. We encourage all tribal communities to discover creative new ways to diversify their revenue sources so that they, too, can drive economic progress while honoring their rich cultural legacies.
Andrew "Dru" Alejandre has served as the elected Chairman of the Paskenta Band of Nomlaki Indians since September 2016.