PAWHUSKA, OK – Demolition began on the former Safeway building, located at 310 E. Main St. in Pawhuska, OK, to make way for Osage Nation's new Wahzhazhe Health Center. The demolition marks progress to build a brand-new, state-of-the-art 64,800 sq. ft. health care facility across two blocks in downtown Pawhuska. The preliminary plans reflect future development to meet the health care needs of a growing population. In addition, the location provides easy access to the facility while enhancing the visual appeal of the area.
"This is a monumental step in the right direction for holistic health care for Osages and Osage community members," said Osage Nation Principal Chief Geoffrey Standing Bear. "The property is owned by the Osage Nation. After demolition, we will confidently pass the project along to the Si-Si A-Pe-Txa Board of Directors and Osage Nation Health System leadership to keep the progress moving forward with our full support."
The new center will be governed by the Si-Si A-Pe-Txa (the Healing Place) Board of Directors per the Healthcare Reform Act of 2022, enacted Apr. 25, 2022, which creates a new health system under Si-Si A-Pe-Txa as a separate enterprise. Si-Si A-Pe-Txa oversees services provided at the Wahzhazhe Health Center, the primary residential treatment centers, the Osage Nation counseling center, prevention, community health representatives, public health nursing, elder nutrition and any other health care services assigned by the Principal Chief and approved by the board of Si-Si A-Pe-Txa. 
Si-Si A-Pe-Txa Board Chair Cindra Shangreau has been leading the project development along with fellow board members Michael Bristow, Hailey Kramer, and Tim Shadlow.
"We are driving this project fast and furious for our Nation's citizens, patients and family members, as well as the health system's employees who deserve to practice medicine and serve our patients with state-of-the-art equipment and facilities," said Shangreau.
The Si-Si A-Pe-Txa Board of Directors, the Osage Nation health system's legal counsel, and Chief Executive Officer have retained financial services advisors to complete the loan package options for the new clinic along with any available products from U.S. Department of Agriculture (USDA) or the Bureau of Indian Affairs (BIA) for a government guarantee, if needed. Rate sheets and final decisions on the financing package should be finalized in the next few months and have been underway since November 2022 with the new leadership team and their advisors.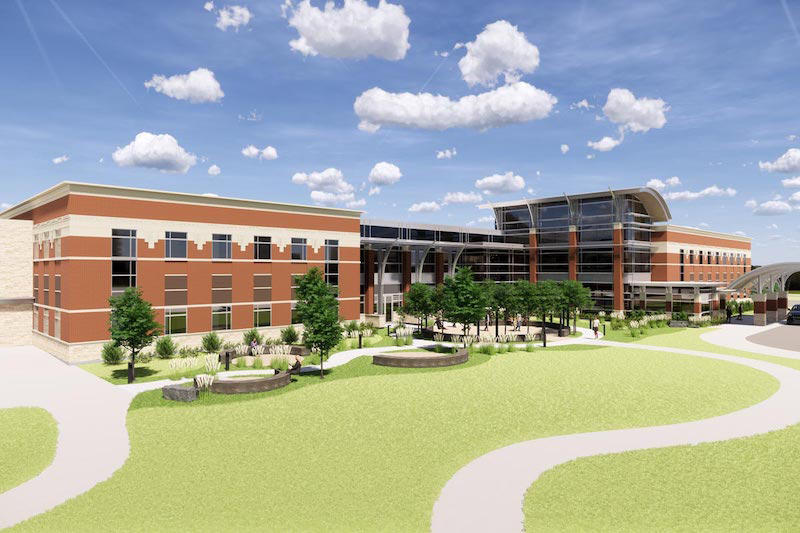 "The Osage Nation health system going from an IHS legacy facility of 9,800 sq. ft. to 64,800 sq. ft. is an enormously huge investment and commitment in our ability to service the Osage people, our patients from other tribes, as well as their families," said Mark Rogers, Osage Nation health system CEO. "As the health system embarks upon its new identify with Title VI and elder care programs spooling up, the Residential Treatment Crisis Counseling Center preparing to break ground with its five facilities, and the mobile medical units being readied and staffed up for coverage of the Osage Reservation, we are in unprecedented times of opportunity and growth." 
Although the new facility is an exciting advancement for the Osage Nation health system (ONHS), Rogers states that the clinical and administrative teams have already been working in tandem to deliver quality healthcare improvements to patients.
"The health system is not waiting for a new building or equipment – we are making these changes and investments now to improve technology, equipment, and access for our patients," said Rogers. "Dr. Tony Little, ONHS Chief Medical Officer, and his clinical team are moving rapidly to improve patient care, quality, access, and services with the administration team to meet this goal. We will open up six new patient rooms the first of February for our patients, increasing staffing to absorb and accelerate access to care. We will also be opening an after-hours and weekend walk-in, same-day acute care appointment program (similar to an urgent care) as well as the pharmacy remaining open, to expand the care desired and requested by the Nation's patients. We will be adding specialty clinics with a variety of specialties for more convenience and better medical management of our patients that will significantly increase their satisfaction and reduce their wait times for access to outside care within these various specialties."
Behavioral health and dental will also have expanded space for patient care and services, as well diabetes health and wellness programs being offered, but more robustly. Through other strategic partnerships with the community including tribal health programs, the state, and Indian Health Services (IHS), as well as with OSU Health Sciences and collaborative efforts with other health care partners, the landscape for health care in the Osage Nation service area will be poised for expansion and progress for decades to come.
Ross Smith will serve as the Osage Nation Project Manager throughout construction. In December 2022, plans were updated with an accelerated project timeline back on track for an anticipated summer 2023 start on the new clinic, provided everything remains on the anticipated track. The Si-Si A-Pe-Txa Board of Directors will seek out and issue a request for proposal within the guidelines of the Nation's procurement processes for an owner's representative to oversee the project for the health board, Osage Nation health system leadership team, and Osage Nation.