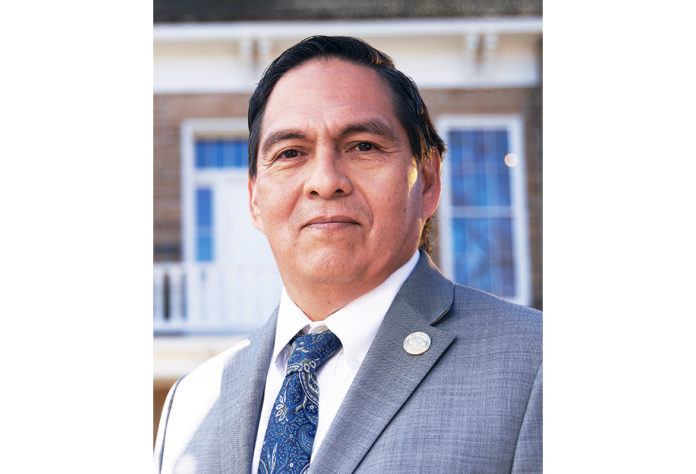 David Hill, Principal Chief
Muscogee Nation
Duck Creek Casino; Creek Nation Holdenville; Creek Nation Muscogee; Creek Nation Eufaula; One Fire Casino; Creek Nation Bristow; Creek Nation Checotah; Okemah Casino; and River Spirit Casino in Oklahoma
creeknationcasinomuscogee.com
muscogeenation.com
CHALLENGES/REWARDS: The Muscogee Nation has had the same challenges and risk as many tribes for much of the last two years during the pandemic, and that's finding a balance in our progression and aggressiveness while still staying cautious and diligent when it comes to protecting our people. COVID, as long as it's here, will primarily be something that gets our utmost attention, because it's taken so many of our people. But we've gotten creative with different ways to get back to some sense of normalcy. We were so happy to welcome back guests and family from all over for our annual Muscogee Nation Festival this summer, the first one we've been able to have since 2019.
PROMOTING LEADERSHIP: This administration, want to set a precedent for all leadership that begins with our example. Are we doing our part every day to keep our citizens as the highest priority? Are those that look to us seeing that we are doing things right, and aren't asking them to do anything that we ourselves aren't doing? I think we try to cultivate a culture of team and family, that way each link in the chain is just as valuable and important as the next in accomplishing all of our goals.
INITIATIVES: We are really excited about expanding some of our services to citizens beyond our Reservation boundaries. Recently, we passed legislation that allowed at-large citizens outside our borders, but still residing in the State of Oklahoma, to purchase their vehicle registration through our Tax Commission. Since its unanimous passage, we've opened three new satellite offices from our Tax Commission to facilitate the excitement and rush of citizens coming in. And we are thrilled for the upcoming season two of the hit FX television series Reservation Dogs. We assisted with the location procurement on the project and our work with the production has springboarded us into developing our own film office for greater opportunities in the future. We see this as a promised diversification of our revenue and business streams. We are excited to be hosting the season two red carpet premier at our Four Diamond award-winning River Spirit Casino Resort in Tulsa. Our master plan for a new tribal headquarters is progressing into architectural and construction planning and will be a state-of-the-art facility, with the ultimate goal of providing greater access for citizens to our services and departments.