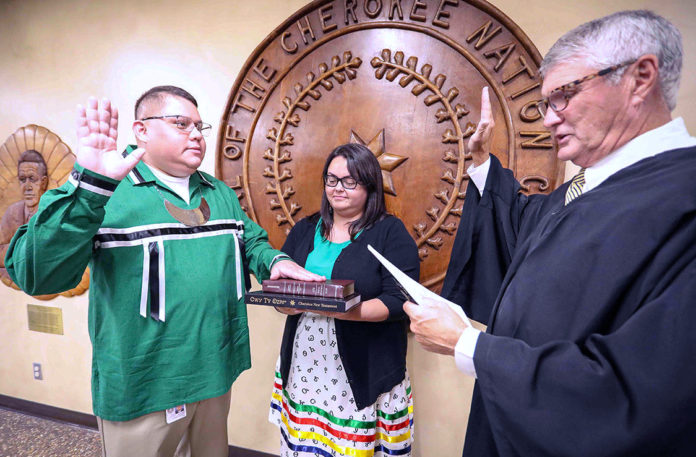 TAHLEQUAH, OK – The Council of the Cherokee Nation confirmed Derrick Vann as the new Registrar of the Cherokee Nation during its monthly council meeting this week.
Vann, originally from the Greasy Community in Adair County, now lives in Tahlequah, OK. He has served as the interim twice and has been in the Cherokee Nation Registration Department since 2018.
"Derrick Vann has an eagerness to serve," said Cherokee Nation Principal Chief Chuck Hoskin Jr. "It's an eagerness that has gained him the experience to lead and the skills to meet the challenges the Cherokee Nation's Tribal Registration Department has faced over the last year. He demonstrated all of this as Interim Tribal Registrar during the COVID-19 pandemic, which called upon the Cherokee Nation registration to overcome challenges that the department has never seen before. Derrick is more than ready to lead this vital department."
Vann began his career with the tribe's IT department 17 years ago and has since explored various areas of the Cherokee Nation before being named Registrar.
"I am very honored to be the new Tribal Registrar," said Vann. "I enjoy helping our people find their Cherokee lineage and becoming Cherokee citizens."
Vann oversees 38 employees who help take in and verify Cherokee Nation tribal citizenship.
Over the past year, the tribe's registration department has received the largest volume of citizenship applications ever. With more than 420,000 Cherokee Nation citizens, applications are still being processed.
"It was crucial to have someone in place to lead our Tribal Registration Department during the influx of new citizenship applications the Cherokee Nation experienced over the last year," said Cherokee Nation Deputy Chief Bryan Warner. "We always need leadership ready and a moment's notice to provide service to our Cherokee Nation citizens. Derrick Vann always comes through to provide that kind of leadership."